Almost as hot as the "cloud", restaurants have been dominating the recent list of IPOs, with five offerings in the past three months. Last night, the largest, Bloomin' Brands (NASDAQ:BLMN) priced well below the indicated 13-15 range, with the company selling 16mm shares at just 11. It probably didn't help that they were sued by one of their partners, the operators of Bonefish Grill.
While normally I get a bit wary when several different players within an industry issue stock, there is likely a good opportunity to invest in restaurants. Why? Fundamentals have been challenging for the sector since the Great Recession, with diminished traffic, difficulty raising prices, and increased costs. The industry behaved rationally, slowing expansion and focusing on better operational efficiency and initiatives to drive traffic. We are now at the point of expansion again. so it's not surprising to see capital being raised. Interestingly, we have seen several acquisitions in the industry recently as well, like P.F. Changs.
I have gone on the record recently suggesting that the restaurant industry looks attractive, and I just added a restaurant to my Top 20 Model Portfolio. With this in mind, I decided to take a look at the 5 IPOs, which include:
Here is some data on the group, pulled from the respective proxies: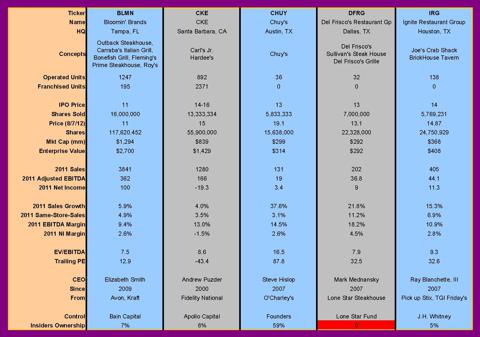 Click to enlarge
BLMN has some premium brands. Given the high continued ownership of private equity, a substantial debt-load, relatively slow growth and a CEO from outside of industry, though, I am not as interested in this one.
CHUY is Tex-Mex and offers regional expansion opportunities. From my perspective, this one seems expensive and too reliant on openings, but it's small and well-liked by its patrons. This is the only one not (still) controlled by private equity after the offering.
CKE is another formerly public-company coming out again. Unlike the others, it is quick-serve (NYSE:QSR). Like BLMN, it is still carrying a lot of debt after the offering.
DFRG priced below its projected pricing range of 14-16. This one seems to merit further attention, with no net debt and very strong same-store-sales growth. It is somewhat cautionary that management has no equity exposure, though the proxy suggested that the compensation plan going forward would include equity pay.
IRG is the most interesting to me. The stock performed quite well after the IPO but then plunged following an embarrassing disclosure of what seems to be a relatively minor accounting issue. The stock, encouragingly, has returned to the IPO price as investors await Q2 results, the first as a public company. IRG consensus estimates for 2013 are .83, so the stock is trading at less than 20X 2013 EPS. The growth here should be strong, with the Joe's Crab Shack's geographic expansion driving it in the near-term. The company is small and has a good record of growth in recent years.
The recent flood of restaurant IPOs may be creating an opportunity. To me, IRG and DFRG look somewhat interesting, though I believe that there are companies that have been trading publicly for longer that offer potentially more value.
Disclosure: I have no positions in any stocks mentioned, and no plans to initiate any positions within the next 72 hours.