Today's world is wrought with uncertainty--growth in China and the other BRIC economies has slowed rapidly in recent months, the Euro is fighting for its very survival, regulators both in the US and abroad are behind closed doors writing new, imposing regulations. The era of complex and high risk gambling in the finance world is rapidly coming to an end. Success going forward will be dictated by simplicity, consistency, and stability.
In this new era, it is the community bank model that will win in the banking world. The winners will know their customer, partner with their community, and will live and breathe a strong credit culture. First Republic Bank (NYSE: FRC) will be one of these winners. Led by Jim Herbert and his excellent management team, First Republic has positioned itself to prosper and grow in the coming years.
The great John Medlin said it, First Republic lives it, and the bank's fundamentals show it - Soundness, Profitability, and Growth.
Soundness, Profitability, and Growth - A Banking Success Story
Based in San Francisco, First Republic is a $29 billion private bank serving wealthy, urban clientele. It is a 100% domestic bank with 63 offices primarily in 8 major metropolitan areas including San Francisco, Los Angeles, San Diego, New York City, Boston, Las Vegas, and others. Due to its stout balance sheet and excellent capital positions, First Republic is able to boast the 7th best Texas Ratio of all banks with total assets greater than $10 billion. First Republic is a master at the age old tradition of banking-collecting deposits, managing cash, and making loans.
First Republic Bank was formed in 1980 by Jim Herbert and his management team-the same management team that leads the bank today. In January 2007, First Republic was acquired by Merrill Lynch and operated under the Merrill (and then Bank of America) umbrella for the next 18 months. Then, at the depths of the financial crisis, Herbert and his team joined forces with a group of private equity investors and purchased FRC back from Bank of America. An IPO followed in December 2009 that cashed out the majority of the private equity interests. Throughout these transitions, Herbert has maintained the same customer focus and credit culture that made it so successful in the '80s, '90s, and 2000s.
In this analysis, we highlight the bank's fundamental soundness, profitability, and growth all driven by a customer-centric focus and a strong credit culture.
Culture - Simplicity, Customer Focus, and Credit Quality
First Republic is, by most measures, a big bank: $29 billion in total assets, $356 million in profits in 2011, 1,800+ employees. But at its heart, it is a community bank. Each First Republic customer has an assigned relationship manager, a direct phone number and email address, who can handle any question or issue they may have. This manager stays with the customer throughout the entire banking process-from sales to credit approval to document preparation to loan closing and then on throughout the rest of the life of the relationship. The company knows its customers personally, their spouse and their kids.
The bank's target customer is a high net worth individual with a large portion of net worth comprised of cash and marketable securities. The company reports the median net worth of their customer base at $3 million and the average net worth at $60 million.
The bank's typical loan is a mortgage loan on its customer's primary home (over 70% of its loan portfolio is secured by single family houses). Because the bank is so selective with its customer base, it is able to maintain unparalleled credit quality guidelines (it typically requires a 40% down payment on a standard home loan). This commitment to strong credit quality has resulted in losses of only 0.06% on $50 billion of loans over the past 27 years (equivalent to 60 cents per $1,000 loaned). The company forms deep banking relationships, selling 9 products to every home loan customer it has. And once First Republic has formed the relationship, the company never lets it go.
There are no proprietary trading desks, credit derivatives, subprime loans, or investment banking divisions. By sticking to banking fundamentals-deposits, cash management, and sound loans-First Republic will not be impacted by Dodd-Frank or Basel III. Taking a closer look at the various revenue streams on FRC's income statement compared to its peers (defined as US commercial banks with assets greater than $10 billion) demonstrates the simplicity of the company's business model-this bank makes money from the interest on loans, not from risky trading, complex derivatives, or inconsistent investment banking fees.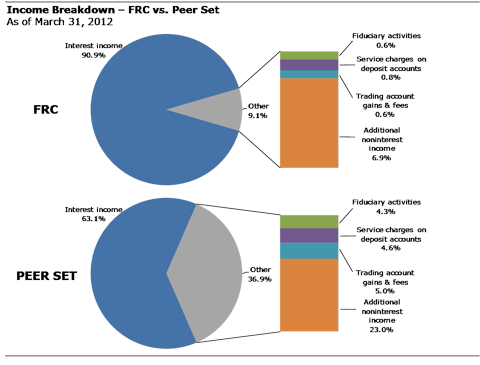 Soundness
Given the unrelenting standards for making good loans at FRC, it is no surprise that it has one of the soundest balance sheets in the industry. This is measured in three ways:
Are loans being paid back as planned?
As of March 31, 2012, FRC's ratio of loans that were greater than 30 days past due ("Non-Current" loans in industry jargon) to the total loan portfolio is just 0.12%. This is 36 times better than its peer group. The ratio of Non-Current loans plus foreclosed real estate to the total loan portfolio is 22 times better than peer.
Does the bank have sufficient reserves set up in the event that Non-Current loans deteriorate into potential losses?
This question is best measured using the Texas Ratio, defined simply as the banks severe problem loans and their foreclosed properties divided by its capital plus reserves. The bottom line is that the Texas Ratio reliably predicts a bank's failure when the ratio is greater than 100%. First Republic has a Texas Ratio of 1.10%, which ranks 7th among the 88 U.S. banks with total assets greater than $10 billion putting it in the 92nd percentile.
In the event the bank sustains some loss, is there sufficient buffer to protect the bank from failing?
The buffer that protects a bank from potential losses is its capital levels, most commonly their "Tier 1" capital. The accounting nuances of Tier 1 capital are not germane to this analysis; for the purposes of this analysis, it's sufficient to simply define Tier 1 as equity the bank can - without question - rely on. FRC currently has a Tier 1 ratio that is 40% above the regulatory definition of "well capitalized" and 12% above its peers.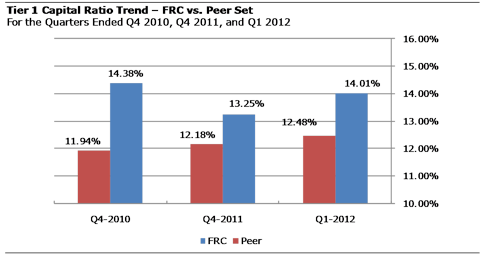 Profitability
First Republic posted net income of $356 million in 2011. This is driven by 2 key components:
The "Net Interest Margin", referred to as the "interest spread", is the difference between the amount of interest paid to depositors in the company's checking and savings accounts and the amount of interest collected from loans. In 2011, FRC collected $1.2 billion in interest from loans and paid $117 million to depositors for a net of $1.1 billion dollars. On a relative basis, this is 23% better margin than its peer group.
The "Efficiency Ratio" is essentially a comparison of operating expenses to income. A lower ratio says that it takes fewer dollars in operating expenses to generate that income. A low ratio indicates an efficient bank and a high ratio indicates the bank has excess operating expenses. FRC's Efficiency Ratio as of March 31, 2012 is 50.88%, which is 17% better than its peers.
These 2 ratios tell the story. First Republic, because of the customer loyalty born through superior service, is able to charge a premium interest rate on its loans and enjoy a higher Net Interest Margin. The bank is also highly efficient in its operations, which translates to lower costs. Higher margins and lower costs yield bigger profits, especially in relationship to the size of the bank.
This is supported by First Republic's Return on Equity (net income divided by equity) and Return on Assets, both of which are far stronger than its peers.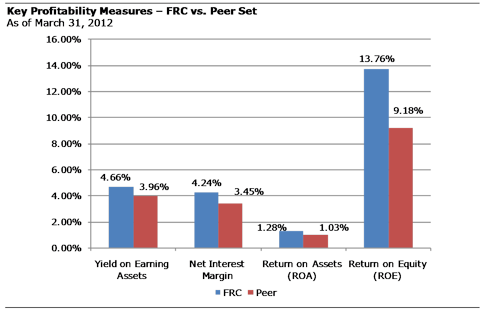 Growth
Growth at FRC is driven in large part by word of mouth. It starts with just one influential client who enjoys an excellent customer experience while purchasing their home or opening a savings account for their child. That customer tells a few friends who then tell a few of their friends. Within a short amount of time, First Republic becomes the go-to bank for the influencers and affluent customer base they target.
Simultaneously, the bank expands its relationship with existing clients, cross selling deposit products, wealth management, and business banking for any privately held business interests. The core strategy is superior customer service, and it works. Since First Republic IPO'd in 2010, its loan and deposit growth has been excellent, solidly outperforming their peers in both years.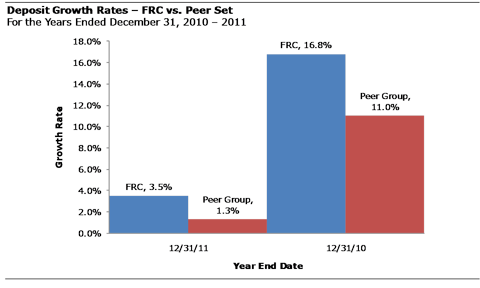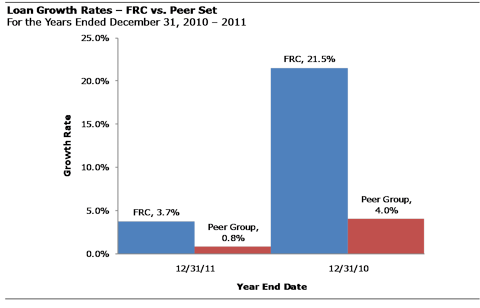 Conclusion
First Republic is an excellent bank. It is well run by an experienced and successful management team. The company was profitable and growing throughout the financial crisis and has positioned itself to weather the current economic and regulatory uncertainty globally and at home. This bank is an investment for the long term, an investment in the fundamentals of banking. We believe First Republic is committed to the philosophy of soundness, profitability, and growth, and as such, will continue to prosper financially in both the short, medium, and long term.
Disclosure: I have no positions in any stocks mentioned, and no plans to initiate any positions within the next 72 hours.