As a courtesy to long time Seeking Alpha reader and commentator 'Lisa', who apparently is researching stocks for some recession insurance, the following is an analysis complimenting Wayne Mulligan's article.
The basic premise is not new. In principle, during difficult times middle of the road retailers takes it on the chin. The reason for this is simple. Low end retailers that usually work on smaller margins and rely on high traffic for profits end up getting higher traffic as more people migrate down-market to stretch their dollars. High end retailers experience fluctuations but overall an economic downturn has less consequence for the top 10% of the population - measured by wealth. It is the mid-market retailer that gets hit by the middle class.
This is precisely the reason that CrossProfit analysts unanimously disagreed with our friend and colleague
Amit Chokshi
, who by the way has an excellent track record, when he concluded that Costco (NASDAQ:
COST
) was a short back in November 2007. Read
Amit's analysis
and the pursuing comments.
Wayne Mulligan is reiterating this well known concept. However, it is always wise to check and see if the company is the right fit for the right downturn. To assume that a company that has done well in a previous recession will do well again in a subsequent recession is incorrect. Both companies and consumers change over time as the needs and psyche of the public migrate. For example, during the great depression, hair salons did well as people wanted to feel and look good. Does this mean that beauty parlors did well in the next recession or the one after that? Well, yes they did until the last mini recession where the public psyche changed and fitness clubs did better.
Today's Psyche
What we have witnessed to date is that there are some major shifts in middle class attitudes and behavior. The Costco example given above is intentional. When it comes to food and basic necessities, shopping at a down-market establishment is no longer taboo. Hence, Wal-Mart (NYSE:
WMT
) and Costco (
COST
) are gaining. Ironically, Target (NYSE:
TGT
) is not fairing well at this stage. This has more to do with marketing and not getting their message out as they are a down-market retailer just like the other two.
So the public has chosen that food, basic consumables and perhaps energy (gas for the car) is where they are going to pinch pennies. What we have to look for is the 'hair salon' for the current downtrend. So far we have not identified what the fad will be as people will always want to feel and look good. The harder times get, the faster the new 'hair salon' takes root.
Testing Four Retailers for a Recession
Mulligan suggests that the following four retailers fit the criteria:
2) Family Dollar Stores (FDO)
4) 99 cents Only Stores (NDN)
A quick overview reveals that two are regional players and two are (U.S.) national chains.
Dollar Tree (
DLTR) is a national retailer that sells merchandise priced at a dollar or less. DLTR also has Deal$ but essentially 95% of its 3400+ stores cater to the urge to buy cheap. This bodes well for recession economics.
To date DLTR's chart reveals that we are in the early stages of a downturn. Though margins have been hit on food items, management is repackaging the goods - so to speak, whereby the price hasn't changed yet the customer is getting less in terms of product. General merchandise seems to be holding up thus far.
There is still potential growth for DLTR as people need to satisfy their material addiction that has been engraved into the psyche of middle class
America
. Proof of this can be found by comparing same store sales for footwear retailers costing $15 to $30. There, sales have already declined considerably as consumers cut back on that extra pair of shoes. However, the splurge for a non essential item that costs only one dollar continues. Most goods carried at DLTR stores can be found at most Wal-Mart stores at comparable prices.
Family Dollar Stores (
FDO) chart reveals that since mid 2007 the market is assuming that FDO will lose out to the competition. FDO has 6,400 general merchandise stores and though is considered a national discount store chain, prices are perceived to be higher than Wal-Mart. The stores are conveniently located in shopping centers or conveniently accessible stand alone locations.
As per Reuters, " The consumables category includes household chemical and paper products, candy, snacks and other food, health and beauty aids, hardware and automotive supplies, and pet food and supplies. The home products category includes domestic items, such as blankets, sheets and towels, as well as housewares and giftware. The apparel and accessories category includes men's, women's, boys', girls' and infants' clothing and shoes. The seasonal and electronics category includes toys, stationery and school supplies…" Merchandise carried at FDO stores can be found at WMT, COST and TGT.
Management has relied on the convenience factor, meaning that until now FDO did not deem it necessary to compete on price, selection and quality. Wall Street is signaling that this strategy is good during good times; however, in a downturn consumers will endure the inconvenience of traveling the extra mile to the nearest Wal-Mart. The chain has reported lower foot traffic patterns and associates this to customers shopping less frequently.
I'm not sure I buy the official jargon, rather inclined to accept defection as the primary cause. Based on FDO's announced strategy for the remainder of 2008, it seems that management has recognized the fact that customers now prefer going to one location for everything. FDO is installing coolers in 500+ stores and is increasing its food selection in 2800+ stores. This change in strategy accompanied with a marketing plan to change its image could pan out to be a lucrative move and just in time.
Fred's (NASDAQ:
FRED
) operates 690+ general merchandise stores in the southeast, primarily catering to low and middle class America
. Prices are reasonable and notably pharmaceuticals have contributed to growth in recent years. The 296 full service pharmacies provide a degree of customer loyalty that meshes well with local mentality. Customers end up doing their 'big shop' at Fred's.
Fred's charts for 2007 and 2008 more or less mirror FDO charts for 2007 and 2008. This is because they both face the same competition for the same class of merchandise from the big three; WMT, COST and TGT. A number of Fred's locations are immune from head-on competition due to geographical considerations; however, the majority of stores struggle to generate enough foot traffic to justify the business model. The company plans to close 75 underperforming stores over the next year.
99 cents Only Stores (NYSE:
NDN
) has 251 general consumable merchandise stores (as of 3/2007). Whereas Fred's is primarily a southeast (U.S.) chain, NDN is primarily located in California, Texas and Arizona
. NDN's motto is "Nothing over $0.99, ever". This is where the trouble begins. Food inflation has been rampant recently. Investors are concerned about margins. NDN may be forced to finally abandon the 99 cents scheme that has been its trademark since 1982.
In stark contrast with Dollar Tree (
DLTR), where goods over a dollar are sold without major consequence, NDN may need a major image makeover in the near future. This is the cause of the PPS decline (see 2007 and
2008 chart
). NDN specials tend to outdo comparable competitor sales, yet rely heavily on close-outs resulting in goods selection constantly changing. The availability of goods for sale in the predetermined price range is shrinking as is evident from the company's site. On an ongoing basis, competitors are experimenting with equivalent close-out merchandise for just a few pennies more - or so I am told (unverified).
Disparaging P/Es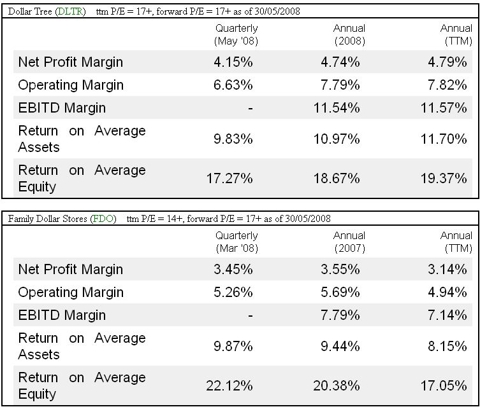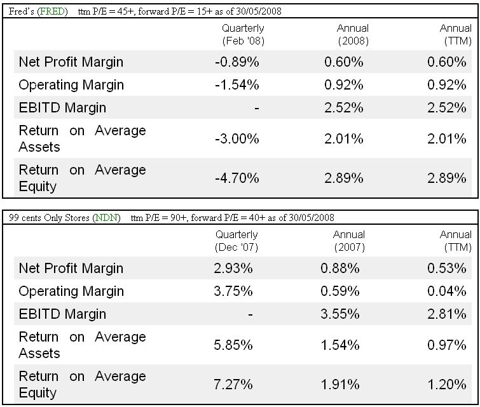 Summary
The above tables in conjunction with the forward P/E tells us exactly what the market is expecting.
For Dollar Tree (DLTR), investors were pleased with latest quarter results. Growth is stagnant (2%) yet DLTR continues to open new stores. "Shrink" (loss of merchandise) has been reduced thus stemming margin erosion. ROE and ROA came in ahead of estimates. The market expects DLTR to be flexible and increase prices if needed, to keep up with inflation. DLTR has begun test marketing items priced at over $1 in several locations. DLTR is maintaining its share buyback program and continues to outperform peers on both net and operating margins.

For Family Dollar Stores (FDO), this is one to keep an eye on for 2009. For the remainder of 2008, FDO will be busy reinventing itself. Investors need to take into account that there are capital outlays for coolers, start-up costs for expanding product selection and an ongoing store renovation project that was started last year. FDO has not announced new plans to buyback shares in 2008 and I'm not expecting them to change their strategy.
Also, when reading the tables above, don't forget to take into account the accounting change for FY2007. Pre-paid phone cards are now recorded on a commission basis - without the amount collected for the service provider - meaning that recorded sales are now pure profit thus increasing operating margins. FDO has stated that the change is insignificant but has not provided a breakdown.
For Fred's (FRED), two thirds of stores are located in towns with a population of less than 15,000. In 2006, Fred's added coolers to its stores thus targeting Federal food stamp customers. To date, this strategy hasn't turned the tide on margins. Since 2005, the average P/E ratio has declined from 23 in 2005 to 15 in 2007. Current price per share reflects more of the same, as in - let's see this turnaround happen already! The relatively high ttm P/E is due to a one time $0.11 loss per share recorded for Q4 FY2008 (ended 1/31/08). 
I fail to see how a recession can help Fred's, being that it caters to customers that aren't in best financial health during the good times. Any additional recessionary customers, based on location and demographics, won't be earth shattering.
For 99 cents Only Stores (NDN), this is a store that is geared for the bargain hunter. NDN needs super specials to drive traffic and has postponed the inevitable for now. When the time comes to maintain margins, the market expects NDN to reinvent itself in a timely fashion. EBIT (earnings before interest and taxes) has dwindled from 10.5% in FY2003 to 0.6% in FY2007.
NDN should increase traffic during a recession as there are likely to be more bargain hunters both in California and Texas. However, there is a big question mark if this will translate into profits. Currently the market thinks that the company can pull it off, hence, a forward P/E of over 30.
On a personal note, I like a good bargain hunt, but I wouldn't count on feeding my family based on what NDN happens to have in stock that day. Were we to have a 1929 style depression, I wouldn't be that picky. With other low cost retailers in the mix, I question the market's resolution on this one.
I hope this analysis has been helpful.
Disclosure: none.