The farmland sector is among the best long-term investment themes amidst rising global population (declining arable land per person) and uncertain weather conditions. This has resulted in booming farming incomes. Being a fundamentally strong sector, farmland has the potential to attract investments.
The flip side of the story is speculative investments. Speculation is highly probable in an environment of artificially low interest rates and ample liquidity.
Real interest rates were negative or zero during 1910s, 1940s and 1970s. During all these periods, agricultural commodity prices increased along with a rise in farmland value.
With real interest rates currently in the negative zone, this article looks into the probability of a bubble in the farmland sector.
The timing of this discussion seems right as farmland prices have been surging since the fourth quarter of 2009. Post the credit freeze resulting from Lehmann collapse, farmland prices have recorded highest gain (in percentage terms) since 1980.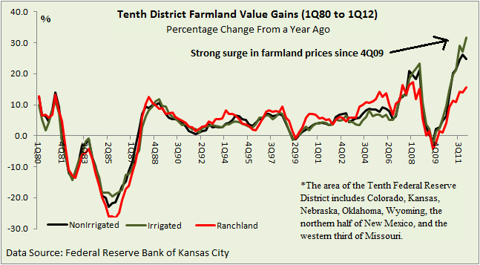 Click to enlarge
I am not suggesting that 7-8 quarters of price increase will lead to a bubble. The key point to consider is the growing interest towards farmland as an investment and its implications on farm prices in an easy money environment.
The point I am trying to make can be explained (to some extent) from the survey results related to non-farmers buying farmland.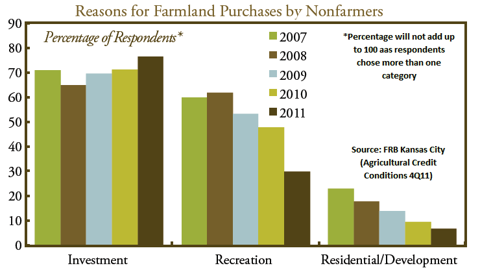 Click to enlarge
The survey of Tenth District Agricultural Credit Conditions report for the fourth quarter of 2011 states -
Regarding non-farmer purchases, more bankers reported farmland was bought for investment purposes, such as receiving farm rental income and earning capital gains. In contrast, the volume of farmland purchases for recreational use or residential/development projects continued to fall.
With a gradually increasing number of non-farmers buying farmland for investment purpose, it will not be long before the irrational exuberance leads to a bubble.
Land values rising faster than cash rents, which has pushed farmland multiples to record highs is also an indication of a relatively aggressive increase in farm prices.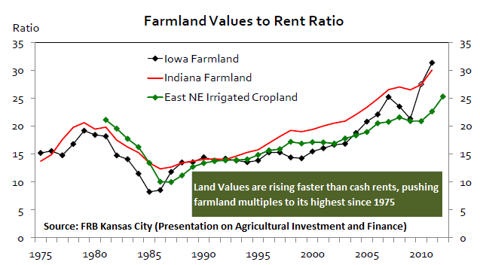 Click to enlarge
Investors can draw some comfort from the next chart, which gives the farmland price movement in relation to crop yield.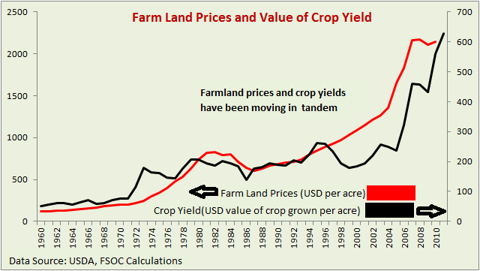 Click to enlarge
Farmland prices have been moving in tandem with an increasing crop yield. An Increase in productivity (hence cash flows) from the farmland justifies the rise in farm value.
I believe that agricultural commodity prices will trend higher over the long-term. In line with this, farmland values will experience an uptrend. However, the rate of farm price increases needs some monitoring.
Conclusion -
Considering the increase in cash flow from farmland resulting from higher crop prices, the recent increase in farm values does not point to a bubble. Investors will need to become more cautious if the robust increase in prices sustains over the next few quarters.
Swift movement of money from one asset class to the other is one of the features of the current investment environment. Therefore, it does not take time for an asset class to become overvalued from being reasonably valued.
Having said this, long-term investors need to ignore short-term volatility and focus on higher cash flow or rental yields from farmland.
Investment Options -
Investing directly in farmland is a good option for the long-term.
Besides that, exposure to agricultural commodities would be the best way to benefit from a fundamentally strong farmland story.
One ETF, which I would consider for exposure to, is the Market Vectors Agribusiness ETF (NYSEARCA:MOO)
The ETF seeks to replicate, before fees and expenses, the price and yield performance of the DAXglobal Agribusiness Index. The index normally invests at least 80% of total assets in equity securities of U.S. and foreign companies engaged in the business of agriculture. The fund has a net expense ratio of 0.53%. Some of the top holdings of the fund include Monsanto Co. (NYSE:MON), Potash Corp. of Saskatchewan, Inc. (NYSE:POT), Deere & Company (NYSE:DE) and The Mosaic Company (NYSE:MOS).
Disclosure: I have no positions in any stocks mentioned, and no plans to initiate any positions within the next 72 hours.