In Part 1 of this series, I described my current participation in my company's 401(k) program, and my plans to move the money that has accumulated so far this year from my initial "holding area" choice, the Yacktman Focused Fund (MUTF:YAFFX), to the following four ETFs:
| | | |
| --- | --- | --- |
| Ticker | Proposed ETF/Mutual Fund | % Alloc |
| (NYSEARCA:XLU) | Utilities Select Sector SPDR | 25% |
| (NYSEARCA:REM) | iShares FTSE NAREIT Mortgage Plus Capped Index Fund | 25% |
| (NYSEARCA:HDV) | iShares High Dividend Equity Fund | 25% |
| (NYSEARCA:AMLP) | Alerian MLP | 25% |
My intent was to take what I was able to sell from YAFFX on Monday, plus what I'll be able to sell in 60 days without having to pay outrageous "short term" penalties, plus what accumulates from payroll contributions in that timeframe, and divide all that by four and buy as many shares of each of the above as possible.
However, two things happened as a result of Part 1 of this series being published: First, it was brought to my attention that the Alerian MLP ETF had actually increased its Expense Ratio to a whopping 4.86%, compared with XLU at 0.18%, REM at 0.48% and HDV at 0.40%. That's a huge difference, and one that is likely to cut into AMLP's 6.06% yield, rendering the purpose of acquiring this ETF, to generate significant yield, unlikely.
I did a fair amount of research on the subject, and while Fidelity still shows AMLP's Expense Ratio to be 0.85% (which is still high compared with the others), the general consensus that I was able to cultivate was that there really are no viable ETFs that carry MLPs available to me through my company's 401(k), at least not at this time. There are other MLP-based ETFs, but either they have the same Expense Ratio problem as AMLP, or I am not able to purchase them as part of my particular 401(k) plan.
The other thing that happened was that I got some very encouraging feedback regarding YAFFX from fellow Seeking Alpha contributor Skyler Greene. I don't know if you've read any of Skyler's SA articles, but they are very good, and he is a very prolific contributor. I should also add that a great many of his articles have been selected as Editor's Picks, which is a substantial accomplishment.
I value Skyler's advice and his analytical and research skills, and upon further reflection decided that rather than sell the remaining shares that I still hold in YAFFX in my 401(k), that I will instead keep them, and change the allocation of my per-paycheck contributions such that 25% will continue to go into YAFFX and the remaining 75% will go into the cash account. I will then proceed with the same strategy of waiting until I have enough money accumulated in the cash account to make a purchase of one of the three ETFs that "made the cut".
So, the remaining members of my 401(k), and their initial allocations, will now be the following:
| | | |
| --- | --- | --- |
| Ticker | Proposed ETF/Mutual Fund | % Alloc |
| XLU | Utilities Select Sector SPDR | 25% |
| REM | iShares FTSE NAREIT Mortgage Plus Capped Index Fund | 25% |
| HDV | iShares High Dividend Equity Fund | 25% |
| YAFFX | Yacktman Focused Fund | 25% |
In Part 2 of this series, I discussed why I was interested in, and would likely take up a position in, the Utilities Selector Sector SPDR ETF, or XLU. In Part 3 of this series, I discussed why I was interested in, and have taken up a position in, the iShares FTSE NAREIT Mortgage Plus Capped Index Fund, or REM.
And Finally - iShares High Dividend Equity Fund
In this article, I'm going to take a closer look at the last ETF that I intend to migrate my 401(k) funds into at this time: iShares High Dividend Equity Fund, or HDV.
| | | | | | | | | |
| --- | --- | --- | --- | --- | --- | --- | --- | --- |
| | | | | | | Marco Polo | | |
| | | | | Exp | 52 Wk | XTF Rating | 1 Year | 3 Year |
| Proposed ETF | Ticker | Yield | P/E | Ratio | Perf | (Out of 10) | Return | Return |
| iShares High Dividend Equity Fund | HDV | 2.83% | 17.66 | 0.40% | 20.76% | 9.6 | 24.80% | n/a |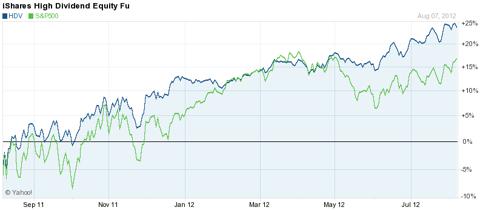 The following is the Objective of HDV, as found on Fidelity.com:
The investment seeks investment results that correspond generally to the price and yield performance, before fees and expenses, of the Morningstar Dividend Yield Focus Index. The fund invests at least 90% of assets in the securities of the underlying index or in depositary receipts representing securities of the index. However, it may invest up to 20% of assets in certain futures, options and swap contracts, cash and cash equivalents, including money market funds advised by the adviser or its affiliates, not included in the underlying index, but which the adviser believes will help the fund track the index. The fund is non-diversified.
Here are the Top 10 holdings of HDV, in order of their percentage allocation within that ETF according to Fidelity, including the yield of each of those positions:
| | | | |
| --- | --- | --- | --- |
| Ticker | ETF | | |
| HDV | iShares High Dividend Equity Fund | | |
| | | | |
| Ticker | Company | % Alloc | Yield |
| (NYSE:T) | AT&T, Inc. | 10.30% | 4.7% |
| (NYSE:PFE) | Pfizer, Inc. | 7.56% | 3.6% |
| (NYSE:JNJ) | Johnson & Johnson | 7.33% | 3.5% |
| (NYSE:PG) | Procter & Gamble Co. | 6.46% | 3.4% |
| (NYSE:VZ) | Verizon Communications, Inc. | 6.09% | 4.5% |
| (NYSE:MRK) | Merck & Co., Inc. | 6.00% | 3.8% |
| (NYSE:PM) | Philip Morris International, Inc. | 5.88% | 3.4% |
| (NASDAQ:INTC) | Intel Corp | 4.32% | 3.4% |
| (NYSE:MO) | Altria Group, Inc. | 3.71% | 4.6% |
| (NYSE:ABT) | Abbott Laboratories | 3.49% | 3.1% |
| | Top 10 Total % > | 61.14% | |
| | Top 10 Average Yield > | >>>>>> | 3.8% |
Out of the list above, based on David Fish's list of Dividend CCCs, five of the companies are Dividend Champions (25 years or more of raising their dividends), none are Contenders (10 to 24 straight years) two of them are Challengers (5 to 9 straight years) and one is a "Near Challenger," having raised its dividend for four straight years and likely to become a Challenger soon.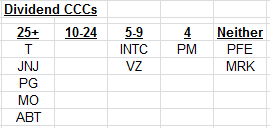 Two of them, PFE and MRK, can't be found on Mr. Fish's CCC list at all, but are still solid companies and (currently) good dividend providers.
In my IRA I hold positions in AT&T, Abbott Laboratories and Johnson & Johnson already, and I have a sizable position in Intel in another account. I've considered trying to start positions in many of the rest of the stocks in HDV's Top 10 list, but found their rising prices a barrier to entry. The HDV ETF provides me with (more) exposure to these solid, dividend stalwart companies that have wide moats and long histories of being well run companies with products that people either have to have, need or greatly desire.
It has been shown repeatedly that companies that pay and regularly increase their dividends outperform companies that do not. HDV is my Dividend Growth play out of the ETFs that I've chosen to shift money into from YAFFX and continue to fund in my 401(k).
Let's take a look at the one-year charts for these stocks and compare them with the S&P 500. (All charts courtesy of Yahoo! Finance.):
AT&T, Inc.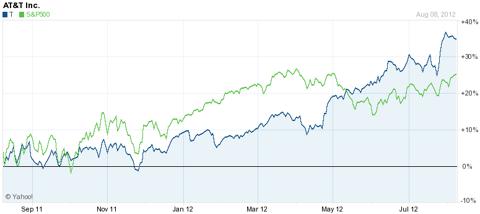 As I mentioned earlier, I have owned some AT&T stock in my IRA since early last November, and it has done very well for me, up almost 25% since I purchased it and with a Yield on Cost now of 5.87%. Since then, however, its price has kept rising, keeping it out of reach for me to pick up any more shares. Through HDV, however, I can benefit from T's 4.7% yield and concentrate my available IRA funds on either fleshing out existing companies or adding other strong-yielding companies to the IRA.
Pfizer, Inc.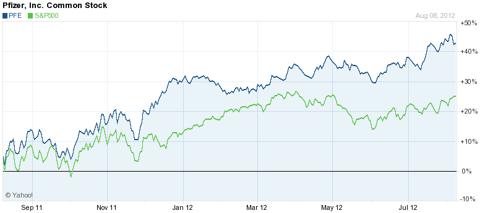 Despite having cut its dividend in 2009, which knocked it out of the Mr. Fish's CCC list, Pfizer has performed very well over the last 12 months, beating the S&P 500 by a nice margin.
Johnson & Johnson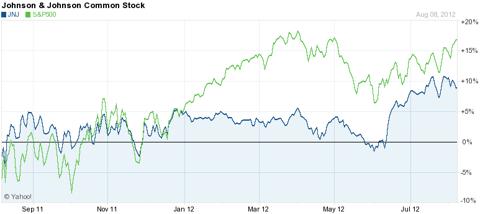 JNJ has had some troubles lately with product recalls and some legal issues as a result of a recent acquisition. However, things have picked up for the stock as of this past June, and it remains a Dividend Champion. Hopefully the new CEO, a company veteran, can turn things around.
Fortunately for me, I picked up my initial purchase of JNJ for my IRA back during the dip in early June, so I've got a decent cost basis for it, and while a more recent purchase this week to bring JNJ up to a 4% allocation in my IRA has increased that cost basis somewhat, it remains well below the current price.
Procter & Gamble Company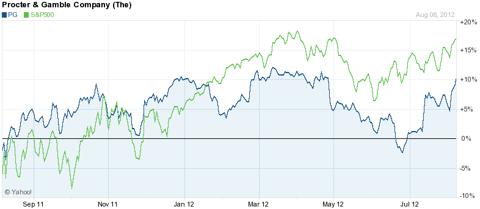 P&G seems to have stumbled a bit since late January, but otherwise has tracked the S&P 500, albeit somewhat below that index. I wrote an article comparing PG with other Consumer Goods Titans back in June, and PG was the "numerical" winner in that contest.
Verizon Communications, Inc.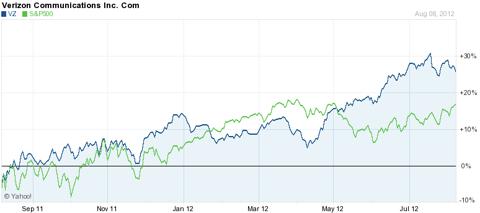 Verizon is the other half of the virtual duopoly in telecommunications in the USA, along with AT&T, and has tracked closely to the S&P 500 until this past May, when it has pulled ahead of that index by a nice margin. Many feel that VZ is the "better" carrier, and they do have more 4G LTE cellular coverage. I'm partial to AT&T.
Merck & Company, Inc.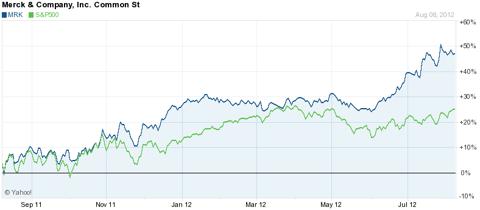 Merck has performed noticeably better than fellow Big Pharma company JNJ over the last 12 months, beating the S&P 500 handily and pulling ahead of that index in the last two months.
Philip Morris International, Inc.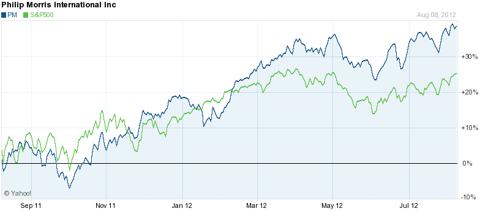 Philip Morris International continues the tradition of its big brother, Altria, having been spun off from MO around 5 years ago. Being the international supplier of the best-selling Marlboro brand should allow it to continue to grow and yield impressive and growing dividends in the years ahead without the legal headaches that MO has faced in the USA.
Intel Corporation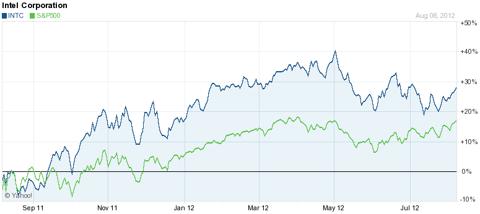 Intel is the undisputed leader in the semiconductor industry, and commands over 80% market share in PC chips, and over 90% market share in server chips. Its moat is nearly insurmountable given the costs associated with building Fabs (where the chips are initially manufactured), but it faces an uphill battle in the fast-growing mobile space where it needs to prove that its chips can compete in tablets and smartphones.
Altria Group, Inc.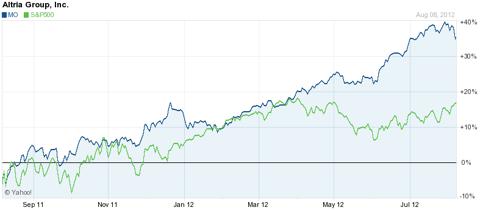 Altria is the domestic producer of the best-selling Marlboro brand, and may have seen the worst of its tobacco-related legal troubles behind it. I've seen information that indicates that smoking in the USA is either flat or even increasing slightly over recent years, despite the ban on smoking indoors in most states. Altria is the all-time winner of the S&P 500 performance race, and should continue to provide healthy, inflation-resistant dividends to shareholders for some time to come.
Abbott Laboratories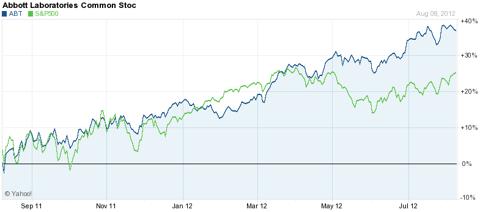 The future of Abbott in this ETF is in question in my mind, given that the company has decided to split itself into two parts by the end of this year. Personally, ABT has performed extremely well for me in my IRA portfolio, gaining nearly 20% since I bought it late last October, providing me with a Yield on Cost of 3.7% to its standard yield of 3.1%. I will be selling all of my ABT shares by October of this year, prior to the split but hopefully after the ex-dividend date in that month. It remains to be seen what the managers of HDV will do when the companies, along with the dividend, split.
Am I Chasing Yield?
So once again I ask myself, on your behalf, whether or not I am "chasing yield" by choosing to invest a quarter of my 401(k) money in the HDV ETF. Given that the yield of this ETF is 2.83%, I don't think I can be accused of that "offense" in this case. Most of the stocks in the Top 10 of HDV are Dividend Champions or Challengers, and that is the primary attraction to me of this ETF: Being able to include CCC companies that I might otherwise not be able to afford in my IRA at this time, or in the near future, in my overall investment strategy, and enjoy the steady, inflation-beating growth of their dividends.
Summary
I have already placed limit orders for XLU and REM, both of which have been filled, leaving me with just a small amount of cash in my 401(k), which is not enough to justify Fidelity's $7.95 commission and make a purchase at this time. However, by early October of this year I will have accumulated enough additional cash, and possibly some dividends, with which to make my initial purchase of HDV so that I can add it to my 401(k) account. After that, since 25% of my contributions will continue to go into YAFFX, it will take a bit longer to accumulate enough funds with which to make my next purchase of one of these ETFs, which means I will probably be making additional purchases of either XLU, REM or HDV on a quarterly basis.
This concludes this series of articles, at least for the time being. Thank you for taking the time to read the articles in this series. As always, please feel free to leave your comments below, and let me and everyone else know your thoughts on these or any other ETFs.
Disclosure: I am long INTC, JNJ, REM, T, XLU.
Additional disclosure: In addition, I am short (ABT), looking to sell out of my current position by mid-October.
Disclaimer: I am not a professional investment advisor or financial analyst; I'm just a guy who likes to crunch numbers and can make an Excel spreadsheet do pretty much whatever I want it to do, and I'm doing my best to manage my own portfolio. This article is in no way an endorsement of any of the stocks discussed in it, and as always, you need to do your own research and due diligence before you decide to trade any securities or other products.