Most analysts set the bar very low for Canadian Imperial Bank of Commerce (NYSE:CM) in the second quarter of 2008. However, as it turned out, when the bank released its results Thursday, expectations were not quite low enough.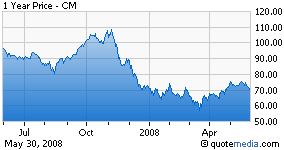 A loss of C$1.1-billion in the quarter seemed to surprise the Street. The bank's C$2.5-billion writedown was worse than most had anticipated, and the performance of its pared down investment bank is a concern.
Credit Suisse analyst Jim Bantis said:
The earnings power at CIBC's wholesale banking operation remains difficult to gauge given the internal turmoil and external market conditions.
He who lowered his target price for the bank's shares from C$79 to C$77.
Stable loan losses were a positive — especially given that other Canadian banks hiked their provisions in the quarter. And chief executive Gerry McCaughey insists a turnaround — reducing risk, refocusing on core operations — is well under way. Others are less convinced.
National Bank analyst Rob Sedran said:
While the long-term goal at CIBC is a premium domestic business mix with a heavy reliance on retail earnings, the path to that strategy is a long one.
He downgraded the stock to "underperform," with a reduced target price of C$73 down from C$77.
Indeed, in the short term it's hard to find much to lighten the mood at CIBC. The bank's subprime issues are ongoing, its risk management function appears to have broken down, and its core retail franchise is under attack from domestic rivals, noted Blackmont Capital analyst Brad Smith, who rates the stock a "hold."