Barrick Gold (NYSE:ABX) is one stock that a lot of value investors have been taking a close look at lately. The reason value investors are interested in Barrick is obvious. It looks like an almost textbook example of a classic value stock.
The company's share value has been falling in recent weeks, even though it has been named a Top 25 Dividend stock in Canada. Barrick is currently paying a dividend of 80¢ a share or 2.42%. Yet, its share value has taken a tumble because of shareholder dissatisfaction, losses and a management shakeup that cost former CEO Aaron Regent his job last month.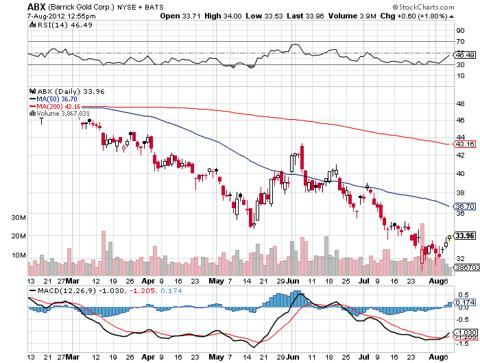 Click to enlarge
Since March, Barrick has tumbled from a share price of nearly $46 to a low of around $32 in early August. Its price has recently started to climb back up.
Many value investors will look at this as a bargain compared to companies such as Randgold Resources Limited (NASDAQ:GOLD), which was trading at $95.23 per share on August 7, 2012. It was also lower than Newmont Mining (NYSE:NEM), which was trading at $46.63 per share on August 7. Yet, Barrick's share price was still higher than that of smaller miners such as Kinross Gold (NYSE:KGC) - which was trading for $7.85 a share on August 7.
Barrick's stock value has fallen because it has being going through a rough stretch lately. Stockholders and company founder Peter Munk have become so dissatisfied with CEO Aaron Regent that they fired him on June 6. Munk even told the press the reason Aaron was given the boot was dissatisfaction with the company's share price. Part of the reason for the displeasure was Aaron's strategy of investing in copper and other minerals rather than gold.
The new CEO, Jamie Sokalsky, appears to have a new strategy that involves increased exploration and development of new mines. Sokalsky has also told the press that he is looking at selling off some older assets. He used the euphemistic term "review to reduce costs at existing assets." That means shutting down or selling off mines that are losing money.
This strategy will be costly. The company has budgeted between $450 and $490 million for exploration. Such spending does not automatically add up to leveraged profits, because there is no guarantee the company will find new deposits that it can economically develop.
Remarks made by Barrick's president of regional of oeprations for Australia and the Pacific at a conference this week seem to indicate that Barrick's production could be falling off. Mike Feehan said it would be good if the company could find a few million more ounces of gold. This indicates the company could fall short of its projected production. Barrick has announced that it will produce between 7.3 and 7.8 million ounces of gold this year.
The company estimated that it will cost between $550 and $575 per ounce to mine that gold, which is a slight increase from earlier estimates of $520 to $560 per ounce. This increase may not affect revenues as gold prices seem to be going up. Gold rose to $1,617.40 an ounce on the Comex on August 7, 2012.
Around 18 analysts interviewed by Bloomberg estimated that gold could reach $1,800 an ounce by the first quarter of 2013. Feehan told reporters that he expects demand for gold to stay high, but declined to offer price estimates.
Higher gold prices will increase Barrick's revenue because it mines a lot of gold. In North America, the company mined 3.38 million ounces of the metal at a cost $426 per ounce in 2011. The company expects production in North America for 2012 to be between $475 and $525 per ounce with costs of $426 an ounce.
Barrick is Growing
I expect higher gold prices will boost Barrick's leveraged profits because the company is expanding its gold production. It has at least two major new projects about to come online.
Barrick hopes to start production at its Pueblo Viejo mine in the Dominican Republic this year. Barrick owns 60% of Pueblo Viejo, while Goldcorp (NYSE:GG) owns 40% of the project. The two companies already have ore that could contain up to 1.7 million ounces of gold stockpiled at the mine. Barrick thinks it can get 100,000 to 125,000 ounces of gold from the mine at a cost of under $500 an ounce this year. The company also estimates that it can dig between 625,000 and 675,000 ounces of gold a year from Pueblo Viejo when the mine goes into full production in 2013. It also estimates a cash cost of $300 to $350 for mining at the site.
The Pascua-Lama project on the border between Argentina and Chile is expected to go into production in 2014. Pascua Lima has estimated gold reserves of 17.9 million ounces. Barrick hopes to produce between 800,000 and 850,000 ounces of gold a year at Pascua Lama when full production begins. Barrick also hopes to produce 35 million ounces of silver a year at Pascua Lima. Mining costs at Pascua Lima are not known, but they are expected to be high as the mine is in a remote section of the Andes. Barrick will have to build all of the infrastructure needed to get the mine into operation.
Barrick has some other expansion programs that could increase its production, including plans to start open pit mining at the Turquoise Ridge mine in Northern Nevada. Barrick owns 75% of Turquoise Ridge and operates the facility. Newmont Mining owns the other 25% of the mine. The gold reserves at Turquoise Ridge are estimated at 5.3 million ounces.
Questionable Risks
Barrick's potential leveraged projects are high. Unfortunately, it has also undertaken considerable risks, including a number of questionable speculative projects such as Donlin Gold in Alaska and the Reko Diq in Pakistan. There is no guarantee that these projects will be approved, or that they will produce any gold.
Despite its low price and large dividend, Barrick is a good value play for those who can tolerate the risks. It has potential for growth, but also high potential for losses.
Disclosure: I have no positions in any stocks mentioned, and no plans to initiate any positions within the next 72 hours.