Home Depot (NYSE:HD), the do-it-yourself home improvement giant, is scheduled to report fiscal Q2 earnings before the bell on Tuesday, August 14, 2012. Analysts' consensus expects $0.97 in earnings per share (EPS) on $20.754 billion in revenues, for expected year-over-year growth of 13% and 3%, respectively.
The stock has had a decent run off its March 2009 lows, when it traded below $20 per share. However, HD still trades well below its all-time high of $70 from May 2000.
If you review the late 1990s market action, HD tripled from its Fall 1998 long term capital crisis low near $20 in a little over 18 months' time. It peaked at $70 in May 2000, mostly due to the "large-cap growth" mania that was driving the tech bubble at the time.
The thing that fascinated me was how the stock languished from 2000 to 2006, during the greater aspects of the housing bubble. In fact, HD fell from $70 in May 2000 to $20 in March 2003.
Sure, readers likely only care about today. But to know where you are going, you have to study where you've been, and HD's resurgence is very interesting, given that we are in the earlier stages of a housing recovery.
We've modeled HD's financials since 1996, and a couple of items jump out when we scrutinize the spreadsheet:
1.) Store growth has been non-existent since 2008. In July 2008, HD had 2,257 stores, and as of the May 2012 quarter, HD's store count was 2,255.
2.) "Average revenues per store" have grown 2% to 4% since late 2008 -- a good sign in very tough housing markets, indicating HD is driving comp (comparison) gains.
3.) While HD's gross margin has remained fairly stable for years, its operating margin has bounced back up to 9.5% as of last quarter, gradually improving from the 2008-2009 lows. HD has controlled direct store expenses and SG&A very well, which has really helped earnings growth.
4.) Although some analysts define "big ticket" comps differently, it is generally believed that items with price tags greater than $900 comprise the "big ticket" comp category. For HD, those comps rose over 6% -- the best pop in that category in some time.
5.) However, HD's ability to drive 20%-30% EPS growth off of 4%-7% revenue growth has come primarily from the company's cash-flow and free-cash-flow generation, which has allowed HD to return $4 to $5 billion in cash-flow per year to shareholders.
Home Depot is a cash-flow juggernaut, and where once "capex" (i.e., new store growth) was $3-$4 billion per year, it is now just over $1 billion per year. Thus, with cash-flow generation of $5-$7 billion per year, all that excess cash has flowed back to shareholders, most of it in the form of a stock buyback. Since October 2007, HD has reduced its share count from 1.8 billion to 1.53 billion, or 15% of shares outstanding.
In addition, HD has just over a 2% dividend yield and pays out a little over $1 per share per year currently, with mid-to-high-single digit percentage growth in the dividend.
In terms of valuation, HD is neither cheap or expensive. It is trading at 18(x) this year's current consensus of $2.92, and 16(x) next year's consensus of $3.32, for expected EPS growth this year and next of 18% and 13%, respectively.
On a price to cash-flow basis, HD is trading at 11(x)-12(x) trailing data, which isn't a screaming buy, but is cheaper than a lot of growth retail.
Using a price-to-sales metric, HD is trading at 1(x) 4-quarter trailing revenues.
One of the reasons the P/E looks cheap relative to the growth rate is that -- even though comps over the last few quarters have come in the mid single digits -- the majority of the EPS growth is related to the company's share repurchase program.
In fiscal Q1 (reported in May), HD reported 6% comps. The company said about half of that, or 300 bps, was "weather-related" and favorable, given the warm spring weather. California and Florida -- which account for about 20% of HD's revenues -- comped decently in Q1, but slowed sequentially during the quarter.
To conclude, HD could benefit handsomely from the housing recovery, if comps grow steadily and if "big-ticket" comps return in earnest. But this is clearly a company in the "cash-cow" stages of its growth cycle, and that means positive things for investors -- at least in terms of returning capital to shareholders.
In addition, it will be interesting to see if the very warm late winter and spring did, in fact, have an impact on the business.
Technically, we would love a pullback to the mid $40s area, but we've been waiting on this pullback for awhile, and it hasn't happened yet. The long-term chart below shows the double-bottom at $20, and HD's slow crawl back to the May 2000 high.
There's no question that the technical improvement is from HD's cash-flow generation, and the proverbial safety-net from the share repo and dividend it provides.
The stock is "overbought" on the daily and weekly charts -- a 10% pullback would be ideal, but for longer-term investors, the stock looks great.
(click image to enlarge)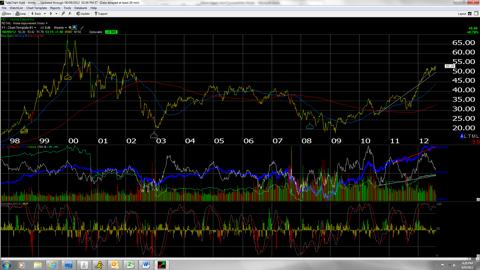 Disclosure: I am long HD.