Overview
American Capital Ltd. (NASDAQ:ACAS) is a business development company (BDC) that is currently taxable as a C-corp so that it can take advantage of 2008-era "tax assets" that prevent the company from owing taxes on operating profits. A description of the company's performance in 2008 and its ensuing recovery can be read in a prior article. Before the crash of '08, though, the company's management had expressed in earnings calls their frustration that the market plainly valued the company as if it were a basket of investments rather than valuing with the sorts of multiples typically accorded an investment manager. With the suspension of the dividend in 2008, shares no longer traded at a slight premium to the net asset value (NAV) per share, but at a discount to NAV.
The company's valuation has, in short, taken a vastly different turn than that intended by management. Does an opportunity exist?
Despite that the last quarter was rough for European investments - a material concern, given that the company's most valuable single portfolio company last quarter was European Capital Ltd. (ECAS) - American Capital nevertheless managed to grow NAV per share. As of the second quarter of 2012, American Capital Ltd.'s most valuable portfolio company is its home-grown asset management subsidiary, American Capital LLC. By structuring its management activities in a discrete subsidiary, American Capital has made it possible to illuminate the value of its fee income streams so this income can be assessed separately from the various income streams of the company's various portfolio investments. About 16% of ACAS' NAV is now attributable to its asset management business.
Asset Management
The asset management business has grown from something of a rounding error to a business that, last quarter, paid $20 million in dividends to American Capital Ltd. This isn't a static business. On the one hand, the asset manager is growing due to fee growth driven by equity growth in existing funds. American Capital Agency Corp. (NASDAQ:AGNC) has not only issued common shares, but even a new series of preferred this year. American Capital Ltd. earns a twelfth of 1.25% of AGNC's shareholders' equity, payable every month. At American Capital Mortgage Investment Corp. (NASDAQ:MTGE), American Capital Ltd. earns a twelfth of 1.5% of shareholder equity every month. And that equity is growing, too. Moreover, American Capital Ltd. just invested $30 million in its asset manager to develop new managed-funds business. As discussed below, investors get this rich and growing business at a 34% discount to its fair value. They also get - as a bonus - the investments American Capital Ltd. can make in the future with the quarterly dividend income churned out by the asset manager.
The Discount
One of the big reasons to view ACAS as a potentially attractive turnaround was its tremendous discount to NAV following the crash. In the case of ECAS, there's a double-discount: Not only does ACAS trade below NAV, but the "fair value" assigned to ECAS includes a NAV discount intended to reflect the fact that companies like ACAS are currently trading below NAV. As a result, ECAS' 54 portfolio companies had an aggregate fair value of $1.3 million, giving the company (after adjustment for liabilities) a NAV of $819 million; yet, ACAS claims the "fair value" of ECAS is but $574 million. The $245 million differential exists because "we valued our equity investment in European Capital below its NAV as a result of applying several discounts to its NAV in computing the fair value." The quality of ECAS' investments is attested by their same-currency valuation stability in the face of the awful European markets in which they do business. ECAS' portfolio valuation declined over the quarter not in same-currency terms, but due to currency fluctuation.
But due to concern over Europe, American Capital's "fair value" discount in its ECAS assets widened. In other words, the "fair value" of ECAS today includes more of the discount that previously supported ACAS as an attractive buy. Over the last quarter, ECAS' NAV discount - a double discount, cumulative of the additional discount applicable to American Capital as a whole - widened from 18.1% to 29.9%. That's a whopping 65% increase in the discount, in a single quarter. The potential writeup associated solely with the second-tier NAV discount in ECAS amounts to about $245,000,000 - at the quarter-ending share count of 324.4 million, this is more than $0.75 per share. That $0.75 is atop a further, internal-to-ECAS discounting - a third tier of discounting, if you will. Bond-yield discounting currently applied at ECAS even to fully-performing bonds amounts to $167 million in discounts. These bond-yield discounts are slowly eroding away as ECAS continues to be paid as scheduled on its portfolio of performing bonds, but they remain on the books. So ... another 51¢ per ACAS share in understated NAV at ECAS?
But ECAS' discount isn't really what an American Capital investor wants to learn. What American Capital investors really need is information on the overall discount on shares of American Capital. Over the six months ended June 30, 2012, American Capital Ltd. bought 14.6 million shares of its own common stock (about which, read Why American Capital Is Buying American Capital) for an aggregate $134 million; because the shares were bought for less than NAV, the purchases were accretive to NAV (buying below NAV has the same accretive effect as selling above NAV does at ACAS' managed funds) in the amount of $0.33 per remaining share outstanding. To understand the impact of 33¢ over that period, a chart is helpful: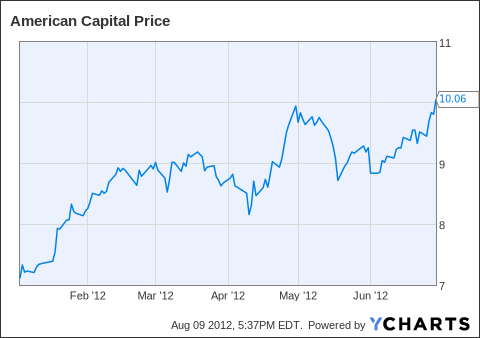 Performance
For a stock that opened at $6.86 on the first trading day of the year, the $0.33 per share of NAV increase obtained at no risk due to repurchases of underpriced securities represents a 4.8% gain in half a year. But buybacks weren't the only tool at work for shareholders. Business has done well under current management. Over the same six months, American Capital grew NAV from $13.87 per share to $16.62 per share - growth of 19.8%. This figure is not an annualized return, mind you. Management produced 19.8% of NAV growth in six months.
Why is that, and can it be repeated?
American Capital's numerous portfolio companies make it a plausible proxy for the broader market, but since it trades at a discount it's a discounted proxy for the broader market. Moreover, as it refinances its current debt with a revolving credit facility and gains the power to add debt, it will become a leveraged discounted proxy for the broader market. Investors with a long-term bullish view on the markets may find such a prospect extremely interesting.
Among those long-term bulls appears to be American Capital's own management. With the dramatically understated NAV at work in ACAS - particularly its investments held through its portfolio company ECAS - this author hopes management will continue the dividend policy instituted last year, and use dividend funds for share repurchases while the NAV discount continues to make that better for investors than declaring a (taxable) cash dividend.
Gratuitous Complexity
To wrap one's head around American Capital's metrics requires some thought. As described in the article about American Capital's 2011 results, the company's NAV includes some tax assets that don't produce income, but protect it from income taxes C-Corps must ordinarily pay on taxable income. Last quarter, while NAV grew 6% (in one quarter!) from $15.71 to $16.62, the NAV excluding all the company's deferred tax assets grew 2.7% from $14.52 to $14.91.
Is that better, or worse?
During the quarter, management obtained a ruling from the IRS regarding its intended tax treatment of some paid-in-kind preferred equity investments that effectively protected the company from $0.46 per share in future income taxes. This isn't "earnings", but tax advantages are especially valuable because their impact is not reduced by income taxes. In other words, benefits from thoughtful tax planning can pay supercharged dividends. Management has been alert to these opportunities, and shareholders have benefited.
Since tax assets don't show up on the balance sheet in regular payments, but only as accounting rules require their recognition, they are lumpy irregularities in the company's performance. But as this quarter and 4Q2011 illustrate, they're nontrivial. And with Net Operating Income in the range of $0.29 per share last quarter - but $0.58 per share after income taxes - it's evident that having tax assets to protect incoming cash is valuable to a company we hope to grow NAV.
Conclusion
But is 2.7% - the growth in NAV excluding tax assets - something to get excited about? Considering that the 2.7% gain occurred while the company's second-largest portfolio company was being valued with a discount that grew 65% over the quarter while that company's underlying assets remained flat, a growth rate that annualizes to 11% is nothing to sneeze at. It's a great result in an adversarial environment. As awfully as Europe is performing generally, the fact that ECAS is proceeding without apparent injury speaks well to its constituent investments as much as it promises to offer outstanding opportunity in distressed assets.
American Capital Ltd. trades with a NAV discount currently exceeding 34%. Shareholders enjoy a built-in margin of safety: the market is already bidding down the future, just in case. With nearly $15 in investible assets - $15.66 if one ignores the second discount applied to the value of the assets in European Capital - the stock offers retail investors an opportunity to invest in middle-market companies at discounted prices under a management that has produced outstanding NAV increases following the crash of '08.
At the beginning of the third quarter of 2011, NAV stood at $13.16, 10% higher than the previous quarter. Whether measured at $14.91 - for annual growth exceeding 13% - or at the unadjusted value of $16.62 for an annual growth of 26%, American Capital Ltd. offers NAV growth that hasn't been reflected in the much more modest stock price growth during the same four quarters: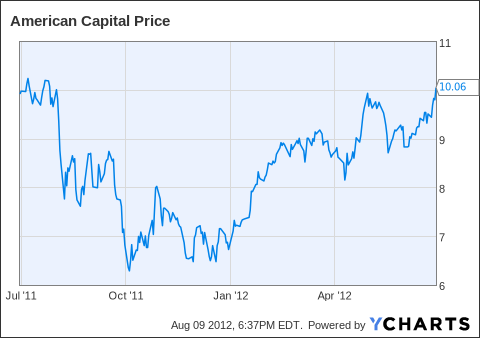 Near $11 a share, the last year of outstanding results are on sale at a pretty hefty discount. At a 34% discount to NAV, these shares are available with a pretty sizeable margin of safety. Shares of American Capital Ltd. remain a buy.
Disclosure: I am long ACAS.