Cousins Properties Inc. (NYSE:CUZ), of Atlanta, has acquired an 844,000-square-foot, Class A office building in downtown Dallas' Arts District submarket at a foreclosure auction for a net price of $59.2 million, the company announced this week. The building joins the small but growing number of downtown Dallas office buildings that have been foreclosed on recently.
Cousins had previously acquired a $10 million B-note backed by the building, at 2100 Ross Ave., in an off-market transaction. The newest acquisition by Cousins had been owned by a real estate partnership set up by The Moinian Group, of New York, which had bought the tower for $73 million in April 2007, borrowing $71 million to do so. The foreclosure sale reportedly was on behalf of U.S. Bank.
The property is 67 percent leased; tenants include CBRE, Prudential Mortgage Capital and Bank of America Merrill Lynch. Cousins intends to reposition the property through "a variety of common area and amenity-oriented enhancements." The strategic acquisition appears by Cousins seems to be part of an on-going initiative by the REIT to diversify outside of its core Atlanta market and balance efforts by investing in other southeastern markets. As explained by Cousins president & CEO Larry Gellerstedt:
2100 Ross Ave. is an outstanding fit with our ongoing strategy to acquire quality urban office assets in the best southeastern submarkets at valuations below replacement cost. This investment also provides a rare combination of significant value creation potential and an attractive in-place yield.
The price Cousins paid for 2100 Ross Ave. equals $70 per square foot and based upon prices from newly constructed buildings the likely replacement value would be in the range of $300 to $350 per square foot.
Recycling Efforts Continue
Cousins has also reported other transactional activity including the recent disposition of Galleria 75 for $9.2 million, The Avenue Collierville for $55.0 million (generating around $54.6 million in net proceeds to the Company), and Ten Peachtree Place for $61.0 million (resulting in net proceeds of $5.0 million to the Company).
Cousins is a leading diversified real estate company with extensive experience in acquisition, financing, management and leasing. The Company actively invests in office and retail projects and since its founding in 1958, Cousins has developed 20 million square feet of office space, 20 million square feet of retail space, more than 3,500 multi-family units and more than 60 single-family neighborhoods.
Today Cousins owns a portfolio of 36 properties and in the latest reporting quarter the company announced the office property occupancy increased to 91 percent and retail property occupancy had increased to 88 percent.
Other notable second quarter financial highlights include FFO of $13.2 million, or $0.13 per share, for the second quarter of 2012 compared with $10.9 million, or $0.11 per share, for the second quarter of 2011. FFO was $26.6 million, or $0.26 per share, for the six months ended June 30, 2012, compared with $19.0 million, or $0.18 per share, for the same period in 2011.
Net income available to common stockholders was $6.4 million, or $0.06 per share, for the second quarter of 2012 compared with net loss available of ($4.7) million, or ($0.05) per share, for the second quarter of 2011. Net loss available was ($6.7) million, or ($0.06) per share, for the six months ended June 30, 2012, compared with ($12.6) million, or ($0.12) per share, for the same period in 2011.
Legacy REIT is not a SWAN, Yet
As one of the oldest publicly-traded real estate companies in the country, Cousins Properties went public in 1962 and became a REIT in 1987. The roots of the legacy REIT were established by the Cousins family in 1958 and Tom Cousins (still owns around 8.93 percent of shares valued at around $72 million) orchestrated the current leadership team including the current President and CEO Lawrence (Larry) Gellerstedt and the company's current Executive VP and Chief Investment Officer, Craig Jones.
Cousins is continuing to shed its non-core residential assets and the company has a very steady pipeline of development projects underway - notably Emory Point in Atlanta and Mahan Village in Tallahassee. The continued geographic diversification efforts (like 2100 Ross Avenue in Dallas) and the continued recycling of non-core assets should continue to enhance profitability and shareholder value.
Cousins stock is currently trading at $7.75 per share and the 52-week high was $8.09 on July 13. The dividend yield is modest at 2.32 percent and the company's year-over-year total return is 17.06 percent. Clearly Cousin's stock price has found a bottom but I do not see this stock as a value given no strong evidence of near term capital appreciation. I have this on the radar in hopes that its asset repositioning initiatives will deliver value and begin to enhance overall profitability.
I do see value to the Cousins brand and at some point I hope to place a recommendation on this REIT as growth performer. Management is continuing to build on its recycling strategies and at some point Cousins will be well positioned to deliver better than average performance.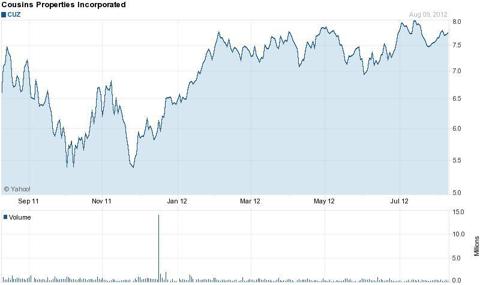 Disclosure: I have no positions in any stocks mentioned, and no plans to initiate any positions within the next 72 hours.