Currently one of the most heated debates on Wall Street is the future of Finnish phone manufacturer Nokia (NYSE:NOK). Nokia has come under intense scrutiny by the bears over the last few years. Justly so, Nokia used to be the number one manufacturer of cell phones in the world before losing out to Samsung (OTC:SSNLF) this year. The deterioration in share price strengthens the bearish argument against the company. The downward spiral can be partly accredited to Nokia's failure to enter the smart phone world aggressively. Google (NASDAQ:GOOG), Apple (NASDAQ:AAPL) and even Blackberry manufacturer Research in Motion (RIMM) beat the company to the punch. It has been a painful past few years for share holders that entered positions at $40 in 2007.

Nokia's 52 week low-high is currently $1.63 - $7.38. I was a buyer at $3.50 and suffered some losses on the trip down to $1.63. Nokia has found resistance above the $2 mark and any drops below it, I am strengthening my position. Still, my mindset has been resolute in my investment, so I doubled my position at $1.70 bringing my position down to $2.50. Nokia is highly undervalued at current levels; a market cap of $9 billion does not make sense when Nokia's annual gross revenue exceeds $30 Billion. Nokia's cash hoard will allow it to make the transition to Windows phone much easier.
Direct from President and CEO Stephen Elop from the Q2 earnings conference call:
"First, regarding the management of our cash situation, we held our net cash resources at a steady level after adjusting for the annual dividend payment to our shareholders. We ended the quarter with net cash and other liquid assets at EUR 4.2 billion, down from EUR 4.9 billion at the end of Q1 and up from EUR 3.9 billion at the end of Q2 2011. This follows a EUR 742 million annual dividend payment to shareholders. Our gross cash was EUR 9.4 billion at the end of Q2, down from EUR 9.8 billion at the end of Q1 and up from the end of Q2 2011. Thus, both gross and net cash were higher year-on-year.
In the last five days after Nokia released Q2 Earnings, the stock has rallied 40%. At $2.78 a share the stocks' dividend is yielding 9.12%. Nokia may cut the dividend next year to help bolster margins, but if they thought it was necessary they would have done so already. Nokia has a current liquidity ratio of 1.46 showing that the company has the means to pay off its liabilities should the need arise. Nokia's Price to earnings multiple is in the negatives currently as the company works on its restructuring. If it was operating on positive cash flow, it wouldn't be the controversial play it is, would it?
Being a contrarian investor definitely has its risks, I was already down 60% but the possible gains far out-weigh the risks for me. For the entirety of 2012 the media on CNBC has hammered the already beaten down stock. Seldom will an analyst be caught on TV proclaiming his long position in Nokia. If he does, he is attacked instantly by Apple fan boys. I think the lack of consensus from the community is what makes the company such a compelling buy at these levels. Market sentiment has been bankruptcy is imminent for the worlds' once most dominant cell phone manufacturer.
The image below shows the MarketWatch communities bullishness on the stock, but the analysts covering it are bearish. If you follow Nokia intently on Seeking Alpha you will also see this type of disparity between SA contributors.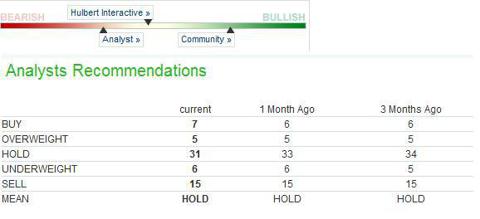 However, Nokia is doing the right things to get back on track. The decision to switch from the old Symbian operating system to Windows was a good one. Nokia direly needed to evolve its software to keep up with the times, and Microsoft (NASDAQ:MSFT) was the perfect solution. One of the most sought after aspects of the Windows 8 operating system is multi-device synchronization. It chose a platform that will allow it to have a formidable presence in cloud computing. In addition to making some much needed OS changes, Nokia's management has recently laid off 10,000 employees. This was a necessary evil to help reduce operating costs to a level that will reinstate profitability. Stephen Elop also stated if necessary it will sell non essential assets like real-estate to fund its restructuring program.
Earlier this year Nokia released the Lumia 900, its flagship Windows phone. The Lumia 900 sold four million units in Q2, increasing from the previous quarter by two million. The Lumia 900 has done stellar for only being offered by AT&T (NYSE:T). The phone has continued to impress global audiences with 95% of people that own the device willing to recommend it to a friend. AT&T has been a fantastic partner for the device. AT&T dedicated $150 million to help promote the phone in the U.S. One of the major reasons they are pushing the Lumia 900 so avidly is to help Windows phone gain a foothold. It is extremely important for mobile carriers that Windows phone is a success. If Windows phone takes off, it allows AT&T to negotiate more aggressively with Google and Apple over prices.
In addition, I think the market also undervalues the benefits of Nokia's partnership with Microsoft. Microsoft has agreed to pay the company a billion dollars a year to be its flagship manufacturer for Windows phone. The positive reviews and increasing sales from the Lumia 900 are evidence of a strong partnership unfolding. Although current Lumia devices aren't compatible with Windows 8; Nokia is dealing with this issue by offering a Windows 7.8 "metro" operating system that current Lumia's will be able to upgrade to.
There is plenty of room for a 3rd eco-system of cell phones, and Windows 8 should be the catalyst that proves this. Before the iPhone, Nokia was king. It's safe to say that our society is always transitioning to the next best thing; now it's Android who is king. It did not take Google long to achieve its impressive 51%+ market share in the cellular world. Nokia ended the second quarter with a 6% market share in the smart phone market.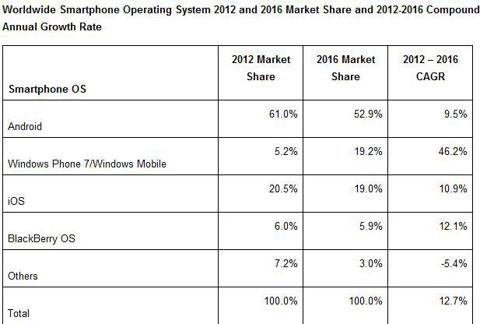 Another positive force which will aid in the companies revival, is Nokia's patent portfolio; which is the best of its kind. The portfolio consists of 10,000 patents which generate £401m annually for Nokia. Google recently paid $750,000 a patent to Motorola which was considered a huge reason for the acquisition. After Nokia's victory in the patent lawsuit with Apple last year, it can be assumed that its patent position has only strengthened. For every iPhone and iPad sold, Nokia also generates revenue! Nokia only has four patents that they are forced to license under the "FRAND" law (fair, reasonable and non-discriminatory.) Nokia has a lot of room to monetize its patents further.
Recently it has come to my attention Nokia has a newfound partnership with Ford. Ford has teamed up with Nokia to benefit from its state of the art location/mapping (GPS-navigation) technology. Ford plans to implement Nokia's software into its line of automobiles; which could be a huge untapped revenue source. My favorite statistic from the conference call below is "Today 4 out of 5 cars with on-board navigation use Nokia technology." That is an immense number!
From Stephen Elop Q2 Conference Call:
Shifting now to Location & Commerce. We are investing in this business because we believe the mobile device will become the nucleus for gathering real-time data through sensors. Nokia purchased NAVTEQ, which has the world's biggest map, because of the opportunity for location-based services on mobile devices. In light of our new focused strategy, we believe we can take even more advantage of this asset. Today, 4 out of 5 cars with on-dashboard navigation use Nokia technology. Relative to this, our year-on-year increase in Location & Commerce net sales in the second quarter was helped by higher sales of map licenses to auto industry customers. While our business with auto industry customers continued to grow, we also made good progress establishing our location-based platform with businesses like Yahoo!, Flickr and Bing. And we plan to announce new partners in the coming weeks and months."
Consequently it can be surmised that once the transition to Windows is complete, Nokia will rebound further. Isn't it true that having Microsoft as a premier partner puts them at the forefront in the battle with for market share? Nokia has been around for a long time, with almost $1.5 billion in automatic revenue at no cost to them; it would take extreme stupidity from management to bankrupt the company. Management has been working strenuously to restore profitability, which should start being evident early 2013.When Nokia enters the tablet wars, I am confident they will deliver another quality product that offers a great alternative to Android and Apple devices. Nokia will make a similar comeback in the coming years following (NYSE:S) Sprint's footsteps.