When investors think of the healthcare sector, it's hardly surprising that pharmaceutical companies usually come to mind. With a combined market capitalization of more than $1 trillion, drug makers comprise about half of the sector's total market capitalization (see 'Swelling Markets' below). The bulk of this market cap rests in just a handful of large companies.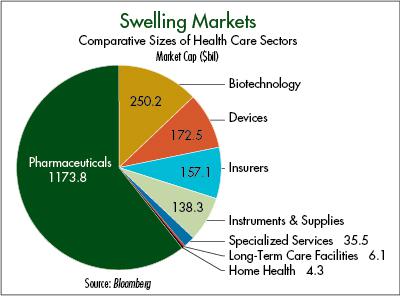 However, if you dig deeper you'll find an amazingly diverse group of promising businesses, the majority of which are off the radar. Here, I look at two undervalued stocks that are tied into secular trends in healthcare. Neither has attracted a great deal of investor attention, but they offer substantial upside potential.
Working Smart
A major trend in the pharmaceutical business has been towards tailoring treatment to fit an individual patient's biology and disease. As a result, advanced biotechnology has come to play an increasingly critical role in the health care sector.
PDL BioPharma, Inc. (NASDAQ:PDLI) owns a portfolio of patents covering the production of "humanized antibodies" that are a mixture of mouse and human components.
Antibodies are the gendarmerie of our immune systems; each antibody fights a particular sort of pathogenic invader by binding with specific proteins. Using antibodies to fight specific diseases has become a cornerstone of personalized medicine and the basis of several next-generation drugs for the treatment of cancer, multiple sclerosis and other diseases.
However, the antibodies used in those drugs are derived from mice, which means our immune systems often recognize them as foreign invaders and destroy them. That biological response can be overcome by using PDL's process of humanization, which essentially reorganizes the antibodies' proteins into a more human form, thereby tricking an immune system into believing the mice antibodies belong within the host.
Several drug companies, including major outfits such as Roche (OTCQX:RHHBY) and Genetech, Wyeth and Novartis (NYSE:NVS), have licensed PDL's technology to produce blockbuster drugs such as cancer treatment Herceptin, macular degenerative disease treatment Lucentis and asthma drug Xolair. The technology is also used to produce Perjeta, a breast cancer treatment that was approved in early June and is widely predicted to become a new blockbuster drug with annual sales in excess of $1 billion.
Under licensing agreements, PDL collects a sliding percentage of drug sales based on total revenues generated. PDL's revenues have grown an average of 22.4 percent over the past five years. Annual revenue growth is expected to slow to about 13 percent, as the current slate of drugs that incorporate PDL's technology mature. However, it's unlikely that PDL won't strike new licensing deals, because a growing number of new drugs incorporate antibodies.
PDL is trading at its lowest valuation in several years, with a price-to-earnings (P/E) ratio of 5.6. It's also trading at only 1.7 times its forecasted earnings growth. PDL is an attractive high-yield stock, offering a $0.15 quarterly dividend, which amounts to a yield of about 9 percent.
Going HITECH
While the Patient Protection and Affordable Care Act (PPACA) was the capstone in President Obama's efforts to reform American health care, he and congressional Democrats were already making headway in that arena well before PPACA was signed into law in 2010.
As part of the American Recovery and Reinvestment Act of 2009, otherwise known as the economic stimulus bill, the Health Information Technology for Economic and Clinical Health (HITECH) Act created financial incentives for physicians and hospitals in the form of higher Medicare reimbursements to encourage the adoption of electronic health records (EHR). The incentives total $19.2 billion and run through 2014.
EHRs are an important policy priority because they help health care organizations standardize and lower the cost of care for chronic-and consequently expensive-conditions such as diabetes. They also improve the quality and efficiency of care by integrating doctor offices with hospitals and labs.
Despite those financial carrots, adoption of EHR systems has been relatively tepid over the last few years because of the generally weak economic environment and uncertainty over the ultimate fate of health care reform.
But no law is complete without some sticks. Beginning in 2015, physicians who aren't using EHRs face financial penalties that begin with a 1 percent reduction in Medicare payments during that year and may rise as high as 5 percent by 2018.
Although 2015 seems a long way off, the deadline is looming disturbingly large because it can take between one to three years to implement an EHR system, depending on its size and complexity.
As a result, orders for EHR systems should pick up over the course of the next several quarters, particularly as small- and mid-sized health care providers that have delayed action because of budgetary concerns begin buying systems.
Computer Programs and Systems, Inc. (NASDAQ:CPSI) serves that small- and mid-sized market, focusing primarily on hospitals with fewer than 300 beds. The company experienced a spike in new clients in the first quarter of this year. While most of that growth is largely attributable to secular regulatory trends, the depth and breadth of the firm's offerings also played a role.
In addition to offering EHRs, Computer Programs & Systems also provides business functions, including payroll and personnel management, inventory control systems and IT administration. The company has begun offering its productions on a Software as a Service basis, allowing clients remote data access and storage capabilities and potentially reducing their liability in the event of a data breach.
These important business functions set the company apart from its competitors and they're crucial for compliance with HITECH. To ensure that every dollar is used for the intended purpose of promulgating EHR, the federal government has attached a proviso: physicians and hospitals that want to qualify for incentive payments must demonstrate that they're actually using the technology.
In other words, purchasing and even installing an EHR system is not sufficient. The health provider must demonstrate that it is beneficially and efficiently using the system in the real world. This prevents providers from buying a new EHR system, getting paid by the government, and then mismanaging or underutilizing the system. Computer Programs & Systems helps clients with this mandate.
Over the past five years, the company has generated average revenue and earnings growth of about 11 percent. For the rest of 2012 and into 2013, this growth rate should rise into the mid-teens. With a surge in EHR demand on the horizon and an attractive $0.46 quarterly dividend, Computer Programs & Systems is a solid dividend investing play.
Disclosure: I have no positions in any stocks mentioned, and no plans to initiate any positions within the next 72 hours.