Sometimes the best way to look for investment ideas is not to look for them at all. Great opportunities can just happen to show up when you least expect. Such was the case when I first learned about Cytomedix (CMXI.OB). At the time a family member was having problems with a wound that was responding poorly to standard treatments, and CMXI stock was at about $0.35. I did some research on new treatments and found that CMXI had a product called AutoloGel that sounded like the sort of thing that could really eclipse the current standard of care. Since then, only a year later, my grandfather has recovered (AutoloGel was not readily available in his area), and CMXI has risen as high as $2.32 and has recently been trading at around $1.50. A CMXI investment when it first came to my attention about a year ago has presently returned almost 300%, and nearly 500% at times over the last year. While the companies themselves are only broadly analogous, comparing CMXI with AAPL (one of the most ubiquitous success stories of the last year) of course vividly illustrates the relative ROI, but also in a wider sense shows the potential for how small companies can drive technology forward in time.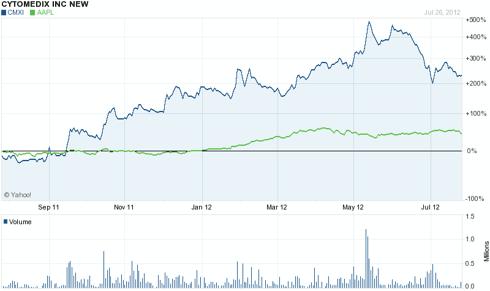 CMXI could be poised to become a big name in medicine. Autologous blood therapy (essentially the use of technology, to better refine and direct healing mechanisms that the body naturally produces) and platelet rich plasma (a more specified type of autologous therapy) are already becoming readily adopted therapies. Not long ago professional athletes and dental patients were the main recipients of platelet rich plasma, however now it is not uncommon for average people to walk into their doctor's office and ask about it. It could become the standard treatment for a variety of conditions. CMXI has three divisions of products and treatments, which are based on autologous blood therapy (or a bone marrow derived product in the case of the acquired Aldagen technology). The products are currently aimed precisely at specific target markets as they grow the business and develop the technology. However the technology itself has the potential to transcend medical niches and markets; there are applications for autologous blood therapy that range from healing external wounds, to healing internal wounds like sports injuries and vascular problems, even to hair transplantation and more. The former examples only begin to scratch the surface of the range of use. Autologous blood therapy is a platform that is already helping people of many walks and stages of life, without incurring a long list of adverse side effects and risks that typically accompany many pharmaceutical and surgical treatments.
CMXI's most recognizable product for now is AutoloGel. It is a platelet rich plasma therapy for external chronic wounds. The general process involved, requires that a nominal amount of the patients' own blood is removed, which is then refined to individual need (via unique centrifugation), and finally re-applied to the body where needed as a gel. The therapy has been shown to dramatically increase rates of healing, particularly in diabetic patients, who suffer from chronic wounds, some of which do not heal over the course of years under standard care. The diabetes market alone presents incredible opportunity for AutoloGel. With an estimated 285 million people worldwide and growing, and 15% of diabetics experiencing foot ulcers, AutoloGel has a large potential pool of customers, and they potentially have a treatment that can significantly increase their quality of life.
As of 2010, 26 million in the U.S. had diabetes, and the market for platelet rich plasma was estimated to be $126 million by 2016. However, currently AutoloGel has limited availability, sales are growing but they have been limited to just a handful of U.S. states. But AutoloGel was just recently accepted for Medicare & Medicaid approval. Before this, the treatment was limited to private pay sales. AutoloGel has now entered into the Coverage With Evidence Development program, a relatively new but increasingly utilized program for the vetting of new therapies by CMS. Under this program, AutoloGel will receive full reimbursement benefits, but will be subject to continued review. While the focus for AutoloGel is currently directed toward diabetic ulcer patients, it is relevant to chronic wounds of other causes too.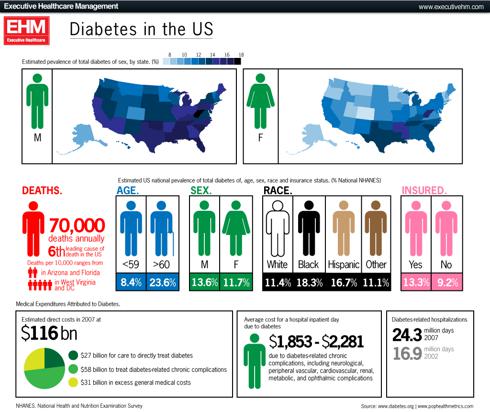 CMXI's other product is called the Angel. It is a whole blood processing kit that is used mainly in surgical settings. It is both highly customizable and quick, which is key in procedures that require fast processing turn-around and precise concentrations of growth factors. Additionally, after an early 2012 acquisition of Aldagen, CMXI now has a third line of products in the pipeline that uses stem cell technology to address various ischemic conditions. More specifically, they seek to address healing of critical limb ischemia, ischemic heart failure, and post-acute treatment of ischemic stroke. Most recently in conjunction with Duke University, one of the stem cell variations will be studied to show its feasibility and safety on patients with malignant gliomas. All of the stem cell therapies are currently in trials, and as they come to fruition it could make CMXI the most well rounded company in its field.
As an investment candidate CMXI is volatile, as evidenced by the aforementioned share price fluctuations. It has had a significant decline in price over recent months. But it has very compelling products targeting burgeoning markets, a sound business plan, and excellent execution particularly in recent years. There are significant barriers to entry in terms of being able to permeate in full the populations that can benefit from its products, mostly due to regulatory and insurance requirements, which of course is a common hurdle for medical companies. But CMXI has shown quite convincingly that autologous blood therapies can solve medical problems more quickly, effectively, and safely than standard treatments; which ultimately creates value for shareholders, reduces cost for insurers and patients, and provides better quality of life for therapy recipients.
Financially, as of the latest earnings statement, CMXI had increased their cash balance significantly. Due to increased sales and mostly to payments associated with a possible agreement for AutoloGel with an undisclosed "Big-Pharma" company, CMXI had over $8 million in cash as of the latest earnings statement. The agreement has been in negotiations for some time now, and the payments have been lump sum amounts, in exchange for optional distribution rights. The latest payment extended the options until Aug. 30, 2012. A distribution partner for CMXI would allow for much greater penetration of AutoloGel sales without the added cost of increasing their minimal sales force, due to the "Big Pharma" having more developed sales/distribution resources. While CMXI is currently traded over-the-counter, investors could see it up-list to a major exchange in the next couple of years, if not sooner. Aside from a significant change in the market cap itself, a reverse stock-split to meet up-listing requirements could put CMXI on a major exchange relatively soon. On the near-term horizon, CMXI should be posting 2nd quarter financial results in the next couple of weeks, and an update on the aforementioned "Big Pharma" possibilities will be expected by the end of August.
Disclosure: I am long CMXI.OB, AAPL.