United Technologies (NYSE:UTX): United Technologies is a leader in technology and infrastructure for the building supply and aerospace industries and, at a market capitalization of over $70 billion, is a lesser known name than similar market capitalization stocks such as Kraft Foods (KFT), United Parcel Service (NYSE:UPS), and ConocoPhillips (NYSE:COP), all of which have market capitalizations of $72 billion. The Hartford, Connecticut based company has a rich tradition dating to the mid-1800s and employs nearly 200,000 worldwide. Although the parent company United Technologies may have limited name recognition, it operates a host of subsidiaries that are household names in the United States and across the world, such as Otis Elevators, Sikorsky Helicopters, Carrier heating and cooling building systems and Pratt & Whitney aerospace engines.
UTX has well diversified revenue streams, with its Pratt & Whitney unit edging out its Otis subsidiary in terms of revenue, as shown in the graphic below.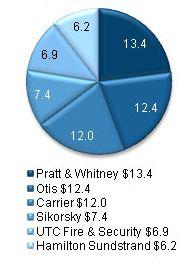 UTX has garnered an increasing share of growth from emerging markets, where its Otis and Carrier units have seen robust growth due to building booms in India, South Korea, China, and Brazil. Likewise, strong growth in the aerospace sector has driven strong growth in Pratt & Whitney sales. UTX has been active in altering its subsidiaries of late, adding to its aerospace holdings with the acquisition of Goodrich and shedding a small unit in the wind power industry to help pay for the acquisition. UTX also had a sizeable corporate debt issuance in May to pay for the acquisition. The company secured nearly $10 billion in bond proceeds, with 30-year rates of just 4.5%. Although the acquisition and subsequent bond proceeds add to the sizeable debt load of the company, they position the company well for potential acquisitions in the future at very attractive rates and interest expense remains at a reasonable level.
In terms of fundamentals, there are a number of appealing characteristics of UTX. The company, which netted $58 billion in revenue in FY 2012, has been remarkably stable in its revenue growth, posting annual revenue gains of in excess of 5% during each of the past two years. The company has a compellingly low price-to-earnings ratio of just 12, well below the level expected for a company that is expected by analysts to growth revenue by nearly 20 percent in FY 2013. The company trades at just 1.2 times sales, which is slightly below the 1.4 times in the industry. Although macroeconomic weakness and absorbing the acquisition of Goodrich is anticipated to limit profit growth during the current FY 2012 to just 11%, from FY 2012 to FY 2013 profit growth is expected to be robust at 20%.
UTX is attractive for investors from the perspective of portfolio diversification. Because of its diversified businesses, it offers exposure to a number of different industries, and provides significant exposure to emerging markets. UTX pays a solid dividend of 2.40 annually, which yields 2.8% at the current share price of $77.48.
Enterprise Products Partners (NYSE:EPD): Like United Technologies, Enterprise Product Partners is sometimes overlooked by individual investors despite its large market capitalization ($46 billion). EPD is a midstream company that provides natural gas and petroleum, including transportation services between producers and consumers in the United States. The company segments covering liquid and natural gas pipelines, onshore natural gas and petroleum, offshore natural gas production, petrochemicals and refined products.
EPD is highly geographically dispersed, with major U.S. operations from Colorado to Mississippi and the Gulf of Mexico and over 5,000 miles of onshore and over 1,000 miles of offshore natural gas and petroleum pipelines. The company has rapidly expanded revenues from $28 billion in FY 2009 to over $44 billion in FY 2011, a 2 year growth rate of 57%. EPD's market capitalization of $46 billion is actually small compared with integrated global leaders Exxon ($454 billion) and BP ($134 billion) due to its midstream positioning. Although as shown below EPD is trading at a 52-week high, it is very inexpensive from price-sales (1.1x) and price-earnings-growth (1) ratios.

EPD pays a dividend of 4.5% and has raised the dividend continuously for over a decade. Since 2004, it has raised the dividend each successive quarter, making it an especially compelling purchase for dividend investors seeking growth. (It should be noted, however, that investors in EPD must receive and file K-1 forms for tax purposes, and should consider whether the potential added tax complexity is appropriate for their situation). In terms of portfolio management, EPD offers value for investors seeking income coupled with expansive growth in the energy sector.
Disclosure: I have no positions in any stocks mentioned, and no plans to initiate any positions within the next 72 hours.