We previously analyzed CenturyLink, Inc. (NYSE:CTL) versus two other rural telecommunications companies - Frontier Communications Corporation (NYSE:FTR) and Windstream Corporation (NASDAQ:WIN) - and concluded that CenturyLink offered the best risk-reward scenario of the three rural telecoms. We followed up our first research report with another report that researched and analyzed CenturyLink's steady business performance, strong generation of free cash flows, and growth potential from Savvis. In this report, we will focus primarily on CenturyLink because we feel that if we can devote a report to primarily analyzing Frontier Communications, we can most certainly devote a report to the rural telecommunication sector's industry leader CenturyLink.
Even though CenturyLink has always had the lowest dividend yield of the rural telecom trifecta, we believe it is the best-in-breed in the rural telecom space. Granted this sector is dominated by three companies. But still, we believe that investors in the rural sector shouldn't mind sacrificing 2%-3% current yield to buy CenturyLink instead of Windstream or Frontier because we believe that investors are more likely to see the return of their money, as well as incremental growth on their seed capital by investing in CenturyLink versus Windstream or Frontier. That's precisely the reason why we still hold our long position in CenturyLink. We believe what makes Saibus Research special with regards to other dividend investors and investment professionals is we like to analyze how a company earns the money to pay us our quarterly dividends. We find that more important that merely grabbing the stated yield off Yahoo Finance.
After the market closed on August 8, CenturyLink reported adjusted Q2 2012 EPS of $.65/share, which beat the $.61/share analyst consensus and was an increase from the $.64 adjusted EPS achieved in Q2 2011. We weren't surprised by CTL beating expectations. We weren't surprised by CTL's continued progress in stabilizing its revenue. CTL made a significant improvement in its adjusted pro forma revenue decline by reducing it to -1.22% for the quarter. While we are most certainly unhappy to see its wireline access lines decline by 6.05% year-over-year, it was still better than the 7.6% year-over-year decline in wireline access lines by Frontier.
As we are considering cutting our personal home wireline service, we are well aware that telecom companies are shifting the focus of service to wireless communication services and strategic communication services such as Cable TV and Internet. CTL's wireline decline even compared favorably with the 10.8% decline in wireline customers at AT&T (NYSE:T) and the 6.9% wireline decline at Verizon (NYSE:VZ). CTL's wireline declines was mostly offset by a 4.4% year-over-year increase in the number of Broadband Internet customers served, which compared favorably to the 2.45% increase that Frontier saw, the 2.6% growth at Verizon and the flat growth that AT&T saw. We were especially pleased that excluding revenue growth from Savvis, CTL's pro forma revenue decline excluding Savvis improved to -1.7% in Q2 2012 on a year-over-year basis.
Click to enlarge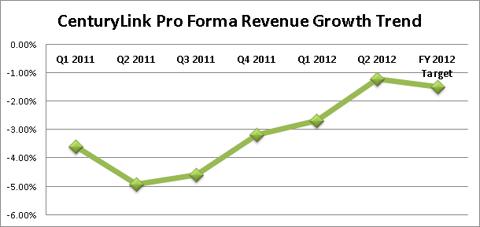 Click to enlarge
Source: CenturyLink's last six Earnings Releases
Evaluation of CenturyLink's Business Segments
Regional Markets Group: We were pleased to see strategic revenues for CTL's RMG segment to continue to make up a larger share of division revenues and to offset in wireline revenue declines. Strategic communication services revenues grew by $49M in Q2 2012 on a pro forma basis (5.8%) versus the prior year's levels and reached $894M in the quarter. Data Integration revenues for the division were $73M and represented an increase of 10% versus prior year's pro forma levels. Strategic revenues and data integration revenues now make up 39% of the division's revenues, versus 35% for pro forma Q1 2011 levels (Q1 2011 was the last quarter before CenturyLink acquired Qwest and Savvis). This helped the division partially offset a 7.5% decline in legacy services (primarily wireline) and resulted in a small 2.6% pro forma revenue decline. RMG also ended the period with over 94K Prism TV (advanced next generation fiber-optic television) subscribers, an increase from the 85K in Q1 2012. 54% of new Prism TV subscribers were new CenturyLink customers and Prism TV is now in 9% of available homes in the CenturyLink service area.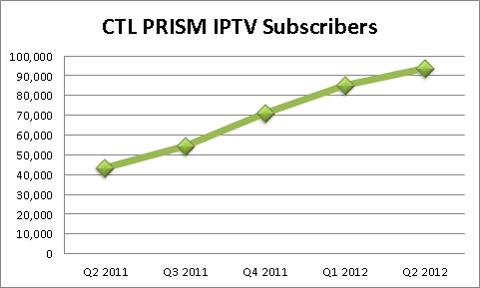 Click to enlarge
Source: CenturyLink's last 5 earnings releases
Wholesale Markets Group: We were satisfied that strategic services revenues grew by 2.1% in the quarter versus prior year's quarterly period and this was driven by wireless carrier bandwidth expansion and Ethernet sales. Legacy services revenues declined by 12% due to decreased wireline customers served and Total revenues declined by 4% in the quarter versus the comparable quarter last year. Direct segment expenses excluding depreciation and amortization declined by 7% and this helped segment income margin increased by nearly 1%. Total revenue during the quarter was $944M and strategic communications revenues accounted for over 60% of division revenues. CTL's WMG segment completed approximately 1,350 fiber builds during the second quarter and over 2,000 year-to-date, ending the quarter with about 12,150 fiber-connected towers. WMG currently remain on track to complete 4,000 to 5,000 fiber builds in 2012. This effort is to position CenturyLink WMG to benefit from significant growth in wireless data demand.
Enterprise Markets Group-Network Segment: We were satisfied that strategic revenues for EMG-NS increased by 2.8% pro forma for Q2 2012 and reached a quarterly record of $333M. This division shook off a 3.5% pro forma revenue decline in its legacy services revenues and grew its revenues by 2.1%, thanks to a 14% increase in data integration revenues. Excluding the decline in private line services, strategic revenues grew nearly 7%. The segment benefited from positive operating leverage in that total segment expenses were basically flat versus the prior year period and this enabled the segment to post 7% pro forma growth in segment income (excluding depreciation and amortization expenses.
Enterprise Markets Group-Data Hosting (primarily Savvis): We were pleased that operating revenues reached $277M in the quarter and grew by 6.5% versus pro forma Q2 2011 levels. Colocation revenues were $112M and grew by 4.7%, while managed data hosting revenues grew 11.5% over the same period.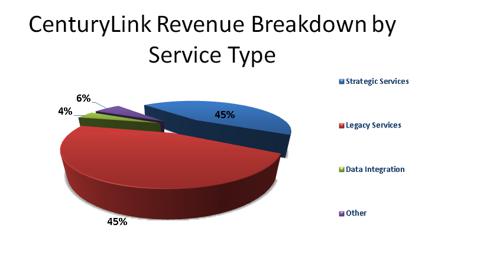 Click to enlarge
Source: CenturyLink Q2 2012 Earnings Release
CenturyLink generated over $1.2B in operating cash flows during the quarter and nearly $600M in free cash flows. CenturyLink even increased the low end of its FY 2012 guidance, despite facing Q3 headwinds. Due to recent debt refinancing transactions, CenturyLink took advantage of its investment grade credit rating to extend its average maturities by two years, reduce 2013-2017 debt maturities from $9B to $5.6B and reduce its interest expense for the remainder of the year. Headwinds to Q3 results will include lower access revenues as a result of an FCC order, a reduction in the monthly Universal Service Fund contribution rate, increased costs to expand its data center operations, and higher depreciation and amortization
In conclusion, we continue to see our thesis validated with regards to CenturyLink as our top choice in the rural telecom sector. We continue to see the same factors justifying our thesis:
Although CenturyLink's dividend yield of 6.9% is lower than that of its rural telecom peers, it is still higher than the 4.7% yield from AT&T and the 4.5% yield from Verizon.
CenturyLink is an investment grade company, whereas Frontier and Windstream are high yield companies. That probably explains why CenturyLink's weighted average interest expense of 5.92% is lower than Frontier's 8.2% and Windstream's 6.8%
While Frontier's reseller agreement with AT&T allows it to generate fees for marketing AT&T Mobility's wireless service to its customer base, we already went into great detail about how CenturyLink is better at promoting its relationship with Verizon Wireless (VZ).
CTL has five key markets that we are attracted to; Denver, Phoenix, Seattle, Portland and Las Vegas. Denver (17.9%), Phoenix (33.1%) and Las Vegas (36.6%) have seen strong population growth. Portland and Seattle have also seen above-average population growth over the last 10 years.
CenturyLink's wireline declines are narrower than AT&T, Verizon and Frontier and its broadband internet growth exceeds those other three companies.
We believe that these reasons explain why CenturyLink's stock generated a positive total return for 2012, while its rural telecom peers have seen negative returns. CenturyLink has even seen a slightly higher total return than Verizon.

Click to enlarge
Source: Bloomberg LP
Disclosure: I am long CTL.
Additional disclosure: Saibus Research has not received compensation directly or indirectly for expressing the recommendation in this report. Under no circumstances must this report be considered an offer to buy, sell, subscribe for or trade securities or other instruments.