We previously published our investment research report analyzing Nokia's (NYSE:NOK) $50 price cut on its Lumia Smartphones at AT&T (NYSE:T). We were pleased at the interest that report generated and we can't begin to express our joy at how we gave the investment community something to talk about. Because Apple Inc (NASDAQ:AAPL) is planning to announce the release of the iPhone 5 on September 12th and release it on September 21st, Sprint Nextel (NYSE:S) decided to take the bull by the horn and cut the price of all its iPhone 4S devices by $50 for Sprint branded post-paid service. Although iPhones sold by Sprint's Virgin Mobile USA prepaid brand are not a part of this initiative, we believe that they should have included Virgin Mobile in this initiative too, especially since Leap Wireless's (LEAP) Cricket brand offer the iPhone for $150 less than Virgin Mobile USA. Virgin Mobile's service plans are cheaper than Cricket's and Virgin Mobile is in more areas because it is powered by the Sprint Nationwide Network. Maybe Sprint also isn't matching Cricket's iPhone price because even though Sprint's prepaid and wholesale subscriber growth slipped in Q2 2012 versus Q1 2012, at least it was positive, unlike Cricket.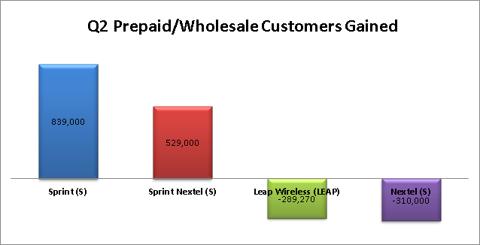 Click to enlarge
Source: Q2 Earnings Releases for Sprint Nextel and Leap Wireless
Another reason why we welcome this price cut is because although Apple is running circles around Nokia (NOK) and Research in Motion (RIMM), we have seen the emergence of Samsung (SSLNF.PK) and its line of smartphones as a competitor to Apple. Regardless of the fact that Samsung has blatantly ripped off Apple s products, Apple cannot ignore that Korean electronics powerhouse especially since Samsung is still one of its component suppliers. We found it amusing and ironic that people complained about wireless carriers like AT&T, Verizon Wireless (NYSE:VZ) and Sprint (S) subsidizing the price of the iPhone without showing a similar level of outrage at the level of subsidies lavished on Samsung s Galaxy POS tablet computers. We also hear nary a peep from those same outraged individuals about government funded subsidies received by Samsung for its diverse range of products. Still, regardless of the government funded subsidies that Samsung gets, we have to take notice of the fact that Samsung sold twice as many smartphones as Apple. We expect that the leadership at the Infinite Loop has taken notice of this and we are glad to see Apple institute this strategic pricing decision. We liken it to Marlboro Friday in 1993 when Altria Group (NYSE:MO) announced a 20% price cut to its Marlboro cigarette products to retake market share. Apple has 50% more US$~ profit than Samsung Electronics even though Samsung has 30% more revenue however as bullish as we are on Apple, we will be the first ones to say to Apple "Don't look back, Samsung's gaining on you".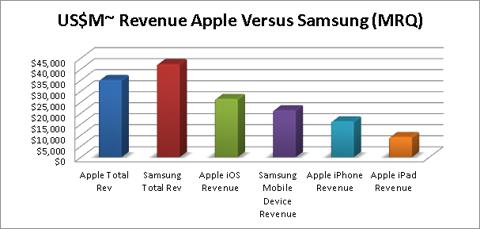 Click to enlarge
Sources: Apple and Samsung Most Recent Earnings Supplements
AT&T and Verizon have not joined Sprint in cutting the price of the iPhones. Despite the fact that Verizon and AT&T both benefit from carrying the iPhone in that it serves to reduce customer churn in the lucrative postpaid contract customer segment, both companies have shown their lack of gratitude to Apple by chafing about expensive iPhone Subsidies and have embraced lower quality smartphones on low-end operating systems like Google (NASDAQ:GOOG) Android (Verizon) and Nokia Lumia 900 Windows Phone (AT&T). AT&T Mobility's CEO Ralphie de la Vega was obsessed with reducing smartphone subsidy expenses in order to reduce AT&T's operating expenses by 1.67%. He thought he could achieve this by replacing iPhone sales with the POS Windows Phone by Nokia and Microsoft (NASDAQ:MSFT) and to achieve this he led a $150M promotional effort to promote the Nokia Lumia 900 Windows Phone. Despite the widely vaunted promotional campaign, only 250K Lumia 900 Windows Phones were estimated to have been sold by AT&T during the quarter. In fact, while AT&T grudgingly acknowledged the 3.7M iPhone activations during the quarter at its most recent conference call, nary a word was heard about the Nokia Lumia Windows Phone. If we can contrast that with Sprint s earnings call, everyone knew that the iPhone saved Sprint from possible bankruptcy. While Nextel will be dead next year, the iPhone at least gave Sprint a fighting chance to survive in the mobile telecom space. Despite AT&T and Verizon's lack of gratitude towards Apple, we believe that Apple should show that it's a sport and by offering to reduce its price to the Verizon-AT&T duopoly if they reduce the price charged to the consumer. Customers who buy an iPhone 4S should buy it from Sprint instead of AT&T because there are four different ways that they would save money by doing so.
Device Cost at Sprint $149 versus $199 at AT&T-Verizon
Activation Fee is waived for online buys at Sprint versus $36 at AT&T-Verizon
Sales Tax at Sprint is charged on the net cost of the device versus gross cost at AT&T-Verizon
Monthly cost of unlimited data, text and 450 anytime minutes at Sprint is $79.99 versus $89.99 at AT&T and $100 at Verizon
So what is the difference between Apple's recent $50 price cut and Nokia's $50 price cut last month? We find that the following factors are the difference between Nokia's $50 price cut in July and Apple's price cut on August 9th:
Nokia and AT&T collectively announced the $50 price cut on the Nokia Lumia 900, which was one of two Windows Phone available at AT&T, Verizon, Sprint or T-Mobile
The Lumia 900 price cut came 3 months after its introduction and after a ballyhooed $150M marketing campaign by AT&T
Sprint unilaterally cut the price of the iPhone 4S, not the 4. Sprint based its price cut on the fact that the iPhone 5 is expected to be released in September and it wanted to move its existing stock of iPhone 4S devices.
Sprint has been an aggressive price competitor with regards to its efforts to take iPhone market share away from the Verizon-AT&T duopoly.
40% of Sprint's new iPhone activations have been new customers versus the 22% at AT&T and 25% at Verizon.
Apple cut the prices at its retail stores in response to Sprint's unilateral price cut
Apple expected soft Q4 2012 sales for its iPhone devices due to the expected launch of the iPhone 5.
In conclusion, we believe that Apple's $50 price cut was the right thing to do. We believe that even though Apple provides cutting edge smartphones that are popular with consumers, there are a growing number of consumers who are price sensitive to the devices in the market. Plus AT&T and Verizon are unhappy with the fact that although those companies get a 25%-30% operating margin from the wireless operations, Apple pulls down 35%. Also, Apple needs to make sure that it doesn't go the way of AOL with its previous stranglehold over the internet and the expensive $24/month access charge. Finally Apple has to compete with other device makers who have much lower profit margins and are used to living on those low profit margins. While we would have also preferred it if Apple had announced a $50 price cut on the iPhone 4 as well, we noted that there are refurbished iPhone 4 devices for $29.99-$49.99 at AT&T and Sprint.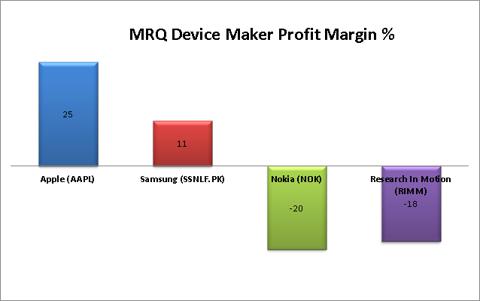 Click to enlarge
Sources: Device Maker most recent earnings releases
Disclosure: I am long S, AAPL.
Additional disclosure: Saibus Research has not received compensation directly or indirectly for expressing the recommendation in this report. Under no circumstances must this report be considered an offer to buy, sell, subscribe for or trade securities or other instruments.