By Brendan Gilmartin
Home Depot (NYSE:HD) is expected to report Q2 2012 earnings before the opening bell on Tuesday, Aug. 14. The home improvement giant is expected to report earnings at approximately 6:00 a.m. ET and then follow up with a conference call at 9:00 a.m. Home Depot is a member of the Dow Jones Industrial Average and is widely seen as a play on the index futures. Its shares are up more than 27% year to date, vs. a 7.7% increase for rival Lowe's (NYSE:LOW), implying expectations are quite high.

Outliers and Strategy
Home Depot is expected to earn $0.97 per share, up from $0.86 in 2011 (as per Yahoo Finance). The range is $0.95 to $1.02.
Revenues are seen coming in at $20.8 billion, up 2.6% from the year-ago period.
With regard to EPS guidance for FY 2012, the current consensus is $2.92. In June, Home Depot reaffirmed its sales and diluted EPS outlook for fiscal 2012. The company still expects sales to be up approximately 4.6% for 2012 and EPS to be up approximately 17% to $2.90 for the year. The current Street estimate is $2.92.
Home Depot is now trading at 20.0 times trailing earnings, a slight premium to rival Lowe's (17.8 times). Home Depot is also up 27.8% year to date vs. a 7.73% appreciation in Lowe's shares, implying the bar is set pretty high.
Recent News
Aug. 7: Nomura Securities cut its price target on Home Depot from $55 to $54, according to a post on StreetInsider.com. The Q2 2012 EPS estimate was reduced from $1.00 to $0.98, reflecting recent trends and weak feedback from suppliers.
July 18: Deutsche Bank reiterated a Hold rating on Home Depot based on weaker near-term trends, including a soft economy and the drought in the U.S., according to StreetInsider.com. Fertilizers and irrigation products are among the categories being impacted by the drought conditions. The firm noted 60% of Home Depot stores are in drought-affected states.
June 6: Home Depot reiterated its FY 2012 sales and earnings estimates and added it now expects share repurchases of approximately $4.0 billion. This is an increase of $500 million from the guidance provided in May 2012.
May 17: Home Depot announced that its board declared a Q1 dividend of $0.29 per share. The yield is now 2.18%.
Technical Review
Home Depot shares are up more than 27% year to date and are now hovering just above $53 resistance, setting up a possible run toward the recent 52-week high of $54.28 (hit July 27). That will be the initial resistance in the event of a stronger than expected earnings release. Conversely, previous resistance at $53 is the first support level, with downside risk to $52.50, followed by $51.00.
Click to enlarge image.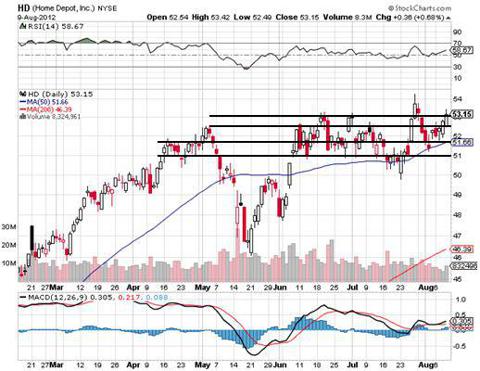 Summary
Home Depot shares are just off a recent 52-week high ($54.28) ahead of the Q2 earnings release on Aug. 14, well outpacing rival Lowe's. Given this backdrop, the analyst community has weighed in more cautiously on Home Depot in recent weeks, citing share price performance, weaker economic trends, the impact of the drought across the U.S., and declining orders from suppliers.
That said, Home Depot needs to deliver earnings and revenues for Q2 at the high end of Street estimates (EPS closer to $1.00/revenues near $20.9 billion) in order to make a run toward the 52-week high. It's highly likely the company will reiterate the FY 2012 guidance provided just this past June. Given how recent the guidance was updated, any change in the outlook would be seen as a major surprise.
Disclosure: I have no positions in any stocks mentioned, and no plans to initiate any positions within the next 72 hours.
Disclaimer: By using this report, you acknowledge that Selerity, Inc. is in no way liable for losses or gains arising out of commentary, analysis, and or data in this report. Your investment decisions and recommendations are made entirely at your discretion. Selerity does not own securities in companies that they write about, is not an investment adviser, and the content contained herein is not an endorsement to buy or sell any securities. No content published as part of this report constitutes a recommendation that any particular investment, security, portfolio of securities, transaction or investment strategy is suitable for any specific person.