In March, Progressive and the X PRIZE Foundation announced that Progressive is the corporate sponsor for the Automotive X PRIZE (now known as the Progressive Insurance Automotive X PRIZE). The Automotive X PRIZE offers $10M to the team that can win a cross-country race in a vehicle with limited emissions while achieving at least 100mpg. It sounds like Progressive is funding the $10M prize, although it's unclear whether that is the extent of their investment.
While the X PRIZE is certainly a noble pursuit, will it help Progressive's shareholders? One stock blogger sees the X PRIZE as a move to keep people driving in an era of expensive oil. It could also be viewed as an opportunity to capture the imaginations of environmentally-conscious "green" consumers.
Looking at the past year, Progressive.com traffic is above its 12-month average, but has been flat in the period since the X PRIZE sponsorship was announced. Referrals to Progressive.com based on X PRIZE related searches have been minimal. I could only find one X PRIZE related search term driving measurable traffic to the site – and it was ranked 139 among all search terms referring traffic to Progressive.com.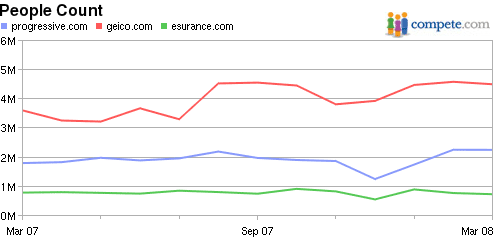 In fact, 54% of the traffic related to X PRIZE searches go to either XPRIZE.org or Wikipedia (below are the top 5 destinations for the term).
xprize.org
wikipedia.org
thetruthaboutcars.com
progressiveautoxprize.org
googlelunarxprize.org
More importantly, from February 2008 to March 2008, Compete data indicates a drop-off in prospect traffic of 17%. Combine flat traffic with a decline in prospects and my conclusion would be that Progressive is seeing an overall decline in serious auto insurance shoppers at Progressive.com.
I can certainly buy the hypothesis that in the long-run there are benefits to Progressive from the sponsorship. However, there doesn't appear to be an immediate payoff in terms of traffic, quotes, or business.