We have been attracted to the mortgage Real Estate Investment Trust sector due to the ability of the companies in the sector to effectively utilize leverage in order to provide investors with high current dividend yields on their investment capital. We are currently invested in CYS Investments (NYSE:CYS) and we entered a position in American Capital Mortgage Investment (NASDAQ:MTGE). We previous published a research report evaluating the industry-leading mREIT titan Annaly Capital Management, Inc. (NYSE:NLY), as well as the two mREITs that its RIA Subsidiary FIDAC provides sub-advisory services for - Chimera Investment Corporation (NYSE:CIM) and CreXus Investment Corporation (NYSE:CXS). We concluded that Annaly deserves its reputation as the bellwether of the industry. We were also introduced to CreXus, which specializes in commercial real estate mortgages.
Our previous investment research reports in the mREIT sector have focused on firms that manage government agency backed residential mortgage backed securities. In our previous report, we took note of the commercial mortgage mREIT CreXus because it is managed by Annaly's RIA subsidiary FIDAC. Despite the fact that it offers the lowest dividend yield of well-known mREITs and despite the fact that it invests in commercial mortgages rather than government guaranteed RMBS securities, we find that there is a lot to like about CreXus.
CreXus Investment Corporation is another mREIT that has its investment book managed by Annaly. CreXus was incorporated in 2008 and began operations on September 22, 2009 and focuses primarily on commercial real estate mortgage loans instead of residential mortgage backed securities. CreXus has seen strong growth since commencing operations in 2009 and the company's total assets are nearly $1B as of Q2 2012.
Since it issued a secondary offering in Q1 2011, the company has been consistently reorienting its portfolio away from senior and subordinated debt and into Mezzanine financing. This helped the company generate a nearly 42% increase in its interest income for the period. Last year's results benefited from a $14M realized gain on the sale of investments. The company also benefited from positive operating leverage due to increased operating experience and this enabled operating expenses to grow at only 26%.
Core operating income increased by 54% year-over-year in the period due to the increased interest income on mezzanine loans and positive operating leverage. Despite CreXus's organization as a tax-exempt pass-through mREIT entity, it still had to pay $32K in income taxes for the quarter. Granted, this represented a corporate consolidated entity tax rate of 25bp. Even though CreXus's per share dividend is less than that of its EPS, we aren't expecting a significant dividend cut due to the fact that the cash and cash equivalents on its balance sheet represent just under 20% of its balance sheet assets. CreXus's significant cash stash is part of the reason why its dividend exceeds its EPS.
Click to enlarge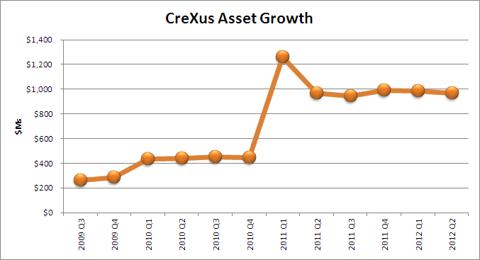 Click to enlarge
Source: Morningstar Direct
We took note that CreXus's Q1 2012 cash balance was $257.5M and the company used $20M of it for paying off liabilities and dividends and $48M for new net commercial mortgage loans. Despite the fact that the company's only source of bonded debt is a $19M commercial mortgage, the company still has a weighted average net interest income margin of 7% relative to its assets and a 5.8% return on assets for the period, which significantly exceeds other mREITs. We also like that CreXus's management is independent of Annaly, unlike Chimera. And finally, we like that CreXus's dividend has declined less than that of Chimera. In short, we think CreXus offers investors in mREITs diversification and opportunity to access the high-return potential of CMBS securities. We like that an investor in CreXus gets a 10.7% dividend yield and gets it at a 15.6% discount to book value.
Because we are aware that commercial mortgage loans have greater risk for credit losses than traditional mREITs, we believe that it is important to ensure that CreXus is managing its portfolio of commercial real estate loans well to minimize credit risk. We see the majority of CreXus's assets are in commercial real estate mezzanine loans. Mezzanine loans fill the gap between the first mortgage financing, which usually has a loan-to-value ratio of 40 percent to 75 percent, and the equity participation of the principals of the borrower, which is usually no more than 10 percent of the cost of the project. Mezzanine financing commonly supplies financing of 10 percent to 50 percent of the project's capital structure cost. We can see that with the exception of a $2.8M credit loss provision in Q1 2012, CreXus's credit losses have been small and immaterial. Including the $2.8M credit loss provision in Q1 2012, CXS's total lifetime credit losses have been 30bp of its assets. Considering the higher coupon levels on CMBS securities and considering the net cash position of the company, we believe that the company can handle potential losses.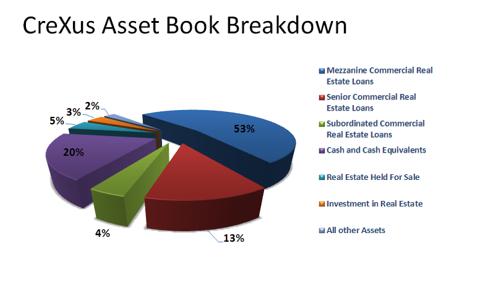 Click to enlarge
Source: CreXus Q2 Earnings Release
In conclusion, we see a lot to like in this commercial mortgage mREIT. We like the fact that while CreXus benefits from Annaly's size, operational scale and portfolio management in terms of managing its book of commercial mortgage securities. We also like that while CreXus benefits from the bellwether of the mREIT industry managing its investment portfolio, its management is otherwise independent of Annaly. Maybe if Chimera had the same independent management structure as CreXus, it wouldn't have performed so poorly and maybe it could get its financial statements published.
While CreXus's management structure is independent of Annaly, Annaly has shown its vested interest in CreXus through the ownership of 12.4% of CreXus's outstanding stock (9.5M shares worth $96.6M) plus Annaly only has of its FIDAC executives (Ronald Kazel) serving on CreXus's board. While we have no illusions that there is risk involved in the CMBS market, we believe that CreXus is managing it well. Even if CreXus cut its dividend by 10%, it would still provide a satisfactory 9.7% dividend yield. CreXus has only incurred $3,172,000 in loan losses since its 2009 inception. Other positive observations about CreXus include the following:
15% discount to book value.
12% off its 52-week high.
Net positive cash position and low levels of gross debt outstanding.
Annualized ROA of 5.82% in Q2 2012, which is higher than other mREITs.
CreXus generated higher net income than its competitor Colony Financial, despite a lower risk asset profile and liability profile. Both companies are similar sized.
Disclosure: I am long MTGE, CYS.
Additional disclosure: Saibus Research has not received compensation directly or indirectly for expressing the recommendation in this report. Under no circumstances must this report be considered an offer to buy, sell, subscribe for or trade securities or other instruments.