With all the tumult in the stock market in recent years, few firms have found a consistent strategy that benefits their clients through good times and bad. One of these firms is BMO Global Asset Management, which through a disciplined focus on fixed income has managed to attract the growing Baby Boomer population. Kapitall had a chance to speak with Duane McAllister, Co-Portfolio Manager of the BMO Intermediate Tax-Free Fund (the Fund), about the company's strategy and where he sees the economy going.
As a subsidiary of Bank of Montreal, the fund operates under a very Canadian philosophy predisposed to conservatism. McAllister believes that the benefits of this philosophy are evident in the way Canadian banks made it through the financial crises in much better shape then their American counterparts. This risk-averse strategy has landed BMO national recognition, as the firm recently won a five year "Best in Class" Lipper Award as an excellent risk adjusted fund. As another testament to the strategy, the Fund has grown its AUM from $85 million to over $1 billion in under 5 years.
Baby Boomer Strategy
"10,000 Baby Boomers are retiring every day and as they retire they are looking for supplemental income," says McAllister. Being that interest rates are currently so low, he believes that the opportunity for supplemental income lies in an approach that focuses on fixed income and creates capital preservation.
McAllister and his team have used this conservative approach to create a "broad solution based lineup that appeals to both institutional and individual investors looking for technical or fundamental investments located in the international or domestic sphere." This strategy has paid huge dividends for the firm.
Municipal Strength
The Fund is concentrated in fixed income and is heavily invested in states and municipalities. Although much has been made of how these institutions are in a precarious financial position, McAllister is not especially concerned. "The story is well played out regarding the fiscal pressure on state and local governments, but the backdrop is improving as the economy gradually recovers."
Rather that being averse to cash-strapped governments, BMO does not say no to any particular state. Instead, the Fund looks to invest in the weaker states where housing prices have fallen the most. "California is a good example of a state that is undesirable only on the surface," says McAllister. "There are still tremendous pockets of wealth and very rich municipal entities."
Investing in America
BMO is strategically investing in United States because the cost of shipping jobs overseas is growing, a trend McAllister believes will spark a "reindustrialization" of America. "As the BRIC countries grow, the price of labor there is only going to increase. When this increase is coupled with the price of outsourcing, the cost efficiency of shipping jobs overseas is going to continue to decrease."
One area where this change is already beginning to take root is the Midwest. States like Illinois, Wisconsin, Ohio, and Michigan are seeing manufacturing jobs come back to the benefit of major industries, including auto.
Business Section: Investment Ideas
Duane McAllister makes it clear that he is preparing his clients portfolios for the future rather than living in the past. "We are at the end of a thirty plus year bull run and people need to think differently about their income portfolios. The next big move is towards capital preservation rather than total return."
So, what can investors derive from this portfolio manager's insights? For one, McAllister believes that dividend paying stocks will continue to be in high demand. This is an asset class that crosses across both equities and fixed income.
Additionally, if there's one thing that the growing demographic of Baby Boomers will need in greater quantity it is health care, so this is an area that could see more growth moving forward.
With this in mind we have assembled a list of stocks from the healthcare sector that pay out positive dividends to help you start your research.
1. Aetna Inc. (NYSE:AET): Operates as a diversified health care benefits company in the United States. The company pays out a dividend of 1.91%.
2. Cigna Corp. (NYSE:CI): Operates as a health service organization. The company pays out a dividend of 0.09%.
3. Coventry Health Care Inc. (CVH): Offers various health and supplemental benefit plans in the United States. The company pays out a dividend of 1.64%.
4. Humana Inc. (NYSE:HUM): Offers various health and supplemental benefit plans in the United States. The company pays out a dividend of 1.64%.
5. Unitedhealth Group, Inc. (NYSE:UNH): Provides healthcare services in the United States. The company pays out a dividend of 1.67%.
6. WellPoint Inc. (WLP): Operates as a health benefits company in the United States. The company pays out a dividend of 2.10%.
Interactive Chart: Use the Compar-O-Matic to compare analyst ratings for the stocks mentioned above: (click for interactive chart)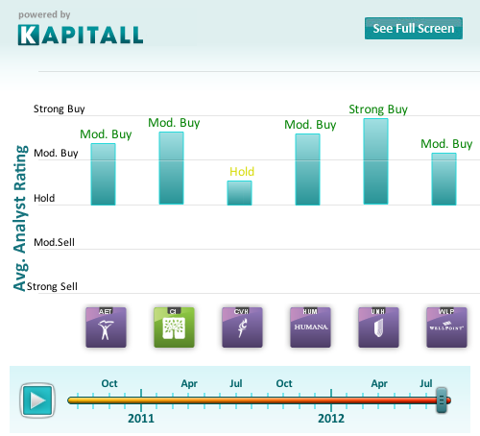 Tool provided by Kapitall (www.kapitall.com).
Written by Kapitall's Dan Connelly. Original article here.
Disclosure: I have no positions in any stocks mentioned, and no plans to initiate any positions within the next 72 hours.