The corn ETF is up nearly 40% over the past three months on a brutal drought in the Midwest and could push even higher if conditions worsen, according to forecasts. Surging corn prices are also lifting related agriculture ETFs and will likely have dire consequences for the U.S. economy and global hunger.
Price momentum indicates corn could rise at least 21% over the next six months, putting $9.50 a bushel or even higher into play, according to a model used by the American Restaurant Association, CNBC reports.
"It's not infallible but it suggests that there's definitely upside risk here in this market," said David Maloni, president and founder of the ARA Group. "It's alarming, that's why we look at it. We would not be surprised to some type of blow-off occur in corn and soybeans in the coming weeks."
Teucrium Corn Fund (NYSEARCA:CORN) was up 36.9% for the three months ended Aug. 8, according to Morningstar. The ETF invests in corn futures contracts.
Other agriculture ETFs that have rallied on the drought include Market Vectors Agribusines ETF (NYSEARCA:MOO) and PowerShares DB Agriculture (NYSEARCA:DBA).
The technical and fundamental picture argue that corn could push higher from these elevated levels.
"From a supply situation, yes, there is the possibility for a run at $9 or above," said Darin Newsom, senior analyst at DTN, in the CNBC report. "It's there because what we could be facing is one of the tightest supply situations the market has ever seen, given the ongoing drought and given the type of yields that are starting to come in in front of Friday's USDA reports."
Rising corn and grain prices could have negative reverberations for the global economy and the many industries that rely on corn.
"The question that ETF investors need to ask themselves at this point is whether or not the bad news on crop output has been accounted for in the current prices," reports Gary Gordon at ETF Expert.
Teucrium Corn Fund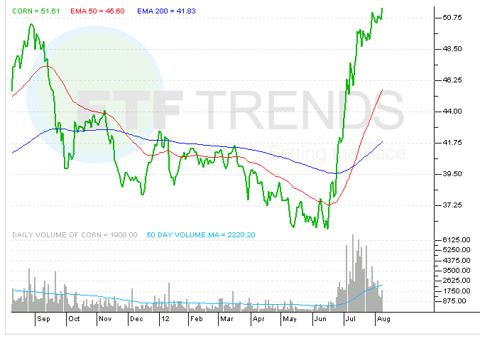 Disclosure: I have no positions in any stocks mentioned, and no plans to initiate any positions within the next 72 hours.