Looking at a drug company's historical chart can be like looking at a high school yearbook. "If only I had taken my chance when I had it" with a big-haired ex-classmate. "If only I had taken my chance when I had it" with a speculative drug play like Ariad Pharmaceuticals (NASDAQ:ARIA):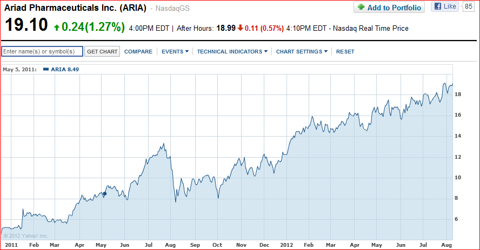 Click to enlarge
And then there are the mistakes you didn't make, the jaded bullets you dodged like nervous system disorder drug producer Vanda Pharmaceuticals (VNDA):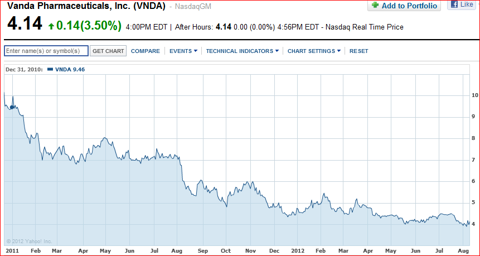 Click to enlarge
Vanda
So, the caterpillar has emerged from its cocoon as a shark with a gun for a mouth --Montgomery Burns
Vanda's drugs mainly focus on schizophrenia and sleep disorders:
The Company's products include Fanapt a compound for the treatment of schizophrenia and Tasimelteon is a compound for the treatment of sleep and mood disorders, including Circadian Rhythm Sleep Disorders (CRSD). Fanapt is a compound for the treatment of schizophrenia. Novartis (NVS) has exclusive commercialization rights to all formulations of Fanapt in the United States and Canada. Novartis is responsible for the further clinical development activities in the United States and Canada, including the development of a long-acting injectable (or depot) formulation of Fanapt. Novartis conducted a two-month Phase I/IIa safety trial of this formulation in schizophrenia patients, in which it demonstrated the benefit of consistent release over a four-week time period with no greater side effects relative to oral dosing.
They also made some nifty acquisitions from Eli Lilly (LLY) in the Spring for a wide variety of indications:
NK-1R antagonists have been evaluated in a number of indications including chemotherapy-induced nausea and vomiting (CINV), post-operative nausea and vomiting (PONV), alcohol dependence, anxiety, depression, and pruritus. VLY-686 (formerly known at Lilly as LY686017) has demonstrated proof-of-concept in alcohol dependence in a study published by the NIH (1). In that study VLY-686 was shown to reduce alcohol cravings and voluntary alcohol consumption among patients with alcohol dependence. Merck's Emend® (aprepitant) is the only marketed NK-1R antagonist in the United States and is approved for the treatment of CINV and the prevention of PONV.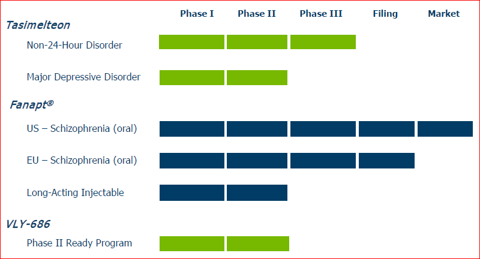 Click to enlarge
Their novel circadian regulation sleep disorder drug Tasimelteon looks promising as outlined in their JMP presentation. As does their schizophrenia treatment Fanapt which just gained an approval in Israel August 9th.
Also their strategic partnership with Norvartis means top-shelf help researching, gaining approval, and bringing their promising drugs to market.
Then, as Scott Matusow observes, there is the fact that they have a boatload of cash:
its market cap is lower than the actual cash it has on hand. Effectively, the company can buy itself. So many developmental pharmas lack the cash to properly have a chance to get their drugs approved. Vanda has more than enough cash and is not a super cash burner.

Balance Sheet

Total Cash (mrq):

144.70M

Total Cash Per Share (mrq):

5.13

Total Debt (mrq):

0.00

Total Debt/Equity (mrq):

N/A

Current Ratio (mrq):

4.36

Book Value Per Share (mrq):

0.71
With promising drugs, an enviable partnership with Novartis, and cash to see them through the foreseeable future - this ugly duckling has grown into a beautiful butterfly. The swan has truly emerged from its cocoon.
But is Vanda a buy right here? After all, we could have said most of those nice things about Vanda last year, and look at how that would have turned out. Let's get technical to help us read the tea leaves.
The MACD
We've been exploring the money flow index in some of our articles noting that the MFI is "a measure of momentum that is sometimes a leading indicator of price movement in a stock."
Let's now take a look at another favorite technical indicator that is sometimes a leading indicator of price movement in a stock - the moving average convergence divergence. The MACD (sometimes called "mac-dee") is also used to show the momentum of a stock:
The MACD indicator is comprised of two exponential moving averages (NYSEMKT:EMA), covering two different time periods, which help to measure momentum in the security. The MACD is simply the difference between these two moving averages, which in practice are generally a 12-period and 26-period EMA. The MACD is plotted against a centerline along with a nine-period EMA, which is referred to as the "signal line"
Vanda and the MACD
Have a look at the MACD for Vanda. Pay special attention to the "crossovers" when the MACD crosses the signal line and puts a clear distance between the two: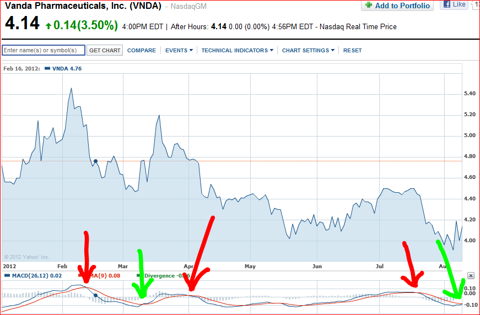 Click to enlarge
These crossovers are sometimes an indicator that the price trend is about to reverse. How has the MACD done predicting Vanda's price this year? Really well.
If a shareholder would have sold in February when the MACD crossed the signal line heading south they would have missed most of that dramatic drop. Likewise if s/he bought back in March s/he'd have gotten the entire ride back up, and then April's indicator would have said "get out" in time to avoid most of that drop.
The indicator does not do poorly from there but the crossovers are less well defined until July, when again the MACD signaled a trend down that would have saved a shareholder most of the recent pain. Not bad at all.
From that perspective, take look at the latest movement of the MACD - it is quickly closing the gap on the signal line and if it continues it will shortly cross over signaling a bullish price trend reversal upward.
Conclusion
Bio/Pharma stocks rallied on Thursday - Vanda picked up 3.5% as Peregrin Pharmaceuticals (PPHM), Genomic Health (GHDX), SciClone Pharmaceuticals (SCLN), Amarin Corp (AMRN), and Cornerstone Therapeutics (CRTX) were all up more than 8%.
The nature of biotechnology and pharmaceuticals companies is that some of today's big winners will come back just as fast tomorrow. Figuring out who is really making it and who is faking it is the key, of course, and the technicals can help us with that.
The four technical reasons to buy Vanda right here - I'm referring to the last 4 clearly defined crossovers being on the money - and indeed any technical analysis by itself is never reason enough to make a trade or investment. In the case of Vanda, though, not only does the technical analysis look encouraging, this particular technical indicator has been very good with this particular stock this year.
Add to that Vanda's drug pipeline, their strategic partnership with Novartis, and their fortress balance sheet and this stock looks like a buy right here. A big-haired buy right here.
Disclosure: I have no positions in any stocks mentioned, and no plans to initiate any positions within the next 72 hours.