Recently, I published two articles analyzing Cisco (NASDAQ:CSCO). On July 25th, after Cisco experienced a strong selloff to below $15.50, I concluded that Cisco was in deep value territory and offered significant upside. Cisco is a company with a mountain of cash and strong free cash flow, but the market has had fun beating up on it over the past few months. On August 3rd, when Cisco closed at $16.35, I commented on an underappreciated aspect of the NDS acquisition, reiterating my stance on Cisco's valuation.
Since then, Cisco has had quite a nice run up, closing on 8/9/2012 at the highest level seen since May.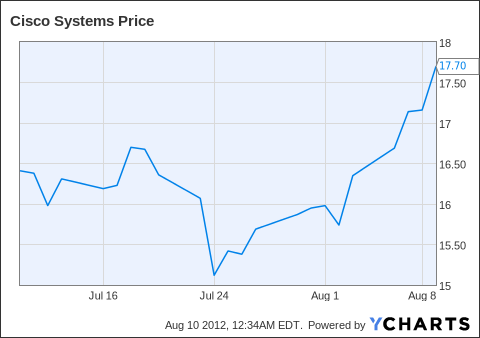 The strong performance was mostly the result of analyst upgrades. Emphasis mine:
Goldman Sachs added Cisco Systems Inc to its conviction buy list saying its enterprise networking and switching business is growing at a fast clip and the network equipment maker is in a stronger competitive position.

[...]

Separately, Piper Jaffray raised its rating on Cisco, saying better margins and cost controls will boost the company's fourth-quarter profit.

Cisco might provide some cautious commentary regarding headwinds in Europe and business from the U.S. government, but these concerns are already factored into expectations and the current stock valuation, the brokerage said.
Cisco is still a value at current prices, but it was obviously a better value at $15.50 than at $17.70.
The "actionable takeaway" is pretty simple: first, you don't need analyst confirmation to spot a value. If a company has strong cash flow, a good cash balance, and decent growth prospects yet is trading at a significant discount to peers, it's probably a good value. In fact, as evidenced by the events of the past month, if you get in before everyone else does, you'll have better returns.
Furthermore, if a stock is collapsing on headlines, but the overall thesis hasn't changed, then you should be buying the dip rather than panic selling like so many do. One of the headlines that cased the sell-off was that Cisco is laying off 1,300 workers. Newsflash: Cisco is in a turnaround, and has already laid off 6,500 workers. As Cisco continues to focus on core competencies, streamlining will only decrease profits - not decrease them.
Cisco is still strong, despite the market's tendency to overreact to fairly unimpressive headlines. If you're looking for some tech exposure on the cheap, look no further than Cisco. It's significantly cheaper than competitors like Juniper Networks (NYSE:JNPR), and has plenty of upside left.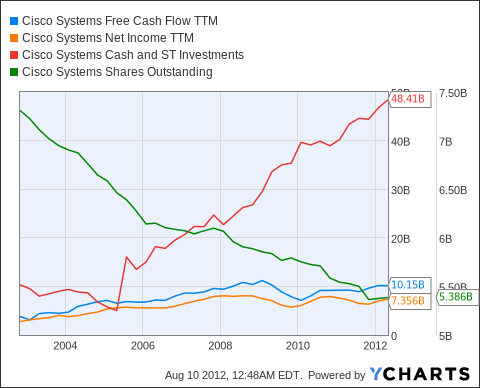 CSCO Free Cash Flow TTM data by YCharts
Disclosure: I am long CSCO.