The utility sector has been hot. The group has been one of the better-performing sectors over the past three and six-month periods. These companies have the triage of characteristics many investors are seeking: High yield, stable business model, and no EU exposure. As a result, some stock valuations within the category have approached or exceeded their mean.
One notable exception to the "hot ticket" category is Exelon Corp (NYSE:EXC). Exelon stock is down over 12 percent YTD. Meanwhile, the SPDR Select Fund - Utilities ETF (NYSEARCA:XLU) is up nearly 5 percent over the same period.
Exelon Corp One-Year Price and Volume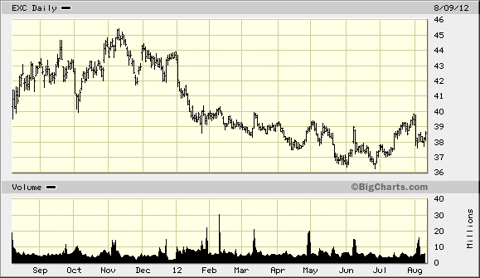 Source: bigcharts.com
Is EXC a broken stock or a broken company? Please find the following information and analysis for consideration below.
Description of the Business
Exelon is a utility services holding company. Through its principal subsidiaries, the corporation is engaged in the energy generation and transmission / delivery businesses. In March 2012, Exelon merged with Constellation Energy. Primary companies under the combined umbrella include Exelon Generation Company, LLC (power generation), and three large utilities:
Commonwealth Edison Company (ComEd); Chicago and Northern Illinois
PECO Energy Company (OTC:PECO); Philadelphia, PA vicinity
Baltimore Gas & Electric Company (BGE); Baltimore, MD
In addition, on September 30, 2011, Generation acquired Antelope Valley Solar Ranch One. On August 24, 2011, Generation acquired Wolf Hollow, LLC.
EXC is the leading U.S. competitive power generator. The corporation owns approximately 35,000 megawatts of power generation, including the nation's largest nuclear fleet of more than 19,000 megawatts. The new company is the nation's second-largest regulated distributor of electricity and gas.
Investment Thesis
Exelon has a good balance sheet, generates strong operating cash, and management is committed to maintain the generous 5.5 percent dividend. The merger with Constellation will take some time. However, the union will be successful. Most utility mergers end up well. Merger integration doubts coupled with a short-to-medium term earnings decline have caused the share price to lag its peers.
Investors are being paid to wait. The strong dividend returns will ultimately converge with underlying share price capital appreciation and provide investors with a handsome long-term total return.
Fundamentals
Balance Sheet Analysis
Exelon's balance sheet is sound. It stacks up in-line or better with electric uility sector peers. Here's a table summarizing some key EXC balance sheet financial metrics versus sector peers.
| | | |
| --- | --- | --- |
| | Exelon Corporation | Electric Utility Sector Peers |
| Return on Assets (TTM) | 2.6% | 2.7% |
| Return on Equity | 9.3% | 9.4% |
| Return on Investment | 3.8% | 3.6% |
| Debt-to-Equity | 88% | 125% |
| Current Ratio (mrq) | 1.3 | 1.0 |
| Cash per Share (mrq) | $1.58 | - |
General returns are adequate. Debt levels have been managed reasonably. Liquidity is good.
Operating Cash Flow Analysis
The new Exelon should retain the continued propensity to generate cash. I plan to track operating and free cash flows (FCF) as closely as earnings. The post-merger cash flow forecasts are all relatively near-term.
Based upon a review and rough-cuts from the company pro forma documents, EXC expects to generate between $5 billion to $6 billion operating cash annually. Capex and nuclear fuel are budgeted at $4 billion to $4.5 billion a year. The FCF balance will be used to pay the dividend. The second quarter conference call included a slide that indicates that FCF will not cover the dividend in 2012.
Nonetheless, Exelon anticipates retaining its BBB+ or better credit rating. Since debt levels have been largely well-managed, there is ample room to borrow in the medium-term to sustain the payout.
Dividend Safety
Currently, Exelon offers investors an annualized $2.10 dividend. Based upon the recent per share closing price of approximately $38.50, this translates to a 5.5 percent yield. Such a large yield is more than triple the U. S. 10-year T-note rate. It is also one of the highest payouts among the S&P 500 stocks, and notably higher than the average 4.2 percent yield for Utility sector peers.
But is it safe? Is Exelon a dividend trap?
My view is the dividend is safe. It is not a dividend trap. I cite three reasons. Good minds may disagree.
First, management has repeatedly told the analyst and investment communities they are committed to the current $2.10 dividend. It would be a major embarrassment to rescind the repeated proclamation. Within the 2011 fourth quarter and 2012 second quarter conference calls, then again during the June 7, 2012, analyst meeting, company senior management has reiterated the commitment. It would have been easy for the executives to hide behind post-merger economics and leave this topic open-ended. But they chose not to do this.
The following excerpt is from the 2011 fourth quarter conference call:
"We are keenly aware that to all of you, the dividend is an absolutely critical part of our value proposition. It's what makes it possible for you to hold on with us while we work our way through the gas and power price trough. Our cash flows and credit metrics support our dividend and capital programs even as we accept a higher payout ratio. Chris Crane, who will answer most of the questions today about future performance, believes, as I do, in the continued importance to the dividend. Simply put, we get it. (emphasis by author) And he is as committed as I am to maintaining it."
Mr. Crane, the current CEO, reinforced this position on the August 1, 2012 earnings conference call.
Second, Exelon has the span and scope to generate strong forward operating cash flows. Coupled with a good balance sheet, it is reasonable to assume sufficient funds from ongoing business will be available to maintain the payout.
Third, about half of Exelon's EBITDA comes via power generation. This competitive business has been in the dumps. As a U. S. leader in nuclear and gas-fired generation facilities, the combination of historic low natural gas prices (and corresponding low power prices) has helped neither the top line nor the share price. The recent mild winter just compounded the problem. My view is that over time, a pro-alternative fuel regulatory environment and general improvement in the U. S. economy will improve Exelon's lot. The company is well-positioned to capitalize on a shift to these fuels going forward, current pain nonwithstanding.
Risks
A prolonged natural gas price slump will create problems for Exelon. Such a development would continue to put downward pressure on margins. On the other hand, EXC has the largest and most efficient nuclear power business in the country.
The high level of capital projects between 2012 and 2014 puts pressure on maintaining strong operating cash flows.
The company must successfully roll an increasing debt maturity schedule. The 2012 maturity profile is $819 million. This amplifies each year until $1.69 billion matures in 2015. Exelon management must ensure the debt and associated interest payments to service it is contained.
Unfavorable regulatory rulings are a risk for most regulated utility companies. EXC is no exception.
Bottom Line
Exelon investors must be a patient lot. The stock has been neglected, but does not appear to be significantly undervalued based on historic P / E multiples. The drop in share price reflects lower earnings forecasts, uncertainty around their power generation business profitability, and merger integration synergies.
However, the dividend is outsized. This should offer good yield support, and translate into underlying share capital appreciation once the merger is digested - the investment community is seeking a successful and stable EXC to emerge. A sound balance sheet and investment credit rating backstops this view.
The company has a plan to generate consistent operating cash flows, thereby maintaining the dividend and permitted aggressive capital spending. The pace and these capital projects should be watched closely. As part of the merger transition, the capital plan exceeds the forecast operating cash flows.
Management has committed to maintaining the dividend. Going forward, they must re-assure investors this remains the case. Indeed, there is little expectation of dividend growth for the near-term.
Exelon depends heavily upon unregulated power generation for a majority of its revenues. Low natural gas prices have not helped the new company out of the box. Investors should weigh this in their analysis. On the other hand, EXC holds the keys to the utility markets in Chicago, Philadelphia and Baltimore. These northern cities have been hit hard by the recession and are likely to improve over time.
Historically, utility mergers tend to work out well. I see no particular reason why this one will not.
My view is the stock floor is no lower than $35 (equating to a six percent yield). It may not reach this level at all. Under the scenario that 1) natural gas prices eventually improve, 2) merger synergies are realized, and 3) the dividend is maintained, an investor may envision the share price climbing to the low to mid-40s. The successful combination of these events require a longer-term investment time horizon. The current dividend should provide ample consideration for many utility investors.
Disclosure: I am long EXC.