Options on individual stocks, which we here at BigTrends specialize in, continue to gain in terms of popularity and acceptance.
The following chart shows the Average Daily Total Volume of Equity Options on the Chicago Board Options Exchange [CBOE].
CBOE Daily Total Equity Option Volume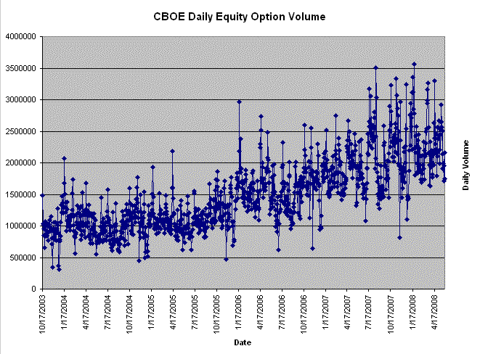 click to enlarge image
As you can see from the above graph, the CBOE Total Equity Volume has been steadily uptrending, especially since 2005.  What does this mean to you as an investor/trader?  Well first, increased volume means that liquidity has increased, and therefore the "spread" between Market Maker's bid/ask prices on many options should be narrower, resulting in better entry and exit prices.  Whether this always happens or not in the real marketplace is another matter.  In addition, increased volume and open interest should make entering and exiting trades a smoother process.
It appears many more types of investors have come to realize the flexibility and leverage that Equity Options offer.  Option investing encompasses such a wide variety of strategies, from selling Covered Calls, to buying Puts and Calls, to more advanced strategies like Credit Spreads and Debit Spreads, to even more complex multi-leg trades like Condors and Butterflies.
In addition, another spur to volume growth is the growing popularity of Options on ETFs (which are included in the Equity Volume totals).  This allows investors to easily make leveraged trades on a huge variety of individual sectors.
Options are still somewhat of a "niche" in the investing world, not very well understood, even by many "Professionals" - but the ever-growing volume indicates that their popularity is on the upswing.