It has been a good week of trading. I took a nice one-day gain of over 30% on Fossil's (NASDAQ:FOSL) blowout quarter earlier in the week, and Zeltiq Aesthetics (NASDAQ:ZLTQ) is up more than 10% since I bought and profiled it here on Tuesday. Since I am feeling confident, I just put down another bet on a fast-growing, highly speculative name that equity insiders have been buying consistently over the last few weeks: Sequenom (NASDAQ:SQNM).
According to the business description from Yahoo Finance, "Sequenom provides products, services, diagnostic testing, applications, and genetic analysis products that translate the results of genomic science into solutions for biomedical research, translational research, molecular medicine applications, and agricultural and livestock research."
Here are six reasons Sequenom is a solid speculative play at $3.50 a share:
Insiders continue to buy the shares and have added another 170,000 shares in myriad transactions over the past two weeks.
The company has over $100 million in net cash, or 25% of its market capitalization.
The median price target from the nine analysts who cover the stock is $6.50. Maxim and Oppenheimer initiated the shares as a "buy" and "outperform," respectively, earlier in the year.
Sales growth is impressive. Sequenom booked just under $56 million in revenues in FY 2011, but analysts are looking for a consensus revenue number of $86 million for FY 2012 and nearly $160 million in FY 2013.
The company has two big possible positive catalysts over the next six to 12 months: one, getting more insurers to cover it tests, which can cost upward of $2,000, and, two, FDA approval of its MaterniT21 PLUS test
The stock looks as if it has finally bottomed at long-term technical support levels (see chart below). Short interest amounts to around 25% of float, so any piece of good news can pop the stock substantially.
I believe Sequenom is an example of a stock that is a binary investment. It is either going much higher or will continue to bleed cash. As such, I am using options to play it. I have bought the March 13 $3.50 calls for 80 cents.
Click to enlarge image.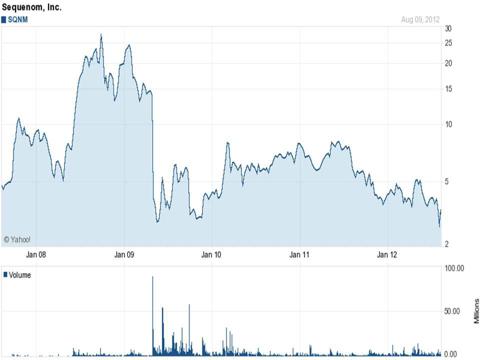 Click to enlarge