Huntsman (NYSE:HUN) is a global manufacturer and marketer of differentiated chemicals. Their operating companies manufacture products for a variety of global industries, including chemicals, plastics, automotive, aviation, textiles, footwear, paints and coatings, construction, technology, agriculture, health care, detergent, personal care, furniture, appliances and packaging. Originally known for pioneering innovations in packaging and, later, for rapid and integrated growth in petrochemicals, Huntsman has approximately 12,000 employees and operates from multiple locations worldwide. The Company had 2011 revenues of over $11 Billion.
Headlines on June 14, 2012 announced that Huntsman was being shopped to private equity firms by Bank of America (BOA) KKR & Co LP, Bain Capital, Advent International and Warburg Pincus LLC are among private equity firms that the bankers have reached out to recently, the sources familiar with the situation said.
This news ended the downtrend, consolidated and has now broken out of a volatility squeeze as shown in the chart below: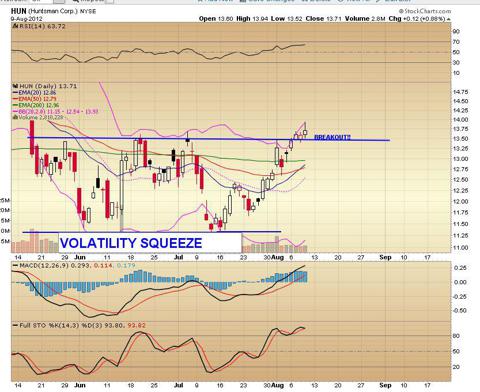 Since the overall markets are very extended, and we have a probable short term top put in at $SPX 1407, it can be very hard to deploy money into new positions.
HUN has a few things going in its' favor. It is a dividend paying stock, going ex-dividend on 9-12-12 in the declared amount of .10 which is a 2.94% yield. Best of all, it is a buyout candidate so there is some "hope" priced into the price! Hope is not a viable trading strategy, but being in a technically good position with any hint of a catalyst is a good thing.
The stock price is low enough to hold in quantity, and the trading range is only $2.25. This means any trade I would take would take into consideration the two main issues: Overall market sentiment, and downside protection on the actual stock. I think the overall market is going to take a breather, and I need to have a breakeven stock price of about $11.50.
After researching different options, I favor a covered call approach, whereas I buy the stock right here at $13.70ish, and sell an ITM (in the money) call - the November 12 strike for $2.25. Using this strategy, if called or flat my return should be around 4.4% plus the dividend income, and I have 16% downside protection.
I like this strategy because if we have an overall market pullback, the call can be bought back cheaply - the intrinsic value of the call is $1.79 with $.41 time value, and when the uptrend resumes, the call can be sold again at the same or a higher strike. If we do not pull back, we've already locked in the return of 4.4% assuming the stock stays is above $12.00 for the November expiry.
Stealing a quote from a friend, "It's a clean, solid trade."
Disclosure: I have no positions in any stocks mentioned, but may initiate a long position in HUN over the next 72 hours.
Disclaimer: MSCM and/or I may or may not have a position in this stock which may or may not be exited without advance notice. Data is provided for informational and educational purposes only and is not offered as investment advice. Timing of transactions can be critical to the success of a position. MSCM, its employees or owners shall not be liable for any errors or delay in the content, or for any action taken in reliance on any content provided within. Opinions expressed here are the sole opinions of the author and not representative of any firm view.