The lag in fuel cost recovery and lower than expected volumes are expected to weigh heavily on Canadian National Railway Co.'s (CNI) second quarter earnings.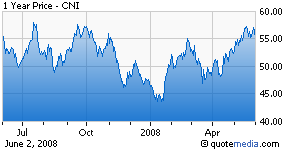 CN's volumes are down 2.3% this year and the rapid rise in diesel fuel prices is likely to pose such a challenge to country's largest railroad that Walter Spracklin, RBC Capital Markets analyst, says he doesn't believe CN will meet the Street's earnings forecast of C$0.98 a share in the second quarter.
Mr. Spracklin said in a note to clients Monday Mr. Spracklin said:
On a relative basis, CNR shares remain as one of our preferred names in the freight transportation sector and, from a long-term perspective, we consider it to be a core holding. Given however the recent share price appreciation and potentially disappointing [second quarter] results, investors may want to consider taking profits at current levels.
However, he did note that he was keeping his "outperform" rating on the stock.
Despite this fact, Mr. Spracklin said he was reducing his full year estimate on higher-than-expected fuel prices. He said he now expects earnings per share at the railway of C$3.50, down from C$3.63, for 2008 and C$4, down from C$4.07, next year. He also reduced his price target to C$60 from C$61 a share.