Jeanie Wyatt, CFA, CEO and CIO of South Texas Money Management, a value and growth disciplined fund, sat down with Kapitall to share a comprehensive strategy that "Main Street" investors will be hard pressed to ignore.
Growth vs. Value
According to Ms. Wyatt, the following charts, which required extensive time and money to compile, were well worth the effort.
They show that when you break up value and growth stocks they have a distinctly inverse relationship that still manages to grow over time. By investing in both value and growth names, no matter the size, sector, or country, investors can accomplish lower volatility and achieve a natural hedge in their portfolios.
(click images to enlarge)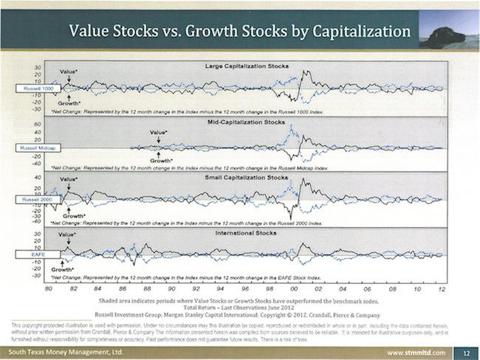 Additionally, Wyatt has found a measurable benefit to keeping exposure to each sector to a minimum. "Whenever there's a correction, there's a correction in a highly weighted sector. Even with very conservative stocks like Colgate (NYSE:CL) and Proctor & Gamble (NYSE:PG), as well as the technology sector." She adds "It can really punish your performance when a sector goes out of favor, even if you have the best stocks in that sector."
Her response is to invest no more than 15% in any sector at a time. A decision, she says, that has helped to lessen volatility. "We had a research firm go back 10 years and re-balance quarterly to see what would be the sector rule to give return and lower volatility. They said you would not put more than 10% in any sector. So we went back 20 years and came to the same conclusion, and it was even more meaningful than the 10-year study… To control your risk you have to control your sectors."
Click here for more details on STMM's investing strategy, as explained by Jim Kee, Chief Economist and President of the firm.
Avoiding Commodities and Chinese Stock Exposure
In mid-2011, the consequences of overbuilding real estate in China, and the subsequent pullback, were felt around the globe. All economies felt a ripple from the drop in raw material demand and analysts loudly predicted a hard landing for China.
Fortunately, these doomsday predictions didn't pan out in full. China has certainly slowed its growth, but is not in a recession. But as a global driver of growth, a slowdown in China has impacted most commodities, from gold and oil to cotton, all of which had a huge run over the past few years thanks to Chinese demand.
Wyatt says her firm has acted cautiously about growth trends in China by avoiding Chinese stock exposure and holding back on commodities. "Bill Gross famously says real investments like commodities are a good place to put your money, but we disagree." For example, oil prices have been so volatile, sweet crude went from $106 per barrel to $78 in a matter of a few months. "Sure, it had a bounce over the Iran conflict, but we generally think oil has downward price momentum."
Industry and Stock Favorites
"We like consumer discretionary areas," says Wyatt, despite the sector's heavy sell-off this summer. "The Gap (NYSE:GPS) looks really good, the stock is breaking out. It had this headwind of high commodity cotton prices for years, but now prices have fallen and it will be the beneficiary of lower prices. Furthermore, they have outside consultants to help refresh and redesign their brand, and they're very successful overseas and at franchising their stores."
Other discretionary names of note are Bed Bath and Beyond (NASDAQ:BBBY), which has sold off a lot, Staples (NASDAQ:SPLS) and Lowes (NYSE:LOW). She says U.S consumer may soon benefit from low commodity prices, low mortgages prices and some stabilization in housing.
In technology, she likes Nice Systems Ltd (NASDAQ:NICE), a sophisticated software developer that addresses online security. "It's expensive on a P/E valuation [$38.51], but it's growing. Revenue lines and earnings are growing. Our philosophy is that you're going to have to pay more for it."
Technology in Cars
The latest technology trends in cars are creating renewed demand for autos, and several technology firms stand to benefit from implementation. "Tech in autos must be everybody's must have. We're buying up both," Wyatt said.
"There's so much tech being put in cars today. The average cars have 130k miles on them, and a lot of new models coming out make people jazzed to get new cars for themselves," according to Wyatt We can expect several new models and model remakes to be on the market between 2014 and 2016.
Tech beneficiaries: Apple (NASDAQ:AAPL), and some of big auto part manufactures like Magna International (NYSE:MGA), General Motors (NYSE:GM) and Ford (NYSE:F) have their own propriety technology. For example, GM has OnStar, and Ford's proprietary tech is called SYNC. And let's not forget Google (NASDAQ:GOOG)'s leap into auto with their self-driving cars, which "is absolutely a reality within the next 10 years," says Wyatt.
Automakers: Wyatt says that although General Motors and Ford share prices have dropped considerably, their sales have been improving. Emerging economy sales are good, but it's much more important how they're doing in the US.
"It's interesting, GM's balance sheet is stronger than Ford's, but Ford is more aggressive as an automaker. The breakeven is much lower now for both of them, and they're really working on making progress on pension liabilities. Both will be beneficiaries of demand for technology," Wyatt said.
Most recent Trades
Most recent buy: Block trades on The Gap and Bed Bath and Beyond. STMM is also looking into, but not currently buying, Pier 1 Imports (NYSE:PIR), citing that their conservative and upbeat management has "done a great job in online retailing." She says they're completely revamping how they display their merchandise, with more lighting and elevated shelf space. They're also closing unprofitable stores.
Most recent sale: Raymond James Financial (NYSE:RJF). Wyatt says STMM is really cautious on financial stocks. Perhaps more importantly, it had already hit their price target. "It was up 50%. Before we buy something we pick a minimum upside of 25% target price. When it hits that target price we sell."
Another major sale was Comcast (NASDAQ:CMCSA). "It was a good name and we liked media because it was more defensive in a slow economic cycle. It's currently facing a huge pending lawsuit with the Supreme Court. It was safest to just go ahead and book our profit."
Business Section: Investing Ideas
Are you looking to follow the investing advice of Jeanie Wyatt, CFA and South Texas Money Management? In addition to the insights and recent trades mentioned above, we list STMM's top 10 holding below. The firm holds roughly 175 positions in total.
South Texas Money Management has done considerable research on each of these names, and feels confident in their ability to meet high standards in growth and value. What do you think?
1. International Business Machines Corp. (NYSE:IBM): Provides information technology ((NYSE:IT)) products and services worldwide. Percentage of holdings: 17.83%
2. Bristol-Myers Squibb Company (NYSE:BMY): Develops, and delivers innovative medicines that help patients prevail over serious diseases. Percentage of holdings: 13.34%
3. Technology SPDR (ETF) (NYSEARCA:XLK): Formerly Technology Select Sector SPDR Fund, seeks to provide investment results that correspond to the price and yield performance of the Technology Select Sector of the S&P 500 Index (the Index). Percentage of holdings: 11.79%
4. iShares S&P SmallCap 600 Index (NYSEARCA:IJR): Seeks investment results that correspond generally to the price and yield performance of the S&P SmallCap 600 Index (the Index). Percentage of holdings: 10.66%
5. Texas Instruments Inc. (NYSE:TXN): Engages in the design and sale of semiconductors to electronics designers and manufacturers worldwide. Percentage of holdings: 8.88%
6. Archer Daniels Midland Company (NYSE:ADM): Procures, transports, stores, processes, and merchandises agricultural commodities and products in the United States and internationally. Percentage of holdings: 8.62%
7. Unitedhealth Group, Inc. (NYSE:UNH): Provides healthcare services in the United States. Percentage of holdings: 8.24%
8. Hancock Holding Co. (NASDAQ:HBHC): Provides various banking and financial services in south Mississippi, Louisiana, South Alabama, and Florida. Percentage of holdings: 8.19%
9. FedEx Corporation (NYSE:FDX): Provides transportation, e-commerce, and business services in the United States and internationally. Percentage of holdings: 7.22%
10. Patterson-UTI Energy Inc. (NASDAQ:PTEN): Provides onshore contract drilling services to oil and natural gas operators. Percentage of holdings: 5.04%
Use Kapitall's Compar-O-Matic to track the annual return for these stocks (excluding ETFs). More features of this tool are available on Kapitall.com.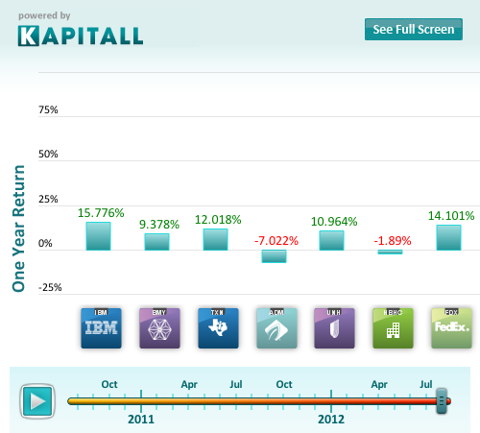 Compare changes in average analyst ratings: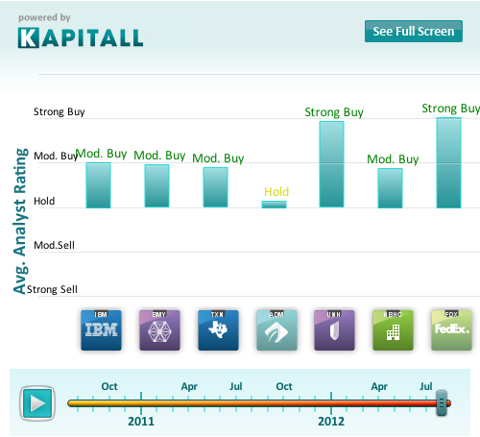 Tools provided by Kapitall (www.kapitall.com). More investing ideas on Kapitall Wire (wire.kapitall.com).
Written by Rebecca Lipman. Data sourced from MyPlanIQ and Finviz. For more data on new positions, visit J3sg.com.
Disclosure: I have no positions in any stocks mentioned, and no plans to initiate any positions within the next 72 hours.