By G.C. Mays
As expected the USDA slashed its estimate of US corn (NYSEARCA:CORN) production. Unlike the June and July reports, the USDA based these projections on real field samples and not econometric models. The USDA reduced production estimates by 55.7 million to 273.8 million metric tons or 10.78 million bushels.
Despite the dramatic drop in yield estimates, corn prices remain range bound while the major nitrogen fertilizer stocks like CF Industries (NYSE:CF) and its subsidiary Terra Nitrogen (NYSE:TNH), along with Agrium (NYSE:AGU) have not seen much in the way of further gains in their stock prices since July 19th. Even potash and phosphate producers Mosaic (NYSE:MOS) and Potash Corp (NYSE:POT) have seen their more modest gains stall along with wheat (NYSEARCA:WEAT) prices.
A net addition of about 4.6 million metric tons in production gains around the world offset about 8 percent of the U.S. production losses.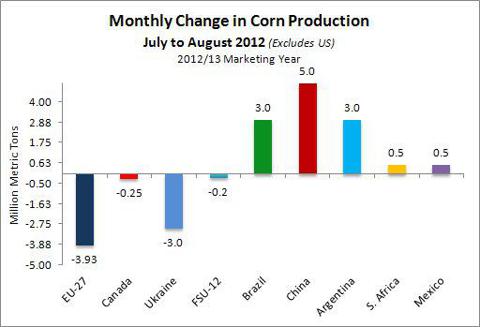 Source: The Mays Report
Production increases totaling 12 million metric tons in China, Brazil, Argentina, S. Africa, and Mexico were offset by declines in the EU-27, Ukraine, FSU-12, & Canada.
What we did not see was the renewed surge in corn prices the broader market expected. Today's trading shows a range of $8.17 - $8.30 per bushel. We did see an initial pop to about $8.48 per bushel in early trading. Yesterday I wrote a piece entitled "Are Unyielding Corn Prices Zapping U.S. Exports?", I concluding the piece by writing:
When the USDA releases corn production estimates on Friday, corn prices are likely to pop. However, in my opinion there is an upper limit in the $8.00 - $8.30 per bushel range that buyers are willing to pay for US corn before it becomes cheaper to import. That limit will serve as a cap on any further price gains in corn as well as fertilizer stocks.
I based this view on how current corn prices, at or near all-time highs have affected U.S. export sales in the current marketing year and how that may carry over into the 2012/13 marketing year for corn, which officially begins September 1. The USDA did in fact lower its estimates of U.S. corn exports in the 2012/13 marketing year while increasing the projected exports of a few countries.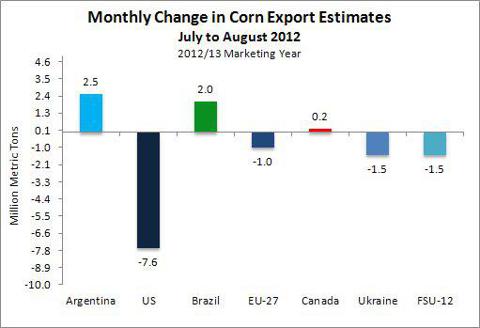 Source: The Mays Report
In addition, the USDA increased its estimate of U.S. imports during 2012/13 by 45 million bushels due to foreign supplies of corn being competitively priced with U.S. corn at or near all-time highs, which the USDA estimates will fall within a record range of $7.50 - $8.90 per bushel.
Domestic demand for corn was also reduced by 1.5 billion to what would be a 6-year low of 11.2 billion bushels. The bulk of the reduction is for feed and residual use as it is cheaper for farmer's to send cattle to market instead of feeding them $8.00 corn. There has also been a 400 million bushel reduction in corn used for ethanol production because at current prices ethanol is simply unprofitable to produce for many firms.
The fertilizer companies have gone on a nice ride since hitting new lows in early June. How much longer the ride lasts will depend wheat and corn prices over the short-term. Most fertilizer companies that have reported earnings have generally shown lower volumes of fertilizer sold in at least one area year over year. I have written ad nauseam since mid to late June that these gains are a nice gift from nature. For short-term traders prudence is key here. Longer-term investors that intend to weather the business cycle slowdown might consider long-dated puts at a proper time to at least partly offset some of the likely seasonal / cyclical declines in the prices of these stocks.
Disclosure: I have no positions in any stocks mentioned, and no plans to initiate any positions within the next 72 hours.