Edited By Kate Boehme
Enerplus Corporation (NYSE:ERF) is among the biggest independent gas and oil producers in Canada. The company currently trades on both New York and Toronto Stock Exchanges. Established in 1986, Enerplus has been offering high-yield opportunities to its investors ever since. The company provides a steady stream of cash flow in the form of fat dividend checks. Even after the last dividend cut, the current yield stands at 7.54 percent.
In order to ensure profits for investors, Enerplus focuses on developing its core business activities and managing their asset portfolio. In other words, the company promises steady profit growth in the coming years. Moreover, the company has been acknowledged as one of thetop ten energy dividend stocks by Forbes. However, the stock has been an underperformer for a while. The one-year return is -40 percent.
Financial Position
Enerplus has spent the last two years repositioning its portfolio. One of the obvious manifestations of this effort was a 6.2 percent increase in organic production. Notably, the company entered 2011 with a production level of 77200 boe/d; on the other hand, it exited the same year with production levels of nearly 82000 boe/d. For this reason, Enerplus's financial dashboards recorded a positive period. Furthermore, in 2011, Enerplus's exploration and development expenditures increased by 12.4 percent, from $770 million to $866 million. The catalyst for this shift was favorable weather conditions in the area of the company's operations.
In terms of the 2011 financial performance, Enerplus evidently experienced a diminished cash flow stemming from its upstream activities. In fact, the cash flow dropped by ten percent, from $696 million in 2010 to $623 million last year. Also notable, the fall in both oil and gas prices significantly affected financial indicators in the company's dashboard. However, in 2011, benefits derived from rising oil prices offset the losses caused by a drop in the price of natural gas. By gradually cutting the average gas production, Enerplus has achieved an improvement in profits. In particular, this strategy has achieved an incredible income growth of 161 percent over the last 12 months.
Enerplus holds a leading position in regards to both trailing twelve months and five-year average profitability ratios. In the first instance, the gross margin is 37 percent higher than the industry average. Meanwhile, the 5-year average gross margin is 59 percent higher than industry average. In the same period, Enerplus's net profit margin has exceeded industry average by almost 50%.
Despite the depleted cash flow recorded in the year-on-year review, Enerplus has still maintained a strong balance sheet in the current year. This is manifested with a low debt-to-equity ratio of 0.26. Following a reasonable price risk management program, Enerplus has seen significant benefits throughout 2011 and into the current fiscal year. In particular, the company has generated cash gains of $13 million, derived from the successful implementation of natural gas contracts in the previous year.
Company stock and dividend profile
Enerplus's main peers can be listed as SM Energy (NYSE:SM), Laredo Petroleum Holdings (NYSE:LPI), Cheniere Energy (NYSEMKT:LNG), and WPX Energy (NYSE:WPX). The chart below reveals that the company's stock prices have stayed close to those of their competitors, with the exception of SM Energy.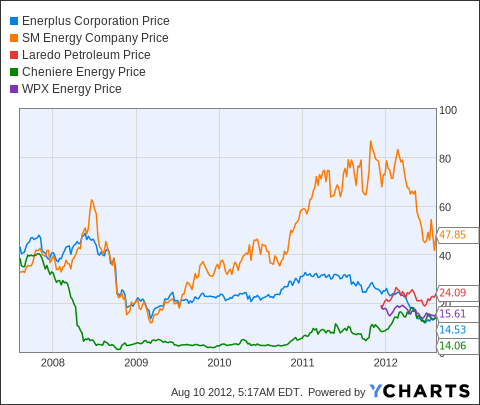 These days, Enerplus is quite a popular option among income-oriented investors, arising from the regular distribution of cash dividends to shareholders on the tenth of every month. The company has also attracted investor attention thanks to the nifty dividend checks offered by the company. Over the last three years, Enerplus has maintained the dividend-per-share rate at about $0.18/month, or $2.16/year. Even after the recent dividend cut to 9 cents, the current yield stands at 7.54 percent.
For the trailing twelve months, the company's stock has reached an exceptionally high P/E ratio of 38.5. In fact, this indicator surpassed the industry average by nearly four times and the S&P group average by more than two times. The industry P/E ratio is 10.2 and the S&P ratio is 17.70. A high P/E ratio signifies payment of a premium for potential future earnings. In the coming years, Enerplus most likely will provide its shareholders with higher earnings growth than other companies within the industry and across the S&P group. In fact earnings are expected to grow at an annual rate of 30% for the next 5 years.
Current Plans
In 2012, Enerplus plans to expand its production by engaging in new exploration and development projects. For this year, Enerplus set a target expenditure of $800 million, of which nearly 40 percent - or $350 million - is directed toward tight oil projects. Marcellus Gas has received the second largest piece of the budget, with $190 million of the planned expenditure. They are followed shortly behind by crude oil water floods and liquids rich natural gas, which each receive $150 million and $80 million, respectively. Enerplus also intends to invest $30 million in other oil and gas operations as part of their exploration and development programs.
Such strategic financial plans are the cornerstone of Enerplus's success, having played a particularly significant role in the company's economic upswing last year. In 2012, Enerplus is focused on opportunities to increase the oil and liquid production portion of its portfolio. The company aims to increase oil production by around 7000 boe/d throughout the year. Furthermore, by year-end, Enerplus predicts that production growth will have risen to 88000 boe/day. This seems like quite a reasonable course due to the protracted period of weak prices for natural gas.
Based on the current commodity prices, Enerplus's cash flow is also expected to increase over the course of 2012. This is mainly due to the perceived increase in the production of both crude oil and liquids.
Summary
In July 2012, Enerplus cut their monthly dividend payment from $0.18 to $0.09, a decision felt by some investors to be questionable. However, despite investor doubts, this decision did bring the company certain benefits. Cutting dividends is in line with the company's current strategy to maintain both cash flows and a balanced asset portfolio. One of the principal initiatives supporting this course is the monetization of undeveloped assets over the next 18 months.
While figuring out whether Enerplus stocks are worthy of investment, it is important to thoroughly evaluate all essential facets of the company's portfolio. In particular, potential investors should assess Enerplus's most immediate future plans. As the company's 2012 guidance is still well within the average annual target production of 83 000 boe/d, there is a strong argument to support that Enerplus is a safe investment. The recent sell-off created a cheap entry point, where the stock is trading near its 2009 dip. I think this is one stock primed for a big rebound.
Disclosure: I have no positions in any stocks mentioned, and no plans to initiate any positions within the next 72 hours.