American Railcar Industries, Inc. (NASDAQ:ARII) manufactures and services various types of railcars, with leading market shares in Covered Hopper and Tank Railcars. Various entities controlled by Carl Icahn have voting control of ARII.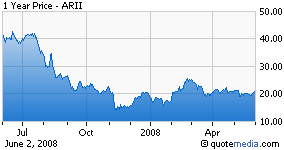 Here are highlights of the earnings call for the first quarter of fiscal 2008 (ended 3/31/208):

Financial Highlights

Revenues - $184 million (up 14% sequentially, down 2% year over year).
Net Income - $10.1 million.
EPS - $0.48 per diluted share (includes $0.09 gain from derivative).
EBITDA - $23.6 million.
Cash - $275 million.
Short Term Investments - $ 40.5 million.
Railcar Deliveries - 1,902.
Backlog - 10,077 railcars.

Weakness in revenues and earnings coming from hopper railcar business.

Management Comments

"(Shipments down due)...to a soft market for hopper railcars and increased competition within that market. This also drove down selling prices for hopper railcars shipped during the first quarter of 2008."

"During the first quarter of 2008 we invested $15 million toward capital projects to expand capacity, reduce costs and improve efficiencies. This included funding for both the new plant at Marmaduke and the new wheel and axle assembly shop."

Questions

Pass through on Material costs?

"A good percentage, a majority of all our production is getting pass throughs. We have no contracts beyond 2008 that's firm pricing but we do have a few production orders that have some firm pricing but we have hedged in the steel prices on those so we feel we are protected."

Book to Bill has been below one for several quarters, when will it start increasing?

"When we see an uptick in this economy and the shippers as well as the leasing companies begin to invest in new railcars. We are projecting sometime late third quarter for that to occur."

Equity in Greenbriar (NYSE:GBX)?

"The derivative securities have no voting control or no direct interest in Greenbrier whatsoever. That is a security that was put in place, it gives us control over the economic value of 400,000 shares of Greenbrier stock. Direct investment is a little over 1.5 million shares."

Ethanol tank share? Ethanol as a fad and impact on ARII?

"Tank cars to be built probably 45% to 55% is maybe ethanol related."

"Our tank car facilities are very flexible facilities...we are shifting some of that production as demand changes to those other commodity type cars."

Overall pricing environment?

"If the economy were to stay where it is for the next three to four quarters we'd expect to see pressure on future orders on tank car margins to decrease."

Please read my other posts on ARII here.

Disclosure - No Position.