Some investors refer to Activision Blizzard (NASDAQ:ATVI) as the "Apple of the gaming industry" as it is a highly profitable company that follows the motto "Quality over quantity." Despite its brand status, I don't think the stock is undervalued as I believe margins will deteriorate and revenues will be somewhat stagnant. As I will argue in this analysis, I believe the brand value of ATVI can be explained by past performance rather than the current quality of games. Over time, I expect that this will have a negative impact on the revenues of the company.
Blizzard
Click to enlarge images.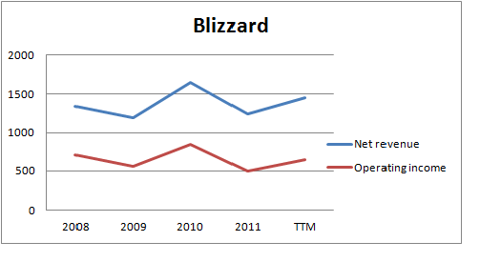 Click to enlarge
ATVI divides its financial statement into two parts: one, income from Blizzard and, two, income from Activision. Blizzard is most well-known for games such as "Starcraft," "Diablo," "Warcraft" and "World of Warcraft" ("WOW"), with the latter game producing the majority of Blizzard's earnings. However, over the last year Blizzard has seen a substantial decline in "WOW" subscribers, which can partly be explained by the release of "Diablo III" -- an example of the cannibalism phenomenon, as the games are somewhat similar.
But I also believe that the decline can be explained due to the fact that it has been a year since any new content has been released (none since Q4 2010). A new expansion pack is expected to be released in September 2012, with subscriber numbers expected to increase to around 11 million from the current subscriber base of 9.1 million (compared to around 12 million at the end of 2010). After 2012, I expect a slow decline in subscribers until the new MMORG "Titan" is released, which I expect to be the natural successor to "WOW."
"Diablo III" was released in May 2012 and more than 10 million players have tried the game out so far. This was above the expectations of management, and therefore earnings for Q2 2012 were surprisingly good. However, "Diablo III" received somewhat mediocre reviews, and if anecdotes from forums are of any use, a lot of gamers have stopped playing the game because it has no long-lasting appeal. As of today, it is not yet possible to play against other players, though this is expected to be implemented in a future patch. While the "failure" of "Diablo III" won't have any significant short-term effect on earnings, it will definitely have a negative impact on the sales of future expansion packs and a potential "Diablo IV."
"Starcraft II" might not have had the same sales numbers as "Diablo III," but it has proven to do well in terms of long-lasting appeal. The game is followed by an active minority that spends a lot of time watching and discussing the game and relatively little time playing it. But I don't see any way Blizzard can monetize this phenomenon, and thus the "Starcraft" series will continue to have a relatively little effect on the consolidated income statement in the future. One might look at "Starcraft II" as proof that Blizzard still has the resources to produce innovating, high-quality games, which can benefit Blizzard in the long term. But I personally disagree with that statement as I believe "Starcraft II" is basically a graphically updated version of its predecessor with a few minor tweaks, which, almost ironically, worsened the quality of the game even though the developers had 12 years to make it.
Activision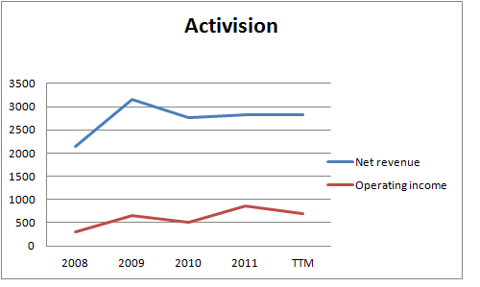 Click to enlarge
It seems that once a year, Activision releases a new "Call of Duty" ("COD") game. And it seems that each time it achieves record sales numbers. Can this trend continue in the future? I doubt so, as the "COD" series contains very little innovation; in the end, the consumer is paying for the same game as the previous installment with a few minor tweaks. I am sure the consumer will be fooled for some time, but in the long term I expect Activision to lose its competitive advantage in the first person shooter genre.
To replace the revenue obtained by the "Guitar Hero" series (the old cash cow, which consumers got tired of buying because new game releases had very little innovation), Activision released the game "Skylander: Spyro's Adventure" in October 2011 (see the image below). This game mainly targets younger audiences and has so far done extremely well, as it is the game series that has been the largest contributor to revenue in the second half of 2012. If a player wants to switch his or her character in "Skylander," he or she has to buy a physical model of the character, which is placed on the "The Portal of Power" whereupon he or she appears in the actual game. This is obviously a great business model, and I expect Activision to milk this (potential) cow for a couple of years.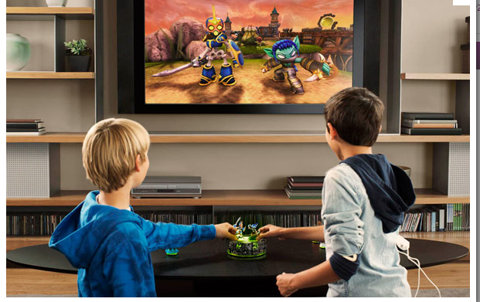 Click to enlarge

Click to enlarge
Valuation
Given my above expectations for each game, the question which then arises is: What is the fair value of Activision Blizzard? To value the company, I have to make three additional assumptions:
WACC = 6.35 % in the budget period, 9.43 % in the terminal period
Effective tax rate = 26%
Future sales to capital ratio of 1

Click to enlarge
As you can see in the table below, I estimate that the fair value of one share to equal 11.81, and therefore I believe that the current share price is fairly valued. However, if one believes that Activision will continue generating operating margins of 30% or higher and/or will obtain a high rate of growth in revenues, Activision seems like a great buy. But I believe it is currently a cash cow, and that it will not have such an easy time generating profit in the future.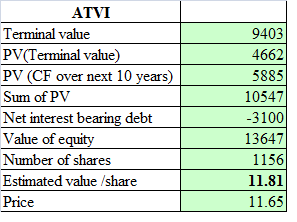 Disclosure: I have no positions in any stocks mentioned, and no plans to initiate any positions within the next 72 hours.