Each month David Fish publishes his updated Dividend Contenders profile here in Seeking Alpha. David's dividend contenders are distinguished as companies that have paid higher dividends for 10 to 24 straight years.
Dogs of the Index Metrics Cull Out Current Bargains
Given the Dividend Contenders, this article used two key numbers to rank those stocks: (1) stock price; (2) annual dividend. Dividing the annual dividend by the price declared the percentage yield by which each dog stock was ranked.
Historically, investors utilized this ranking system to select portfolios of five or ten stocks in any one grouping to trade. They optimistically awaited the results from their investments in the lowest priced, highest yielding stocks and prayed that the price of every stock they now owned climbed higher (having locked in a high yield percentage at purchase).
Dogs of the Index strategy, popularized by Michael B. O'Higgins in the book "Beating The Dow" (HarperCollins, 1991), revealed how high yielding stocks whose prices increase (and whose dividend yields therefore decrease) can be sold off once each year to sweep gains to reinvest the seed money into higher yielding stocks in the same index.
The top thirty dividend contenders stocks listed below were ranked by yields calculated as of July 31.
Dividend Contenders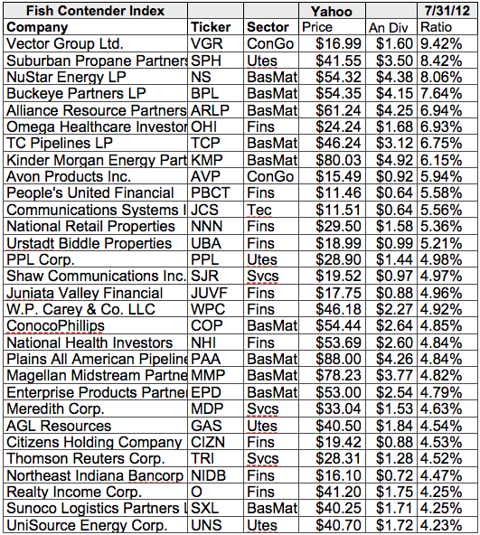 Click to enlarge
(Click to enlarge)
Contender dogs in for June & July included firms representing four of nine market sectors.
The top dog, Vector Group Ltd. (NYSE:VGR) found companionship in the consumer goods sector from Avon Products Inc. (NYSE:AVP). The balance of the top ten included one utility, Suburban Propane Partners LP (NYSE:SPH); five basic materials firms, NuStar Energy LP (NYSE:NS), Buckeye Partners LP (NYSE:BPL), Alliance Resource Partners LP (NASDAQ:ARLP), TC Pipelines LP (NYSE:TCP), and Kinder Morgan Energy Partners (NYSE:KMP); two financial firms, Omega Healthcare Investors (NYSE:OHI), and People's United Financial (NASDAQ:PBCT) representing those market sectors.
Dividend vs. Price Results
Below relative strength of the dividend contenders top ten stocks by yield was graphed as of July 31, 2012. Six points of historic projected annual dividend history from $1000 invested in the ten highest yielding stocks and the total single share prices of those ten stocks created the patterns shown in green for price and blue for dividends.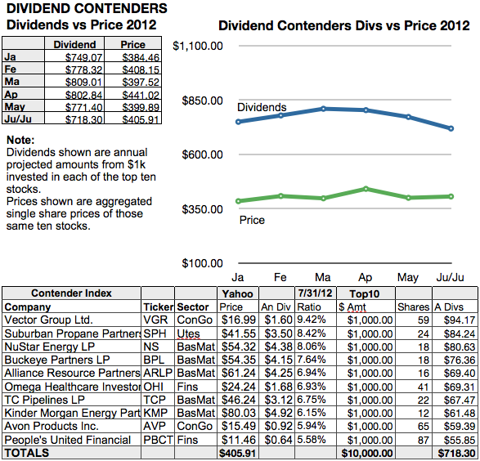 Click to enlarge
(Click to enlarge)
Conclusion: Contenders Are Bullish
This contenders collection of top ten dogs by yield showed dividends from $1k invested in each of the top ten stocks decreased 4.11% as their aggregate single share prices increased 5.58% since January. Since May ten contenders show 6.88% lower projected dividends from $1k invested in each stock at a 1.51% higher aggregate single share price.
Conclusion 2: Contender Dogs Sniff Out 15.37% Annual Net Gain
For the coming year analyst forecasts from Yahoo Finance projected a 9.1% lower dividend from $1k invested in each stock within this Contenders top ten dog group while aggregate single share price for the ten was projected by analysts to increase by 9.56%.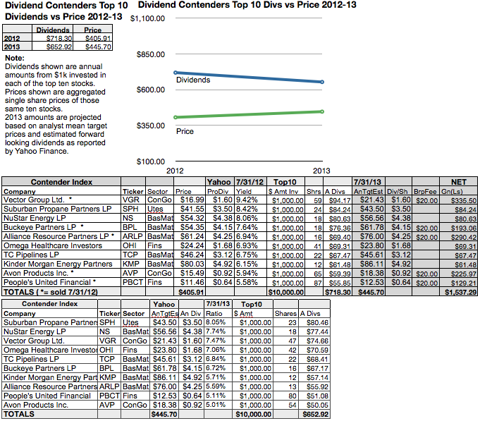 Click to enlarge
(Click to enlarge)
Likely profit generating Contenders top ten dog trades one year hence from analysts reported by Yahoo Finance were: Vector Group Ltd. netting $335.50 based on mean target price set by 1 analyst; Buckeye Partners LP netting $193.06 based on mean target price set by 8 analysts; Alliance Resource Partners LP netting $290.42 based on a mean target price set by 8 analysts; Avon Products Inc. netting $225.97 based on a mean target price set by 13 analysts; People's United Financial netting $129.21 as of next August based on a mean target price set by 15 analysts.
The resulting Contenders top ten dog net to 2013 from dividends and swept price gains was forecast to be 15.37% from $10k invested according to analyst mean target price estimates.
Stay Tuned
At the end of each month, a summary concludes this series of articles showing results of yield and price for the Dow 30, Russell 50, Dividend Achievers, the Carnevale Power 25 and Super 29 indices, along with David Fish's Champions, Contenders, Challengers, and Composite lists. Stay tuned to follow these intrepid dogs.
Disclosure: I have no positions in any stocks mentioned, and no plans to initiate any positions within the next 72 hours.
Disclaimer: This article is for informational and educational purposes only and shall not be construed to constitute investment advice. Nothing contained herein shall constitute a solicitation, recommendation or endorsement to buy or sell any security. Prices and returns on equities in this article (except as noted) are listed without consideration of fees, commissions, taxes, penalties, or interest payable due to purchasing, holding or selling same.