Today our team is full of excitement as we work our way through the news of new acquisitions and the publication of the Q2 financial results of our largest single holding in the silver space. In this article we will cover the Q2 financial results, the additions to the silver streaming facilities, take a quick look at the charts and conclude with one long-term suggestion and one short-term suggestion for your consideration.
Smart Consensus Peer Ratings Detail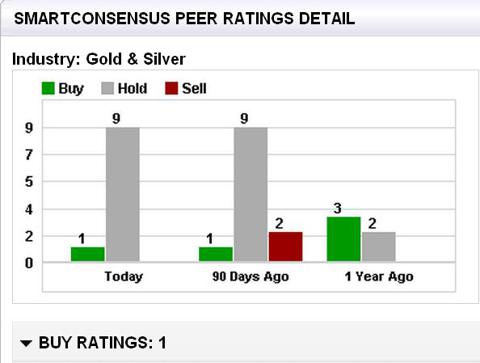 Click to enlarge
Silver Wheaton Corporation (NYSE:SLW) Q2 Earnings have been reported as $0.40 which is at the top end for the analysts who's expectations were in the order of $0.420, $0.374, $0.350. Hopefully this result will be reasonably well received as it is in line with expectations. When earnings fall short they tend to disappoint the analysts and subsequently the stock can be sold off.
There was also good news for investors as the new dividend policy linking quarterly dividend payments to 20% of the previous quarter's operating cash flows, produced a dividend payment of $0.10 per common share and will be paid to holders of record of its common shares, close of business on August 30, 2012, and will be distributed on or about September 13, 2012.
Also of note is the slight decrease in the cash costs to $4.06 per silver equivalent ounce ($4.04 per ounce of silver and $303 per ounce of gold). However the cash operating margin was $25.01 per silver equivalent ounce, compared with $34.21 in Q2 2011.
Q2 Highlights are listed below
Attributable silver equivalent production of 6.7 million ounces (6.5 million ounces of silver and 3,200 ounces of gold), an increase of 10% compared with Q2 2011
Revenue increased 3% compared with Q2 2011, to a record $201.4 million, on record silver equivalent sales of 6.9 million ounces (6.8 million ounces of silver and 2,400 ounces of gold).

Net earnings were $141.4 million ($0.40 per share) compared with $148.1 million ($0.42 per share) in Q2 2011.

Operating cash flows increased 3% compared with Q2 2011, to a record $172.9 million ($0.49 per share).

Cash operating margin was $25.01 per silver equivalent ounce, compared with $34.21 in Q2 2011.

Average cash costs fell slightly compared with Q2 2011, to $4.06 per silver equivalent ounce ($4.04 per ounce of silver and $303 per ounce of gold).

Cash balance of $1.1 billion, with a net cash position of $1.04 billion at the end of Q2 2012.

Declared quarterly dividend of $0.10 per common share, representing 20% of the cash generated by operating activities during the three months ended June 30, 2012.

Announced attributable proven and probable silver reserves of 798 million ounces, nearly twice the reserves of any other silver company in the world.

Subsequent to the second quarter, Silver Wheaton announced that it has agreed to acquire a precious metals stream from Hudbay Minerals Inc.'s ("Hudbay") currently producing flagship 777 Mine ("777"), as well as a silver stream from their cornerstone development project, Constancia. Combined, 777 and Constancia will increase Silver Wheaton's long-term average annual silver equivalent production by approximately 4.9 million ounces.
Silver Wheaton is the largest silver streaming company in the world. Based upon its current agreements, forecast 2012 attributable production is approximately 28 million silver equivalent ounces, including 42,000 ounces of gold. By 2016, annual attributable production is anticipated to increase significantly to approximately 48 million silver equivalent ounces, including 100,000 ounces of gold. This growth is driven by the Company's portfolio of low-cost and long-life assets, including silver and precious metal streams on Barrick's Pascua-Lama project and Hudbay's flagship 777 mine and Constancia project.
Silver Wheaton Corporation has a market capitalization of $10.80Bln, an EPS of $1.62, a 52 week low of $22.94 and a high of $42.50, average volume of shares traded is around 4.00Mln, so the liquidity is good, with 353.65 million shares outstanding. Current stock price is $30.53.
New Acquisitions
We need to fully understand the significance of the latest acquisitions, however, as an indicator we refer to Randy Smallwood, Silver Wheaton's President and Chief Executive Officer who commented as follows:
We are extremely pleased to add two new precious metals streams, on high-quality base metal mines, to our diversified portfolio which now includes 17 operating mines and four development stage assets." This transaction provides immediate cash flow, is accretive on all short- and long-term metrics, and maintains our policy of investing in low-cost, high quality assets. It also solidifies one of the strongest growth profiles in the precious metals industry. Hudbay has a history of mining success spanning decades, and as flagships in their asset portfolio, we are confident that 777 and Constancia will deliver significant long-term value to both groups of shareholders.
Conclusion
To conclude we have adopted a policy of not increasing our exposure to the producers for some time now as they were not performing and silver prices were also drifting lower. Once silver and gold prices gain some traction we expect them to challenge their all time highs and perform spectacularly well, catapulting SLW to the $100.00 price level. However, we still need to be convinced the silver is about to rally with gusto, but, SLW at these price levels is worth the punt. It's not a case of back up the truck, more a case of acquiring steadily, starting now.
Our preference is to increase our exposure via the selection of a few well thought out option plays. Note that we didn't say via acquiring more stock, that is for the simple reason that SLW is already the largest holding we have in the silver space and we are a tad reluctant to place more eggs in the same basket. However, we do believe that this stock should be given full consideration when building a portfolio in the precious metals sector.
Taking a quick peek at the chart below, we can see that the upswing of the 50dma, which hopefully will cross the 200dma, forming a golden crossover and thus having a positive effect on SLW. The technical indicators, the STO and the RSI now suggest that SLW is overbought, so there may be a rebound in the short term.
SLW Chart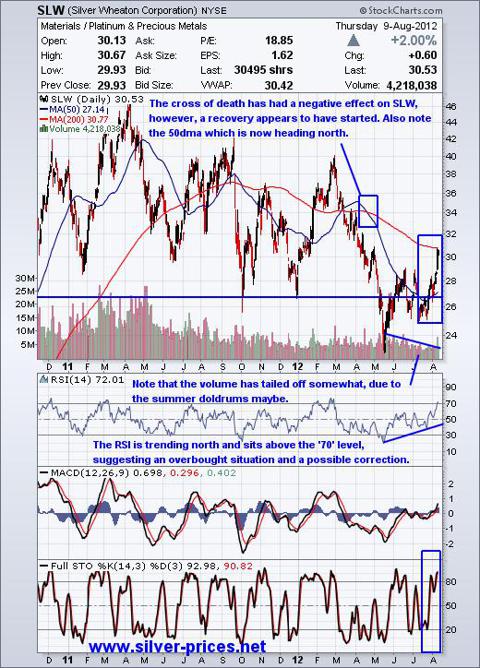 Click to enlarge
For a long idea we suggest accumulating this stock for the long term as and when you can. The fortunes of SLW are predicated on the performance of silver prices heading to higher ground. We are quietly confident that both gold and silver prices will return to challenge and overcome their all time highs in the very near future.
For a short idea this stock appears to be overbought so you might want to take a look at some of the near term Put options with a strike price that is just 'out of the money' as a short sharp correction appears to be on the cards. This pull back could be short lived so you will need to act fast and do not risk too much of your 'opportunity cash' as we all need to live and fight again another day.
Silver Wheaton Corporation trades on both the NYSE and the TSX under the symbol of SLW.
Disclosure: I am long SLW.
Disclaimer: www.gold-prices.net or www.skoptionstrading.com makes no guarantee or warranty on the accuracy or completeness of the data provided. Nothing contained herein is intended or shall be deemed to be investment advice, implied or otherwise. This letter represents our views and replicates trades that we are making but nothing more than that. Always consult your registered adviser to assist you with your investments. We accept no liability for any loss arising from the use of the data contained on this letter. Options contain a high level or risk that may result in the loss of part or all invested capital and therefore are suitable for experienced and professional investors and traders only. Past performance is not a guide nor guarantee of future success.