With all the excitement surrounding the energy and agricultural markets, there is one commodity that seems to get ignored. It is not exciting like geothermal energy or drought resistant corn seeds, but it is something the world needs and that is water. Water covers more surface of the planet than land does and we still have difficulty meeting the world's needs. This is important, as most of that water is salt water and requires desalination to make it usable for drinking. Water infrastructure plays are hard to find and should be well positioned as the Europe and the United States need their water systems upgraded and redone, and many of the emerging markets need them installed.
Layne Christensen Company (NASDAQ:LAYN) was named to the 100 fastest growing companies list by Fortune magazine. They were place 78th on the list. This company not only helps provide the world with drinkable water, but they also do mineral extraction and aid energy exploration companies. Their recent move into unconventional drilling of natural gas has helped to diversify. Last year was a record setting year as revenues were up 20.1%, net income was up 41.9% and EPS was up 31%. They have now improved year over year results for four straight years. Their water business increased revenue by 20.2%. Their mineral exploration business saw revenues increase by 19.9% year over year. Unconventional gas exploration and production saw revenues increase 46.8%.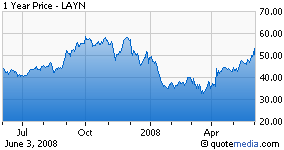 LAYN's chart is very bullish pointing to their triple top breakout on May 21st. After a pullback starting in December the stock fell from $58 to $32 and there is a distinct possibility that the stock will test this high sometime in the near future. Over the last four quarters LAYN has beat all four times. They beat earnings by 52.9%, 20%, 3.5% and 35.1% respectively over the past year. Current earnings estimates of $.54 per share are just 3.8% better year over year and that is on revenues of $231.56 million which is 14.9% better than last year. I do believe that this company's earnings will be pushed over the top by stronger natural gas prices, not only for this quarter but for the rest of the year. Their sizable acquisitions could realize savings and increase growth much quicker than estimated.
All areas of this stock look to be well positioned, but most importantly their consistency with earnings should be watched closely as they have consistently outdone expectations. Look for this company to be firing on all cylinders for the rest of this year, plus there are very few companies with this type of water exposure. Also, buyers seemed bullish on Monday going into earnings, pushing the stock price up 3.99% on Monday.
Disclosure: Long