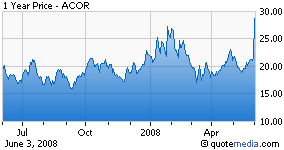 Acorda Therapeutics (NASDAQ:ACOR) announced positive results from its second Phase 3 clinical trial of Fampridine-SR on walking ability in people with multiple sclerosis [MS]. In a timed, 25 foot walk test, just under half of the patients showed improved walking speed vs. placebo. Acorda plans to submit an NDA in 2009.
This was an interesting endpoint. I could be wrong but these two trials from Acorda may have been the only of their kind. Most trials have an endpoint of reduction in MS flare up incidence, or something relapsing remitting related that require a study length of 1-3 years.
MS is characterized by the progressive demylenation of nerves and while most all approved MS therapies are geared towards preventing the immune system from attacking the myelin, Fampridine works on the nerve itself by preventing ions [K+] from leaking out of the damaged neurons and preventing the degradation of the nerve signal.
Acorda got an Special Protocol Assessment [SPA] with the FDA prior to the trials and seems confident of these endpoints, this data support and NDA. While the data doesn 't knock my socks off (Fampridine only increased average walking speed in 42% of patients and only by 29%) the fact that this may be the first oral therapy approved for MS is a huge deal.
Also in Acorda's favor is the frighteningly low cost of goods sold. Off hand, I don't know what the cost will be but Fampridine is simply 4-aminopyridine and must cost fractions of a penny per dose.
Good news all around for both Acorda shareholders and MS patients.