It is very hard to find a silver producer that is over 100 years old, has a balance sheet that includes 0 debt and $385 million of total cash, and is selling for around 14 times next year's conservative projected earnings.
Established in 1891 in northern Idaho's Silver Valley, Hecla Mining Company's (NYSE:HL) rich history of mining has distinguished it as a respected precious metals producer. Hecla is the oldest U.S.-based precious metals mining company and the lowest-cost primary silver producer in North America. Now headquartered in Coeur d'Alene, Idaho, with a sister office in Vancouver, B.C., this international, publicly traded company is 117 years old.
Hecla recently announced its plan to acquire 100% of the fifth largest silver mine in the world – the Greens Creek mine in Alaska. Upon closing, the transaction will nearly double Hecla's annual silver production to approximately 11million ounces, while further decreasing its already low cash costs per ounce of production.
In 2007, Hecla was the lowest-cost primary silver producer in North America, producing 5.6 million ounces of silver at an average total cash cost of negative $2.81 per ounce. Hecla also produced 107,708 ounces of gold. The company has exploration properties and operating mines in five world-class silver and gold mining districts in the U.S., Venezuela and Mexico. Hecla's proven operating expertise, recent acquisitions, low-cost growth profile and excellent exploration potential emphasizes Hecla's position as a the low-cost, low-risk silver investment.
Hecla mines, processes and explores for silver and gold in Idaho, Colorado, Mexico and Venezuela. Hecla currently produces silver from two silver mines, Greens Creek and Lucky Friday, as well as mining gold at the La Camorra Unit in Venezuela. In 2007, the Greens Creek mine in Alaska contributed 2.6 million ounces of silver to Hecla's account, and the Lucky Friday mine in northern Idaho produced 3.0 million ounces. The La Camorra Unit in Venezuela produced 87,490 ounces of gold in 2007.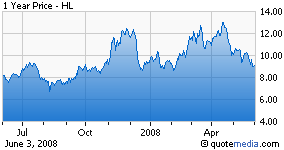 Hecla has long been well known in the United States as a quality producer of silver and gold. The name "Hecla" is commonly associated with both precious metals by investors. Hecla's common stock has been traded on the New York Stock Exchange for over 40 years under the symbol "HL."
So this is a company with a trailing-twelve-month profit margin growth of 28% and operating margins of 28%, and its year-over-year quarterly earnings growth was around 90%.
On Feb. 13, 2008 HL CEO Phil Baker Jr. told a conference that his company is trying hard to complete the acquisition of Greens Creek so they can own 100% of this bonanza.
"It took 20 years," said Baker, but "once Rio Tinto (NYSE:RTP) did the Alcan transaction we went into high gear to be able to pick up [Greens Creek]. Baker added, "We know the operation intimately and believe the operational risks are low."
"The cash cost per ounce of silver produced at Greens Creek, including byproduct credits, is among the lowest in North America."
Based on recent prices for metals, Hecla should recoup the $750 million purchase price within 5 to 6 years, and could potentially do so sooner if prices continue to improve. And according to CEO Baker, Greens Creek will generate large volumes of free cash. The estimates are $150 million to $200 million annually after taxes.
So the possibility for HL to pay some dividends and/or make some more accretive acquisitions is tremendous with this kind of scenario. Great revenues and cash flow enable Hecla to expand other operations, as well.
In addition to consolidating ownership at Greens Creek, Hecla is upgrading operations at its properties in Idaho's Silver Valley. And I'm told Hecla is adding a former Colorado mine to its portfolio. They recently annouced a deal to earn up to a 70% j.venture interest in San Juan Silver Mining Venture in the Creede mining district in Colorado.
Through this they will be gaining access to a 48 million ounce silver resource, based on initial assessments. There is probably even more silver resource out there. The land package includes the old Bulldog mine of the former Homestake Mining Co.
So is there much downside to HL? My best estimate would be that if gold and silver prices drop 10% (which is entirely possible) over the summer months HL could dip down near $8 a share (which is not likely but also is possible).
If that happens, I, who already own a nice position, will be backing up the truck to complete my purchases to make Hecla one of the largest single positions in my portfolio.
Don't believe me though, do your own due diligence. Start at their user-friendly web site which I'll post in a moment, and notice they do have an Environment Policy.
That web address is http://www.hecla-mining.com/index.html. I think you might also want to look at their "Key Statistics" on the Yahoo Finance site to gain a quick overview of their financial condition and balance sheet.
By the way back on April 16th they announced they completed the acquisition of of Greens Creek from Rio Tinto. I'll conclude with quotes from that announcement.
As a result of the transaction, Hecla subsidiaries now hold 100% of the Greens Creek joint venture, which is believed to be the fifth largest silver mine in the world in terms of annual production. Hecla has held a 29.73% interest in Greens Creek for the past two decades. On an annualized basis, by 2009 the integration of the rest of the Greens Creek mine into Hecla is expected to:
nearly double Hecla's silver production to about 11 million ounces annually
increase silver reserves by more than 150%
increase gold reserves by 140%
significantly increase Hecla's cash flow from operations
decrease Hecla's already-low average cash costs per ounce of silver
Hecla's President and Chief Executive Officer Phillips S. Baker, Jr., said, "We think the Greens Creek mine and its 12-square-mile land package is an exceptional asset, with great low-cost, long-lived production, as well as tremendous upside exploration potential.
This asset transforms our company and provides us a solid base for additional growth well into the future." The acquisition is accretive to Hecla on important major operating and financial metrics, including production, cash costs per ounce, cash flow and silver, gold, zinc and lead reserves. As a result, Hecla has increased its production guidance for 2008 to approximately 9 million ounces of silver. Hecla's cash costs remain among the lowest of the North American primary silver producing companies, and in 2007 the average total cash cost was negative $2.81 per ounce of silver.
The $750 million purchase price consisted of $700 million in cash and $50 million in Hecla common stock. Hecla funded the cash portion of the payment with approximately $340 million from its existing cash and the remainder was funded through a $380 million debt facility provided by Scotia Capital.
The debt facility includes a $140 million three-year amortizing term facility and a $240 million bridge facility (of which Hecla drew $220 million at closing), which matures in six months. Baker said, "Our Greens Creek and Lucky Friday silver mines generate a great deal of cash flow at current metals prices, which is expected to enable us to pay off the debt in less than three years.
We have organized this financing to include a bridge facility that allowed us to eliminate a bank requirement to hedge a portion of our future zinc and lead production, and therefore avoid the earnings volatility associated with mark-to-market accounting. Over the course of the next several months, we will be evaluating various opportunities to retire the bridge loan."
Baker concluded, "As a participant in the Greens Creek joint venture for 20 years, Hecla has first-hand knowledge of its great value. Frankly, we have been trying to acquire Rio Tinto's interest for many years. I could not be more pleased with this transaction and am excited about what it means for our shareholders and for our company's future."
Disclosure: Long