Market Recap: The market moved flat again as was expected after another round of light headlines and low volume. Early losses were erased by the end of the day, and the uninteresting week ended flat. The market took early losses on the back of weakness in global markets that was spurned on by the fact that Chinese trade data was weak and it was the second day in a row of signs that a slowdown is happening there. Additionally, import/export price data showed a slowdown, typically signs of recessionary environments. Yet, light volume and probably some week-ending short covering led to a late rally in the markets. Earnings from JC Penney (NYSE:JCP) were interesting, and the company's CEO Ron Johnson seems to have some interesting ideas for the company that the market liked.
Moving into next week, some volume may come back into the market, but not without some more important catalyst like a decision from ECB or the Fed. Data picks up again next week, and we still have some interesting earnings. Overall, though, we expect another fairly timid week into options expiration and before the Jackson Hole meeting for the Fed.
Two Trades
Two trades we like right now are Francesca's Collection (NASDAQ:FRAN) as well as Panera Bread (NASDAQ:PNRA). FRAN is the company we see as replacing Lululemon (NASDAQ:LULU) in that 18-30 window for young women that will be in high growth and is the next big thing in women's fashion. The company is growing at great rates, and it is looking very good for a pickup on a dip into earnings. The last two earnings reports have led to 10% moves to the upside, and we expect another solid quarter for the company similar to what we saw from Michael Kors (NYSE:KORS). The $25 line is a great place to sell some puts in addition to owning some stock. We also like Panera Bread. We just upped our 12-month PT on the company to $198, and we believe that the company will be a very solid offering for the rest of the year. The $135 line for PNRA has held all year, and we like selling some puts there as well.
Trade #1: FRAN, Sep22, $25 Puts, Sell and FRAN, Long
Trade #2: PNRA, Oct19, $135 Puts, Sell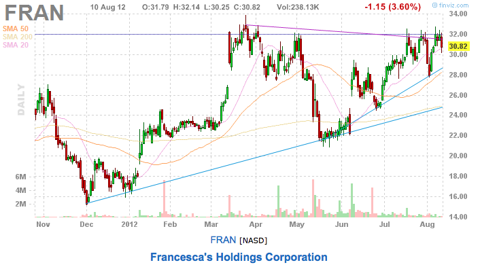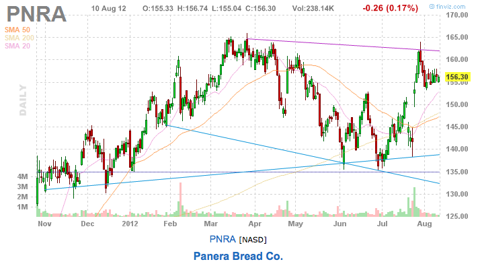 Tomorrow's Outlook
The market is closed for the weekend, but we are looking at a more busy week next week. First off, we get more data points that can move the market a bit more, especially on light volume. Some of the important data to watch will be Retail Sales, Housing Starts, Building Permits, and CPI/PPI. Earnings continue next week with some very crucial reports in fact after the lull this week. Wal-Mart (NYSE:WMT) and Target (NYSE:TGT) both report next week as well as Cisco (NASDAQ:CSCO), Deere (NYSE:DE), and Home Depot (NYSE:HD). We do have some important bellwether reports next week to watch that will provide some definite market movement. Further, we may get some more information on the ECB. It could end up being a busier week, but without the major volume, the moves may be less important as most will be erased or furthered on decisions from the Fed and the ECB.
Oxen Group Moves
We had a fantastic day in the market as we closed out a big portion of our long in Fusion-IO (NYSE:FIO) in our Extended Value long-term portfolio for a 30% gain in equity! We also closed out a bull put spread in United States Oil (NYSEARCA:USO) for a solid 21% gain. We took a 2% gain on a short in Liberty Property (LRY), but we took a loss on our Dollar Tree (NASDAQ:DLTR) long, Pall (NYSE:PLL) short pair trade. We added a short in O' Reilly (NASDAQ:ORLY), the above positions in FRAN as well as short in Yanzhou (NYSE:YZC) in our Goldman Sachs Portfolio.
We have the following positions:
In our Short-Term Equity Portfolio we are long PPG, Target , Carnival (NYSE:CCL). We are short O' Reilly , Omnicare (NYSE:OCR) and Liberty Property.
In our Options Portfolio, we are long Yum! Brands (NYSE:YUM), Starbucks (NASDAQ:SBUX), United States Oil , Monsanto (NYSE:MON), Dollar General (NYSE:DG) and Home Depot (HD). We are short Eli Lilly (NYSE:LLY) and Adobe (NASDAQ:ADBE).
In our Earnings Alpha Portfolio, we are long Francesca's , Discover (NYSE:DFS), Apple (NASDAQ:AAPL) and American Eagle Outfitters (NYSE:AEO). We are short Dell (NASDAQ:DELL). We have a reverse iron butterfly in F5 (NASDAQ:FFIV). We have reverse iron condors in Coinstar (NASDAQ:CSTR) and Facebook (NASDAQ:FB).
In our Goldman Sachs Up/Down Paper Portfolio, we are long Cubist (CBST). We are short Yanzhou .
Chart courtesy of finviz.com
Disclosure:
I am long PNRA.