This is the first article in a three-part series, I'll be writing on Zynga (NASDAQ:ZNGA).
Zynga was an early and aggressive player in the social gaming space capturing significant market share, but the competitive landscape has changed dramatically in just a few short years and many key trends are headed in the wrong direction. Below I walk through what I believe are four of the most important negative trends impacting Zynga's business:
The firm's core 'Ville' franchise is in decline
Facebook (NASDAQ:FB) web-based game growth has stalled
Mobile games are growing, but are trickier to monetize
International growth outpacing domestic growth but at lower monetization levels
The 'Ville' Franchise Is In Decline
To analyze the 'Ville' Franchise, I split it into two cohorts. Ville games produced pre-2011 and those produced after 2010. Below, I show the games in each cohort and their respective launch quarter: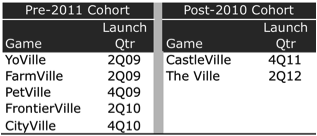 I then analyzed how each of these cohorts did in terms of DAUs and Bookings from their launch quarter forward on a per-game basis. In the two charts below, I show that earlier 'Ville' games were significantly more successful at attracting, retaining, and monetizing players.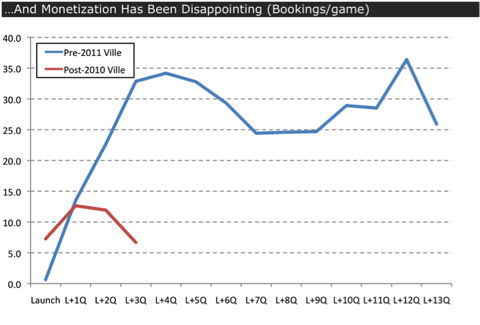 Click to enlarge
One potential criticism of this analysis is that the Pre-2011 cohort includes the wildly successful FarmVille and thus skews the results higher for that cohort. To address this criticism, I recreated the analysis above excluding FarmVille from the pre-2011 cohort. Even with this exclusion, the analysis shows a clear deceleration of 'Ville' franchises launched in 2011 or later relative to the earlier 'Ville' titles.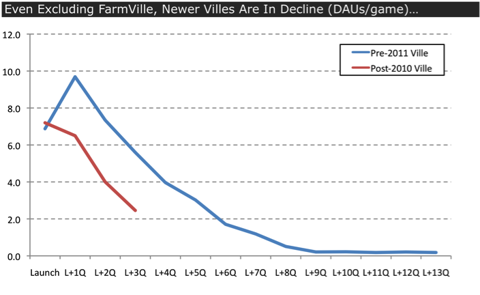 Click to enlarge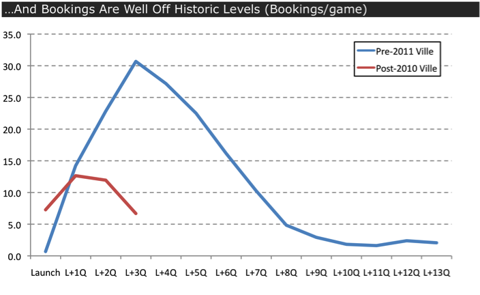 Click to enlarge
I believe this analysis shows that the 'Ville' games are attracting fewer players, having more difficulty monetizing the users it does attract, and watching the popularity of these games decline at a faster rate than they have historically. The test will come in 2H12 when the firm is expected to release two new 'Ville' games: FarmVille 2 and ChefVille.
Facebook Games Barely Showing Any Growth
While Facebook games were all the rage just a few short years ago, their growth from late 2009 till now has been decidedly anemic. In the table below, I show the total number of gaming related DAUs on Facebook as tracked by AppData. I've borrowed this data from a Cowen report through 4Q11 and interpolated the two most recent quarters using publicly disclosed AppData press releases. As you can see, since 4Q09, total DAUs for games have basically flat-lined, this essentially implies a static pie with more hungry game developers clawing for their share.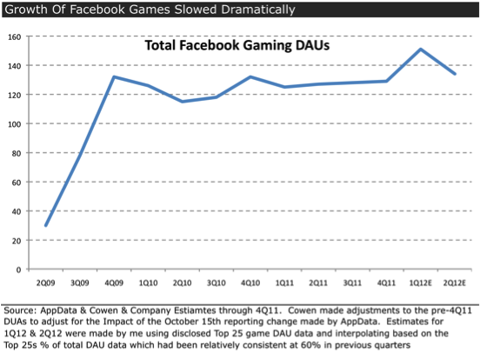 Click to enlarge
Even potentially more damaging to Zynga, users seem to be splitting their time across a growing number of games. As the market leader, this essentially means Zynga's total share is being watered down. In the table below, I show the DAUs of the Top 5 games on Facebook as a percentage of the total game DAUs. In just over a year, the top 5 games have seen their market share cut in half.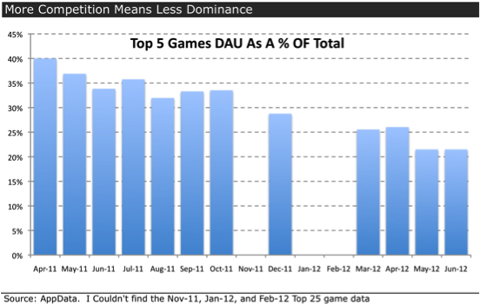 Click to enlarge
While Zynga is working to make the transition to mobile, their core market is still very much on Facebook, so slowing growth and more fragmentation among games, does not bode well for Zynga long-term.
Mobile Growth Putting Downward Pressure On ABPU
As Zynga's share of Facebook's gaming DAU declines, Zynga has been able to offset the DAU decline by increasing its presence in the mobile space. The problem is that mobile users monetize at significantly lower levels than web users. Based on management disclosures on the 2Q12 earnings call, we can estimate that mobile monetizes at about 1/3rd the rate of web. In the table below, I walk through the math to arrive at this number:

Click to enlarge
This is potentially a big problem for Zynga as it could result in a decline in bookings even while DAUs are growing as the negative mix shift can overwhelm growth in the user-base. In the table below, I run a very simplistic analysis where I extrapolate the trends from 1Q12 to 2Q12 and assume that mobile DAUs continue to grow at their current pace (adjusted for the Draw Something acquisition) and web DAUs continue to shrink at their current pace. Again, I realize this somewhat oversimplifies the business, as the firm will be launching new products in 2H12 that could drive web growth, but it does illustrate the potential threat the firm faces. This analysis shows that despite 30% growth in DAUs Bookings could still drop 30% driven by negative mix shift to mobile.

Click to enlarge
International Growth Putting Downward Pressure on ABPU
In addition to the negative mix shift that Zynga faces from mobile, the firm also faces similar pressure from the growth in international users. Using disclosures from the firm's 1Q12 earnings call, I can back into the difference in monetization of US users vs international users. In the table below, I show that international users likely monetize at between 15-40% of the rate of US users. As international users are expected to drive much of the firm's growth, this likely means that the average ABPU will face additional downward pressure as the user-base shifts.

Click to enlarge
It's certainly possible that I've misread or overestimated the negative impact from one or two of these trends that I've highlighted, but I believe that in aggregate they will place significant downward pressure on the firm's ability to generate growth in bookings.
While I believe Zynga's business is facing a multitude of headwinds which will dramatically impact future growth, I want to make it clear that I'm not recommending investors short the stock at current levels. The firm currently has about $1.80/share of value in net cash on the balance sheet and I estimate the firm's intrinsic value is around $2.50 (only about 15% below the current level). In my view, there's not enough of a margin of safety to be short the stock until it's trading at a much higher level.
As always, your questions and comments are appreciated below.
Disclosure: I have no positions in any stocks mentioned, and no plans to initiate any positions within the next 72 hours.