When Yahoo (NASDAQ:YHOO) stole the talented Marissa Mayer away from competitor Google (NASDAQ:GOOG), I was quite interested. I hadn't paid Yahoo much attention previously, but after doing a little digging, I discovered that the shares were pretty cheap. Given Yahoo's enormous userbase (700 million strong), I concluded that if Marissa Mayer could leverage Yahoo's strengths, the stock might have significant upside. However, I recommended that investors wait until the Alibaba deal closed to give the proverbial dust time to settle; this would allow investors a chance not only to see Mayer's initial moves, but also to see how the market reevaluates Yahoo's price after the distribution of cash.
Well, the wait-and-see approach I recommended still looks to be the right one. Marissa Mayer has made some interesting changes - like removing Yahoo's stock price from the company's internal website to encourage employees to focus on users rather than profits - but no headline has been quite as interesting as today's from Reuters:
Yahoo Inc startled investors by announcing that new Chief Executive Marissa Mayer may reconsider what it does with the cash it gets from a multi-billion dollar sale of half of its 40 percent stake in Chinese Internet company Alibaba Group.

Yahoo said in a filing with the U.S. Securities and Exchange Commission on Thursday that Mayer, who was hired as CEO last month, has started a review of the company's strategy.

The filing said the review "may lead to a re-evaluation" of Yahoo's previously announced plans to return to shareholders substantially all of the after-tax cash proceeds under the initial share repurchase from the May 2012 deal with Alibaba.
The market isn't taking that news well. On the day my original article was published (July 24th), YHOO closed at $15.43. After staging a small rally and breaking above $16, YHOO is down to $15.46 in AH trading today.
The move makes Yahoo somewhat of a different stock post-Alibaba sale. While I generally like buying stocks with a lot of cash backing - for example, Cisco (NASDAQ:CSCO) - it's important to consider what the cash will be used for. Since Yahoo doesn't offer a dividend (although a stock buyback is authorized) and peer tech companies like Google and Facebook (NASDAQ:FB) aren't known for shareholder-friendly dividends, I find it highly unlikely that Mayer's "review" would conclude that initiating a dividend program is the right move.
So what are the other options? Given that Yahoo is a fairly "mature" company with plenty of servers, capex is fairly low. Given Yahoo's historical capex chart, it seems very unlikely that capex will increase to a level along the lines of the $4B from Alibaba.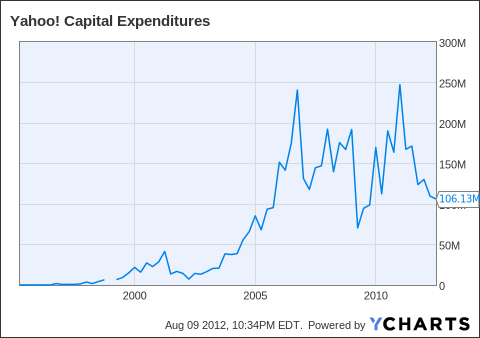 YHOO Capital Expenditures data by YCharts
If Mayer wants to keep the cash, she must have a reason. The only logical reason left? An acquisition. Think about it. What else is Yahoo going to spend $4B on? While Yahoo isn't rolling in money like Google or Apple (NASDAQ:AAPL), they aren't cash starved. They bring in enough FCF to cover minor expenses. The only reason to keep the $4B is if Mayer sees an opportunity to grow Yahoo through acquisitions. It wouldn't be the first time: a few years back, Yahoo acquired Associated Content.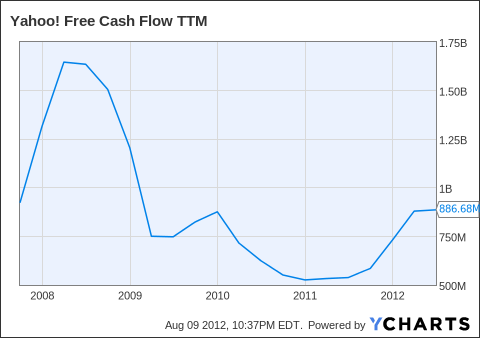 YHOO Free Cash Flow TTM data by YCharts
An acquisition-hungry Yahoo increases the reward potential, but also the risk. As demonstrated by Apple's $200M purchase of Siri, acquisitions can go very right. And as evidenced by the last Microsoft (NASDAQ:MSFT) quarterly report, acquisitions can also go very, very wrong. Cough, aQuantive, cough.
To sum it up: if Mayer does return the money to shareholders, the shares would probably have less upside but also less risk (because there's no risk of the cash being blown on a bad acquisition). If Mayer instead keeps the cash to use for an acquisition, there's more risk but also more upside. And, to be honest, that doesn't bother me - who was really buying Yahoo as a core portfolio holding anyway? It's a speculative play by nature, and Mayer just makes it more interesting. The move, to me, demonstrates that she's serious about growing Yahoo into something akin to the powerhouse it once was.
I'm impressed with Mayer's history at Google, and my original thesis still stands. I'll hang on the sidelines for a few months, and see what happens. When the dust settles on the Alibaba deal, if Yahoo is still trading at a cheap multiple, I might grab a small position for speculation's sake.