Sirius XM (NASDAQ:SIRI) has recently had an excellent run from recent lows of $1.80 right on up in short order to levels in the $2.50's that have not been seen in years. Many investors have taken the opportunity this has provided to liquidate their positions, either sealing in gains, or taking the chance to break even on an investment that they had been under water with for some time. I can't say I blame them. Years ago it was a short road down from $2.50 to $0.05 per share, and since then has been a gradual walk up from $0.05 back to $2.50.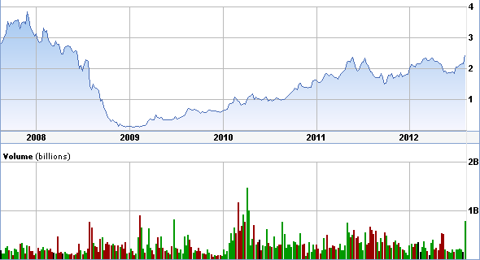 It's to be expected that there would be a large number of investors who decide to bail out at the $2.50 price point, so a bit of profit taking on the current bull run isn't shocking at all.
But the question on the minds of investors who remain, and of course the new blood who have recently bought in, is probably where is the stock price of Sirius XM going from here, and how long will it take?
My answer to that? Up to $5 per share and beyond, and within two years. That's right, I expect from today's $2.50 that Sirius XM will exhibit nearly 100% appreciation in share price by the end of August, 2014.
While this may sound shocking to some and even absurd to others, it will be met with a nod and a smile from those who have been long Sirius XM and continue to hold even as the share price toys with $2.50. To those people, this will make complete sense and while it may not play out exactly as I outline, it's well within the realm of reasonable.
The first order of business is the removal of Liberty Media (LMCA) as a hanging dark cloud over the company with its 46% stake and veto control over just about every aspect of Sirius XM. As soon as Liberty is granted FCC permission to take over the licenses, and a deal is struck with Sirius XM on how a reverse Morris trust will be structured, that little black cloud becomes a bright sunny day as Liberty seeks to monetize its investment. The doom and gloom from those bearish on Liberty's position, and the cries that Liberty will come in like pirates and loot Sirius XM and leave it adrift helpless in the middle of the sea are senseless ideas that should be pushed out of one's mind.
Once Liberty moves to control, it will be seeking to monetize the investment, and it's quite reasonable to expect that it will use Sirius XM's nearly 1 billion in cash to repurchase the shares it just bought. This accomplishes two things. First, Sirius XM will be paying a premium over the $2.15 Liberty recently paid, affording Liberty a bonus of around 35 cents per share (estimated). Second, Sirius XM will likely retire these shares, making all investor's shares worth more, including Liberty's remaining shares. Liberty's second bonus here is shared amongst all investors and should result in an appreciation of the stock price based on reduction of the float. This could have the effect of bringing the share price up over $3 per share.
It doesn't stop there, though. Sirius XM makes enough money as a company to easily handle its current debt load and it is now taking strides to refinance old debt down from terrible rates such as 13% all the way to 5.25%. Lower interest rates means lower payments and more room for leverage. Less debt brings the debt-to-equity ratio down, again, allowing for more leverage.
And leverage is a good thing, because it allows Sirius XM to take loans to buy back even more shares of stock. Assuming the company keeps things reasonable, 3 to 3.5X leverage is not out of the question. This can (and will) provide Sirius XM with the capability over the next two years to access billions in cash in order to continue buybacks and reduce float further. When I said at the beginning of July that Liberty's moves could catapult the share price I was quite serious, and the effect could very well be dramatic with Sirius XM's currently waning debt coupled with credit upgrades and lower borrowing costs.
Coupled with these buybacks, which I repeat should be in the billions of dollars, there is the expectation that Sirius XM will continue to outperform as a company. Subscribers are growing at the fastest rate by quantity in years, and increasing auto sales, which should continue for 2013 and 2014 as well as increasing numbers of used autos that come with satellite radios already built in, will ensure that this trend will continue.
Roll out of satellite radio 2.0 and Sirius XM's IP delivered platform should provide new features and an expanding environment for Sirius XM. Sirius XM is the only player that is equipped to transition into the future, allowing for subscribers to use the satellite feed for "reception everywhere" and also at the very same to use IP delivery for features like on demand. Sirius XM's competitors are in no currently to combat the company as it moves forward from here.
Of course, as the company continues to perform well, there is a logical appreciation of the share price as earnings, profit, subscribers, etc., all grow. It's not unreasonable to expect a 20% per year increase for Sirius XM on a fundamental basis, and I actually think that is coming in a bit low. Keep in mind that Sirius XM does not have to grow subscribers by 20% to realize a 20% increase in income after expenses.
And this is what will get Sirius XM to $5 per share in two years. It's a matter of a combination of effects. I expect the company itself to grow at 20% per year at least, compounded. I also expect share buybacks to add approximately 20% per year on top of the standard appreciation. The removal of Liberty Media as a dark cloud cover once it goes to control should also be worth a bit of a lift.
Because of this, starting with a baseline of $2.50, and considering 40% appreciation per year (20% buybacks and 20% based on the company itself) I arrive at a share price of $4.90 in two years. Given a margin of error, which I would err to the high side of, $5 per share in two years is not an unreasonable target. I'd consider anything between $4.75 and $5.25 a successful prediction.
Is Sirius XM a $5 stock today? Absolutely not. But it's on a train heading along a $5 track for sure. Could it be derailed? Perhaps. And investors should always keep an eye on the track ahead for obstructions such as increased competition from the likes of Pandora (NYSE:P) or Spotify as IP delivery becomes viable in the automobile. Additionally, subscriber churn must be watched for possible increases, which would indicate larger numbers of people are choosing to leave the service. I'd like to see churn stay just where it is at 1.9% and at the most 2%. As the price increase rolls out through the rest of the subscriber base, revenue per user, or APRU, should continue to increase as well. A decreasing ARPU may indicate mismanagement of funds or increasing costs.
Realize that a lot can change in two short years and there are certainly no guarantees, but for now, Sirius XM is chugging along toward a bright future.
Disclosure: I am long SIRI, LMCA.
Additional disclosure: I trade in and out of P put options on a regular basis.