AUDUSD
The Aussie remained the currency of choice for institutions last week following better than expected employment numbers and realistic monetary policy statements by the Reserve Bank of Australia. While it was little changed on the week, the Aussie did recover following an 80-pip sell-off during last Friday's Asian session to close higher on the day. Analysts point to a stabilization of growth in China in the 7% to 8% range as providing support for the Aussie, and we agree. No doubt Australia continues to be attractive because of its current healthy cash rate, and conversely, similar to what we saw in the 2nd half of 2010 and first half of 2011, it's become a beacon for fast money trying to short it - the short-covering of losing traders combined with the regular investment flows from institutions and sovereign funds keeps it pointed ever higher. It's the same story in the U.S. stock market which holds an 80% plus correlation to the Aussie. Every higher high becomes a bug-light for dumb money to try to short.
While AUDUSD had been very strong, AUDJPY has been a bit of a laggard - while AUDUSD shifted its secondary pattern higher in late July, AUDJPY never did - it remains lower, see Figure 1, AUSUSD on the left -- which makes AUDJPY a potential target for short sellers should event risk poke up somewhere on the globe and spark profit-taking, i.e.: a correction in asset class markets. Said risk hasn't turned up yet and day-traders - a full 90% of financial futures volume - are still making hay on the long side. (The determination of the secondary pattern is based on Dow Theory)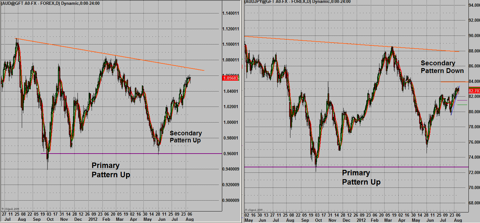 Click to enlarge
Figure 1. AUDUSD (Left) & AUDJPY Daily Charts
EURUSD
I know that I should be taking the month off after writing what I'm about to write next, but if I'm thinking it, it's out there. I'm starting to like the Euro down here. The Day to Day pattern, which is a reflection of the day to day news is holding bullish, and that, coupled with a slow-down from trading desks, to independent traders, to government agencies, to even news services means lower volatility, which means lower trader participation rates, which does not favor a continuation of the higher time frame trends. Lower volume and falling volatility support a slow grind higher. The Euro could go sideways from here and it would be supportive because you have so many long-term bears sitting on decent profits who out of boredom will start to talk themselves into booking a portion of the money. And then there is the "not as bad effect" we see from economic releases following a run of horrible data. As new economic releases come out, by virtue of comparison to the previous month, or quarter the numbers show an improvement.
When I start talking about the "not as bad effect" at this time of year I know I should be enjoying the Mountain Air somewhere above Breckenridge CO, or casting a crank-bait for smallmouth bass in Quetico Provincial Park in Ontario. And if I know this, so does everyone else in my trading demographic, which means inventory the dry powder, and get out of town to recharge for September, October and November.
Long-term the Euro is in a bear market, but susceptible to a correction higher though month end.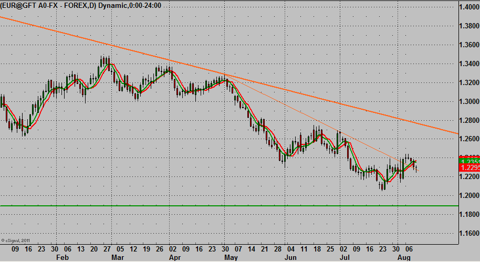 Click to enlarge
Figure 2. Daily EURUSD Chart
USDCAD
There is not much to say about USDCAD that we didn't say last week. "We can revisit USDCAD closer to 98.00, but likely not till closer to the end of August, or perhaps even closer to the end of the quarter." Once it closed below 1.00 the door was opened to .9800.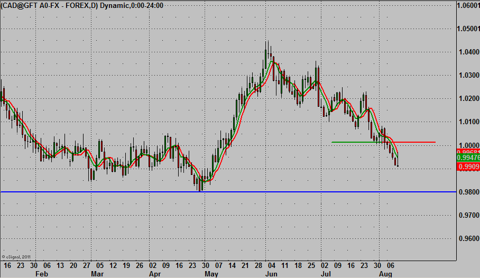 Click to enlarge
Figure 3. Daily USDCAD Chart
Disclosure: I have no positions in any stocks mentioned, and no plans to initiate any positions within the next 72 hours.