EOG Resources (NYSE:EOG), an oil and natural gas producer located in the U.S., saw its stock jump more than 10% after its Q2 earning report. A few years ago, EOG was a major natural gas producer, but management properly anticipated the oversupply conditions in the industry that would put downward pressure on the price of natural gas. Accordingly, management decided to shift aggressively to oil and minimize its focus on natural gas. The company is successfully executing its "game plan" -- converting to a liquids-based (mostly oil) company from a natural gas company.
Importantly, EOG has industry-leading acreage in the two most attractive oil plays in the United States -- the Eagle Ford and Bakken shales. These two shale plays equal 85% of the current horizontal crude oil production in the U.S. Impressively, EOG has secured a world-class, low-risk oil position that is driving the strongest organic liquid growth of all major E&P companies. In the Eagle Ford shale, it is the largest crude oil producer, with 103,000 barrels of oil equivalent per day. In the Bakken shale, it has been the leading oil producer for the last 12 months.
Q2 2012 Overview
This quarter is the third time that management has increased guidance for the 2012 total liquids production growth target, raising it to +35% from +33%. The company's total production growth target increased from +7% to +9% year over year. Natural gas production is expected to decline 10% in 2012 as management wants to focus all its human and capital resources on oil.
However, given years of natural gas exploration and production, EOG still maintains a substantial amount of North American natural gas reserves, which it will keep in inventory until market conditions improve. Finally, in order to keep debt at manageable levels and minimize the funding gap generated by the company's drilling budget, management has shed $1.2 billion of assets this year. These asset sales have keep net debt-to-cap under 30%.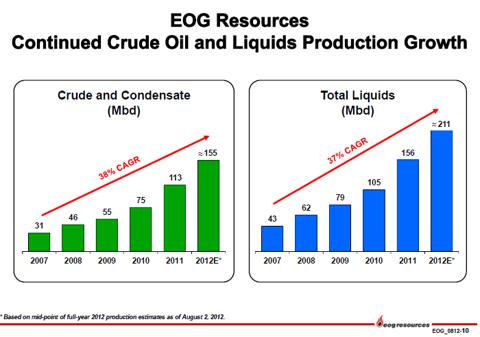 Click to enlarge
EOG's Competitive Advantage in Costs
Another important factor to consider in energy companies is cost -- the cost of getting the oil and gas out of the ground. EOG has two main cost-saving factors: crude-by-rail and self-sourced sand. The rail facility has been in operation since mid-April and the primary use of the crude-by-rail system is to move Bakken crude to Louisiana, which can save the current $20 difference between Clear Brook, Minn., and St. James, La. With more tank cars becoming available, the volume is expected to increase from 50,000 barrels to 80,000 barrels oil a day by year end at St. James. On the other side, the first sand shipments began late last year and, in combination with the Fort Worth plant, are currently providing frac sand for more than 700 wells this year. Most importantly, the self-sourced Wisconsin frac sand helps EOG save $0.5 million per well.
Valuation
We are bullish on the stock. Our projections are as follows: Our base case is $168, which is 59% upside from its current price at the $106 level. Our forecast is based on management's guidance for 2012: 37% growth in crude oil and condensate, 31% growth in natural gas liquids production, and a 10% decline in natural gas production -- as well as $1.2 billion to $1.25 billion asset sales and a debt-to-cap ratio less than 30%. We used Range Resources (NYSE:RRC), Continental Resources (NYSE:CLR), Apache (NYSE:APA), Cabot Oil & Gas (NYSE:COG), Southwest Energy (NYSE:SWN), and Chesapeake (NYSE:CHK) as EOG's peer group to determine our EBITDA multiple.
We are long EOG as it has best-of-breed management with a tremendous asset base in some of the best oil shale plays in the United States. As the U.S. increasingly becomes oil-independent, EOG will benefit and valuation will move higher.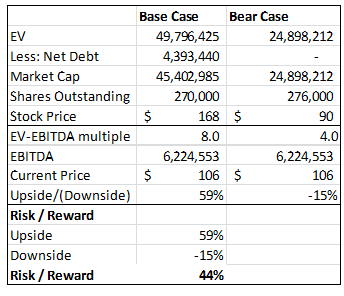 Risks to Our Thesis
The biggest risk is the price of oil and natural gas. Even if the company generates the anticipated production growth, a dramatic decline in commodity prices will cause EPS to come in lower than expected. Also, if the government becomes less receptive to drilling in the U.S., production volumes will suffer.
Disclosure: I have no positions in any stocks mentioned, and no plans to initiate any positions within the next 72 hours.