As stock price of buy-recommended Berry Petroleum (BRY) reaches estimated net present value [NPV] of $50 a share, the industry outlook and the company's prospects offer further profit potential.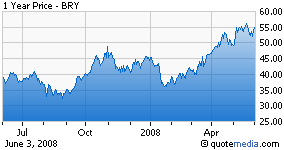 First quarter results released today recorded higher cash flow, higher earnings and higher oil price than in our estimates from three months ago.
Projected volumes along with current futures prices promise a continuing high level of unlevered cash flow (Ebitda). NPV is supported by projected cash flow capitalized at unlevered multiples (PV/Ebitda) related to reserve life (Adjusted R/P).
NPV can be enhanced as Berry develops its backlog of high return investment projects in diatomite oil and Piceance natural gas. Also beyond our basis for estimating NPV, oil price continues to trend upward. Meanwhile, Berry is delivering earnings per share that fit with the trend in oil price.
Originally published on April 29, 2008.