Shares of Dreamworks Animation SKG Inc (NASDAQ:DWA) are only slightly higher than where they were when I first recommended the stock on April 8, 2012. There are three reasons why I believe Dreamworks Animation remains a buy.
Click to enlarge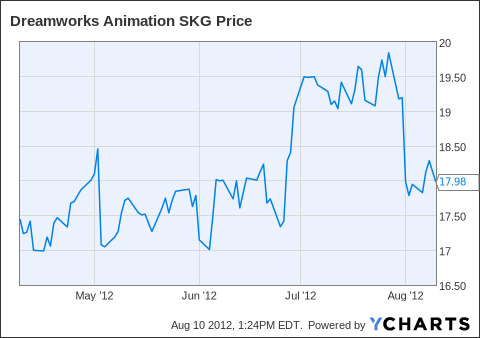 China Theme Park
Just a few days ago, Dreamworks Animation announced plans to open a theme park in Shanghai. The total cost of the project will be just more than $3 billion. I believe than this project has the potential to be transformational for Dreamworks Animation. If successful, this project has the potential to positively impact Dreamworks Animation in the same way that Chinese expansion positively impacted Las Vegas Sands (NYSE:LVS) and Wynn (NASDAQ:WYNN). There are many benefits to such a move. Dreamworks Animation will gain exposure to what is likely to become the most important market in the world: China. Additionally, owning a theme park should help to normalize its earnings stream, as the company will not be as dependent on new releases.
Television Channel
During the second quarter earnings call, Dreamworks Animation's CEO Jeffrey Katzenberg hinted that the company may soon launch its own TV network:
We are in aggressive exploration I would say is the best way to characterize it. So today to be able to frame the size of it, the size of the investment, the size of the opportunity is kind of premature. What has happened is that with the consistency of success of our films particularly in a number of international markets that we talked about today.

The brand is really begun to come into its own and it has real value. It has a set of values around it; it has strong identification in the consumer market place. It is unique and differentiated and so that creates the opportunity for us to build a branded family channel. And to say whether it's going to be cable or digital, what parts of the world they will come first in, we are looking at a whole number of -- a whole different set of opportunities there and I don't think we are ready to sort of declare what the exact path forward is. So other than that, there does seem to be a lot of interest and a lot of opportunity.
From Katzenberg's comments, it seems like some sort of Dreamworks Animation TV channel is inevitable. Any future announcements about this should help send the stock higher.
Short Interest
As of July 13, 2012, when short interest was last reported, 17.22 million share or 40.8% of the float was sold short. Such a high short interest means that the market is skeptical about Dreamworks Animation's expansion plans. However, the high short interest means that if the company is successful with its China expansion and potential TV network, its shares should surge.
Conclusion
Despite the mixed performance since my initial recommendation, I remain bullish on Dreamworks Animation. The recently announced China theme park, potential TV channel, and short interest are all reasons why I remain bullish on Dreamworks Animation.
Disclosure: I have no positions in any stocks mentioned, but may initiate a long position in DWA over the next 72 hours.