Wednesday, Aug. 8 was a rough day for Priceline (NASDAQ:PCLN). The company significantly pulled back current quarter revenue and earnings guidance based on expectations for poor performance in Europe:
…deteriorating overall economic trends and headline risks surrounding the Euro crisis do cause us to be guarded in our near-term outlook…our forecast reflects the actual results we've seen to-date and we're assuming fairly significant deceleration growth rates from here on - over concern about macroeconomic conditions and our worry that conditions will worsen particularly in Europe which is such a key market for us. (Seeking Alpha transcripts).
Moreover, PCLN took this opportunity to remind investors yet again that past growth rates are not likely to continue in the coming quarters:
Now we've been guiding investors for a long time to look for deceleration in the business given the size of the business and given the very, very strong comps that we have in the last year and so we think that that's something that the market should continue to expect all things being equal from an economic perspective…

…we have seen decelerating growth trends in most of the markets in which we operate and again that's consistent with the guidance that we've given that is the business gets larger, we expect generally to see growth trends decelerate. We pointed out these couple of markets in Europe because of the concentration of our business in those markets and because we believe the deterioration there has been more pronounced.
Despite the issues in Europe and the imminent tougher comps, PCLN spent almost three months of this year hitting all-time highs. The problem with the stock started with the May earnings. Ahead of that, I wrote "Arrows Pointing South For Priceline.com Post-Earnings," combining historical price and fundamental data to estimate the likelihood of up or down post-earnings performance. I pointed out how PCLN's stock price seems to be running ahead of its fundamentals. PCLN did indeed drop the next day, losing 5.3%. It never quite recovered from those losses and stalled out in a trading range for the rest of the quarter. I am now projecting that PCLN is not likely to recover the latest losses by the next earnings either.
Since 2007, PCLN has only sold off in six of 22 earnings announcements, including the last one. PCLN was only able to recover all its post-earnings losses before the next earnings announcement in two of the five earlier sell-offs. Both cases were in response to May earnings. In 2007, 37 calendar days passed before PCLN closed a 9.0% loss. In 2011, it took 60 calendar days to close a mere 2.8% loss -- of course, this was in the middle of a major stock market swoon. (Each quarter includes 91 calendar days.) In other words, it is rare for PCLN to sell off in direct response to earnings, and that selling tends to have an effect lasting for at least the remainder of the quarter.
Moreover, much like Chipotle Mexican Grill (NYSE:CMG), PCLN now sits in an uncomfortable limbo where its upward momentum is broken, making it unattractive to trend and momentum traders. PCLN is also still not cheap, making it unattractive to value investors. With the acknowledgement of macroeconomic headwinds, it makes sense that over the near term, PCLN will experience a compression in its valuation to represent the increased risks in the business and a greatly reduced population of interested buyers.
PCLN's 17% drop in response to the poor earnings report sent the stock down below its 200-day moving average (DMA). Even more importantly, at the lows, PCLN traded down to critical support at $560. This support represents the point where PCLN broke out on Feb. 13, 2012, to fresh all-time highs. This breakout pushed PCLN above a wide trading range that had held for much of 2011. Over the last two trading days, PCLN was able to just barely rally back above this support. This behavior means that PCLN could easily bounce strongly in the coming week or so. In such a case, resistance at the 200-DMA support becomes a natural price target for selling and/or initiating a new short position; this resistance also happens to rest near the bottom of the post-May earnings trading range. If PCLN closes below the $560 support, I expect downward pressure to resume from there.
The charts below summarize the recent trading action and highlight the source of the $560 line of support.
Click to enlarge images.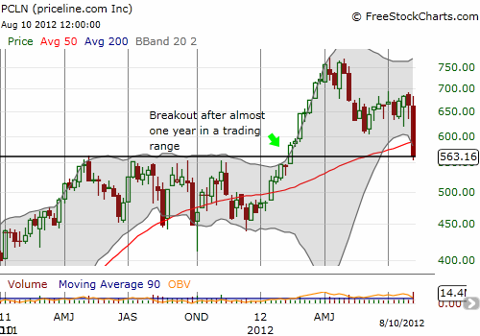 This weekly chart shows PCLN's last big breakout point from 2011's wide trading range: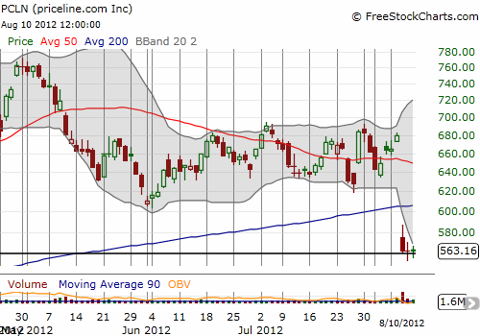 Disclosure: I am long CMG and long calls in CMG.