Bond ETFs Are Still Fair Despite Closings
The fixed-income ETF market has grown as new ways to access bonds have become appealing to investors.
Last week, though, investors received a reminder that not every product can be a hit when Ameristock announced it was closing five ETFs linked to Treasury indexes. The company said assets just weren't sufficient enough to continue running the funds. And unfortunately, it's been shown that larger ETF providers tend to have most of the assets, which puts the smaller guys at a disadvantage.
John Spence for MarketWatch says that even with the recent closings, bond ETFs are still rapidly catching up to their stock-fund cousins.
The allure of low-cost, liquid methods of tapping the bond market has caused a recent flooding of the area. In fact, from April 2007 to April 2008, the number of bond ETF offerings grew from 20 to 54 - a leap of 180%.
One analyst cited the ease with which they give investors access to different maturity ranges and market segments as part of their appeal.
We can't list every bond offering, but among the many choices for investors are:
iShares Lehman Aggregate Bond Fund (AGG), up 1.7% year-to-date
Vanguard Total Bond Market (BND), up 0.5% year-to-date
SPDR Barclays Capital TIPS (IPE), up 2% year-to-date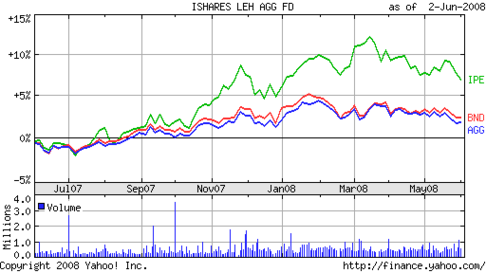 Foreign Currency ETFs, ETNs Gathering Steam and Investor Interest
Pick a currency, any currency, and chances are there's an ETF or ETN to track it.
Well, there are exceptions, but foreign currency exchange traded products are proliferating.
John Spence for MarketWatch reports that currency ETFs and ETNs track unpredictable markets and give investors a chance to hedge the falling value of the dollar or get diversification in their portfolios.
They offer a range of strategies for getting exposure, such as by using futures contracts.
Rydex was the first provider to put out a family of currency ETFs. Since then, providers such as Market Vectors, Barclay's and WisdomTree have also entered the fray.
This is just a sample of the variety to choose from.
Currency-related investments are showing strong performance, but this is reliant on many complex economic factors. Be aware of how the fund you choose works and the surrounding issues that concern it.
Foreign currency ETNs were given a hit last year when the IRS took away a key tax advantage of the notes.
Read the disclosure, as Tom Lydon is a board member of Rydex Funds.
Mid-Cap ETFs And Stocks Are Just The Right Size
What type of stocks and ETFs are not too large and not too small, and doing mostly just right in 2008? The mid-caps.
Between the three cap sizes, mid-sized companies have been the most profitable area year-to-date. Their stocks are up 3.4% during the first five months of this year. Gary Gordon for ETF Expert says that in comparison, the largest companies in the S&P 500 collectively are down 4.6% for the year.
Small-caps are struggling as well, but not quite as much as large-caps. The iShares Russell 2000 Index Fund (IWM) is down 2.0% year-to-date.
Even better for the mid-caps is that they've rebounded the most off their January and March lows. And while Gordon doesn't suggest the mid-caps are always safer on volatile days, lately they have been rising more on bullish days and falling less on the bearish ones.
In the last three months, value mid-caps are up 10.2%; growth is up 11.7% and blends are up 11%.
Among the mid-caps available to choose from: