Shares of Buffalo-based First Niagara Financial Group Inc. (NASDAQ:FNFG) are down more than 23% over the past year. Comparably, as shown by the chart below, financial sector ETFs - Financial Select Sector SPDR ETF (NYSEARCA:XLF) and SPDR S&P Regional Banking ETF (NYSEARCA:KRE) - have performed much better. There are four reasons why I would use First Niagara Financial's underperformance as a buying opportunity.
Click to enlarge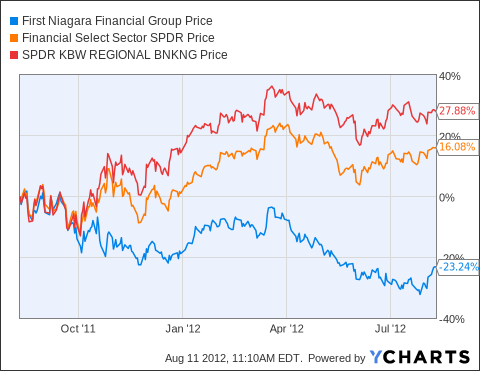 Insider Buying
Recently, top executives at First Niagara Financial purchased a substantial amount of stock. This is important because the people with the best insights into how the business is going are almost always the insiders. The insider buying is especially noteworthy as there have been not just one or two, but many insiders buying stock.
Dividend Yield
Currently, First Niagara Financial pays a dividend of 32 cents per share or 3.92%. While the dividend had previously been higher before being cut, FNFG's dividend is still higher than most banks. Comparably, the dividend yield on XLF is 1.66% and the dividend yield on KRE is 1.75%. Despite the lowered dividend, First Niagara Financial is still one of the higher yielding banks.
Valuation
Right now, First Niagara Financial is trading at just 0.64 times book value. As shown by the chart below, this valuation represents a historical low for the company.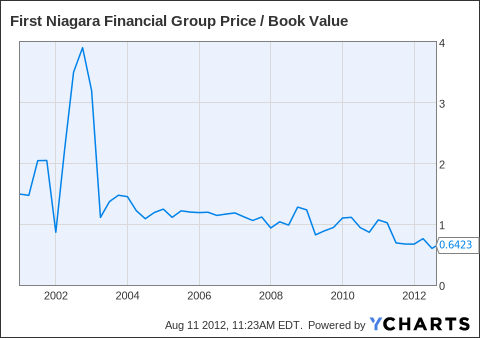 FNFG Price / Book Value data by YCharts
Lack of European Exposure
First Niagara Financial has no exposure to Europe as the bank is a U.S. regional bank. While the entire financial sector is likely to get hit if the European situation worsens, FNFG is less exposed than its larger peers. Comparably, Bank of America (NYSE:BAC), Citigroup (NYSE:C), and JPMorgan (NYSE:JPM) have much more exposure to Europe than FNFG.
Conclusion
Despite First Niagara Financial's weak performance, there are reasons to consider buying the stock. Insider buying, the comparably high dividend, lack of European exposure, and valuation are all reasons to consider buying First Niagara Financial.
Disclosure: I have no positions in any stocks mentioned, and no plans to initiate any positions within the next 72 hours.