It seems that several months after Facebook's (NASDAQ:FB) IPO, analysts and amateurs alike are still wondering what kind of a price to put on a business that has the largest "customer" base ever realized in a publicly traded company, but still fails to convert these large numbers into workable revenue. I want to put personal opinions aside for a minute, and analyze Facebook based on the numbers. I will follow that up with what I think will be a good strategy with a mid-term time frame.
I'm interested in two possible strategies, which I will outline later. Both involve multiple leg spreads, and both have an expiry of January 2013. For this reason, I am looking at what kind of major changes we can expect in the next few months. I am not interested in how the Zuck will increase revenue streams two or three years down the line.
Bulls will tell you that Facebook is still young and the Zuck is still learning to crawl. They'll also say the sky's the limit for Facebook, and it will be the next Google or Apple. Different investors have different opinions on how Facebook will increase its advertising revenue. Some will tell you the company will jump into mobile with its own phones, while others are excited about ads on your mobile timeline. Either way, I don't see any new breakthroughs for increasing profits coming through in the next two quarters, and here's why.
First off, Zuckerburg and Facebook executives have said over and over that they are working on making the Facebook experience more seamless on existing phones, and they are not currently working on a mobile OS of their own. Even if it is in the pipeline, it's unlikely to arrive anytime soon. After all, Facebook does not have the kind of cash sitting around that Apple (NASDAQ:AAPL) and Google (NASDAQ:GOOG) have to throw into developing an entire platform.
The other big issue is with the mobile ads. It's been repeated over and over that the mobile ads just are not generating the same turnover as PC ads, and it's not hard to see why. Facebook has yet to change its methods for mobile advertising, and until they do, don't expect different results. In fact, the company would have to see massive gains in mobile ad revenue to justify its current price.
I like the Reverse Discounted Cash Flow (Reverse DCF) valuation model to see what kind of growth the market is expecting from a company. For Facebook's current price, the market seems to expect a growth rate of 38% over the next five years. It could happen, but not without a catalyst. Since that catalyst is not present yet, it's safe to say that the next two quarters will be more of the same, with Facebook disappointing Mr. Market.
I usually use the Graham valuation for companies as well, but I won't even bother, because Facebook is currently trading at about 50 times forward earnings. I don't need a fancy equation to tell me that the market will likely look to fix that in coming months.
If you haven't caught on yet, I'm bearish on Facebook for the next two quarters at the very least. It's got a lot of young talent and a catalyst could appear as early as the beginning of 2013, but Facebook is not known for corporate secrecy like Apple. If you're bearish on Facebook like me, keep reading for my strategies.
My first strategy consists entirely of options contracts. I'm using 4 legs for the spread with a total of 7 contracts per spread. The legs are as follows:
| | | | | | |
| --- | --- | --- | --- | --- | --- |
| Expiry | Strike | Put/Call | Quantity | Cost/Premium | Long/Short |
| January 2013 | $30.00 | Call | 2 | -$85.00 | Long |
| January 2013 | $20.00 | Call | 2 | $400.00 | Short |
| January 2013 | $20.00 | Put | 1 | -$260.00 | Long |
| January 2013 | $10.00 | Put | 2 | $25.00 | Short |
Your total premium collected for this spread will be $420.00. There are 2 possible outcomes for the spread. If the price of Facebook at expiry is less than $22.23, we will make a profit. The maximum profit we can make is $1,420 at a price of $10. If the price of Facebook at expiry is greater than $22.23, we will incur a loss. The maximum we can lose is if the price should shoot past $30, at which point we would be negative $1,580.00.
(click image to enlarge)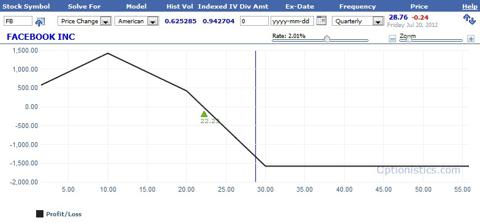 Click to enlarge
This particular spread is for investors who are looking for something less risky than shorting the stock, but are willing to take a larger risk than a simple put/call spread. The next spread I want to outline is less risky, but as always, there is risk.
For the second spread, I will be using 3 option legs and one stock leg. Here's the breakdown:
| | | | | | |
| --- | --- | --- | --- | --- | --- |
| Expiry | Strike | Put/Call | Quantity | Cost/Premium | Long/Short |
| Stock | $21.83 | Stock | 200 | $4366.00 | Short |
| January 2013 | $20.00 | Put | 2 | $255.00 | Short |
| January 2013 | $20.00 | Call | 1 | $400.00 | Short |
| January 2013 | $30.00 | Put | 2 | $920.00 | Short |
The total premium collected will be $7,116. In this spread, we lose money either when the price of Facebook is below $14.43 or above $30.41. This gives us a wider gap to work with should the price increase, but at the same time, it introduces losses should there be a large sell-off. The maximum profit in this spread occurs at a price of $20 and amounts to $1,114.00. Be careful with this spread, though, because if there's a massive rally past the $35 resistance levels, the losses can add up.
(click image to enlarge)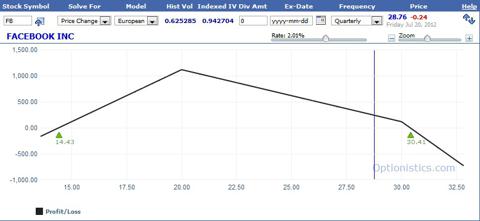 Click to enlarge
These strategies are for those who can take a moderate amount of risk and are bearish or neutral on Facebook. If you believe there will be a rally in Facebook, I'd look for a long position. Keep in mind that the general market trend will also come into play here. I believe we're heading into a sell-off in the short-term, which leads me to be bearish on most stocks. That said, it can also be argued that we could see a market-wide rally pre-election.
Like any investment, it's up to you to do your due diligence. I have simply provided a strategy that I believe will give me a positive return. Feel free to provide opposing viewpoints in the comments.
Disclosure: I have no positions in any stocks mentioned, but may initiate a short position in FB over the next 72 hours.